Bats Quiet as Reading Shutout in Season's Penultimate Contest
Reading Held to Season Low Two Hits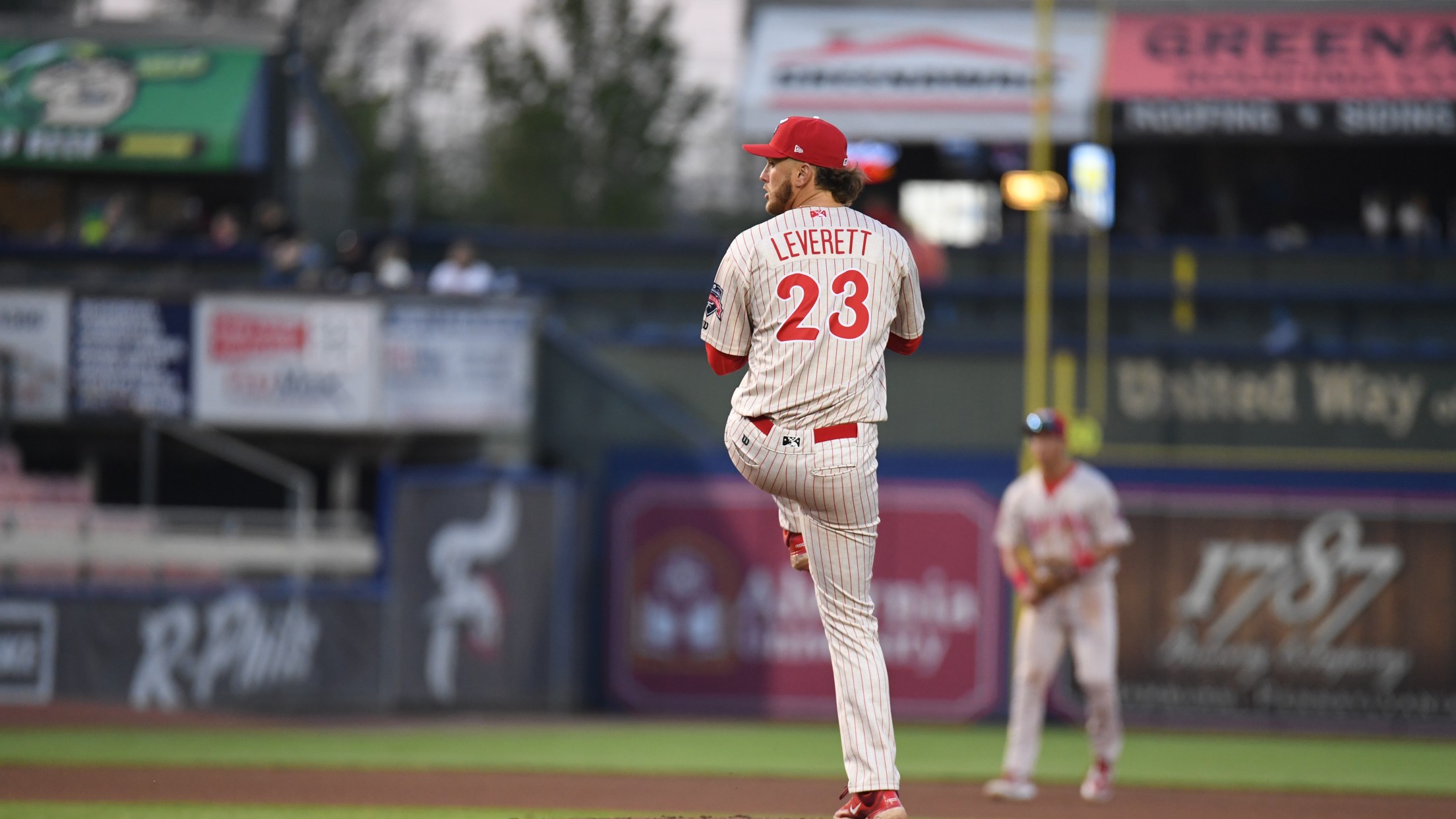 BOX SCORE (Binghamton, NY) - The Reading Fightin Phils (31-36, 59-76) were shut out for the fifth time this season in a 6-0 loss to the Binghamton Rumble Ponies (38-27, 73-61) on Saturday night. Binghamton now leads this week's six-game series three games to two. Binghamton struck first in the
(Binghamton, NY) - The Reading Fightin Phils (31-36, 59-76) were shut out for the fifth time this season in a 6-0 loss to the Binghamton Rumble Ponies (38-27, 73-61) on Saturday night. Binghamton now leads this week's six-game series three games to two.
Binghamton struck first in the bottom of the first frame. Luisangel Acuna singled on a ball up the middle and advanced to second on an error by Casey Martin when the ball hit off his glove. Acuna then swiped third base and came around to score when Jett Williams hit a sacrifice fly to center field.
Another run scored for Binghamton in the second. JT Schwartz was hit by a pitch with one out in the frame, then Jeremiah Jackson walked to move Schwartz to second. Rowdey Jordan followed with a double that scored Schwartz and made it 2-0. Binghamton searched for more when Jeremiah Jackson tug up on a fly ball to Ethan Wilson in left, but Wilson threw out Jackson at home for his eighth outfield assist of the season.
Adam Leverett (L, 0-6) started for Reading and was solid over 3.2 innings pitched. Leverett, making his final start of the season, allowed two hits and one earned run, with three strikeouts. Carlos Francisco would follow Leverett and get tagged for two runs, both unearned.
In the sixth, Jett Williams reached on a one-out walk. Drew Gilbert followed with a single to right field, but it went passed Baron Radcliff, which allowed Williams to score and Gilbert to move to third on an error. Kevin Parada was then hit by a pitch and exited the game. Andrew Baker came in to replace Francisco after the hit-by-pitch. Schwartz hit a ground ball to second base, which scored Gilbert and made it 4-0 Binghamton.
Baker returned for the seventh and was tagged for two runs. He walked four batters en route to the runs scoring to make it 6-0. Baker was relieved by Rodolfo Sanchez to end the seventh inning. Reading's bats remained quiet and fell by that score.
Benito Garcia started and was solid for Binghamton. He went 4.1 innings and allowed no runs and just one hit, with four strikeouts. Trey McLoughlin (W, 2-1) followed Garcia and did not allow a hit over 1.2 scoreless innings. Matt Minnick and Daison Acosta followed and kept Reading off the board. The R-Phils were held to a season-low two hits in the loss.
Reading finishes its final series of the regular season at the Binghamton Rumble Ponies on Sunday at 1:05 p.m. RHP Zach Haake is scheduled to start for Reading, and he will go opposite RHP Blade Tidwell for Binghamton. Pregame coverage is underway at 12:45 p.m. and you can listen at rphils.com/radio. A video stream is available via MiLB TV or the Bally Live App.
The Reading Fightin Phils return to FirstEnergy Stadium to open the 2024 season on April 9, 2024, against the Portland Sea Dogs. Season tickets, mini plans, and group outings for 2024 are now available. For more details, go to rphils.com, call 610-370-BALL, or at the Customers Bank Ticket Office.
The 2023 R-Phils season is presented by Pepsi. Follow the Fightin Phils on Twitter @ReadingFightins, like us on Facebook, or follow us on Instagram @Fightins.