Big Offensive Push Gives R-Phils Series Win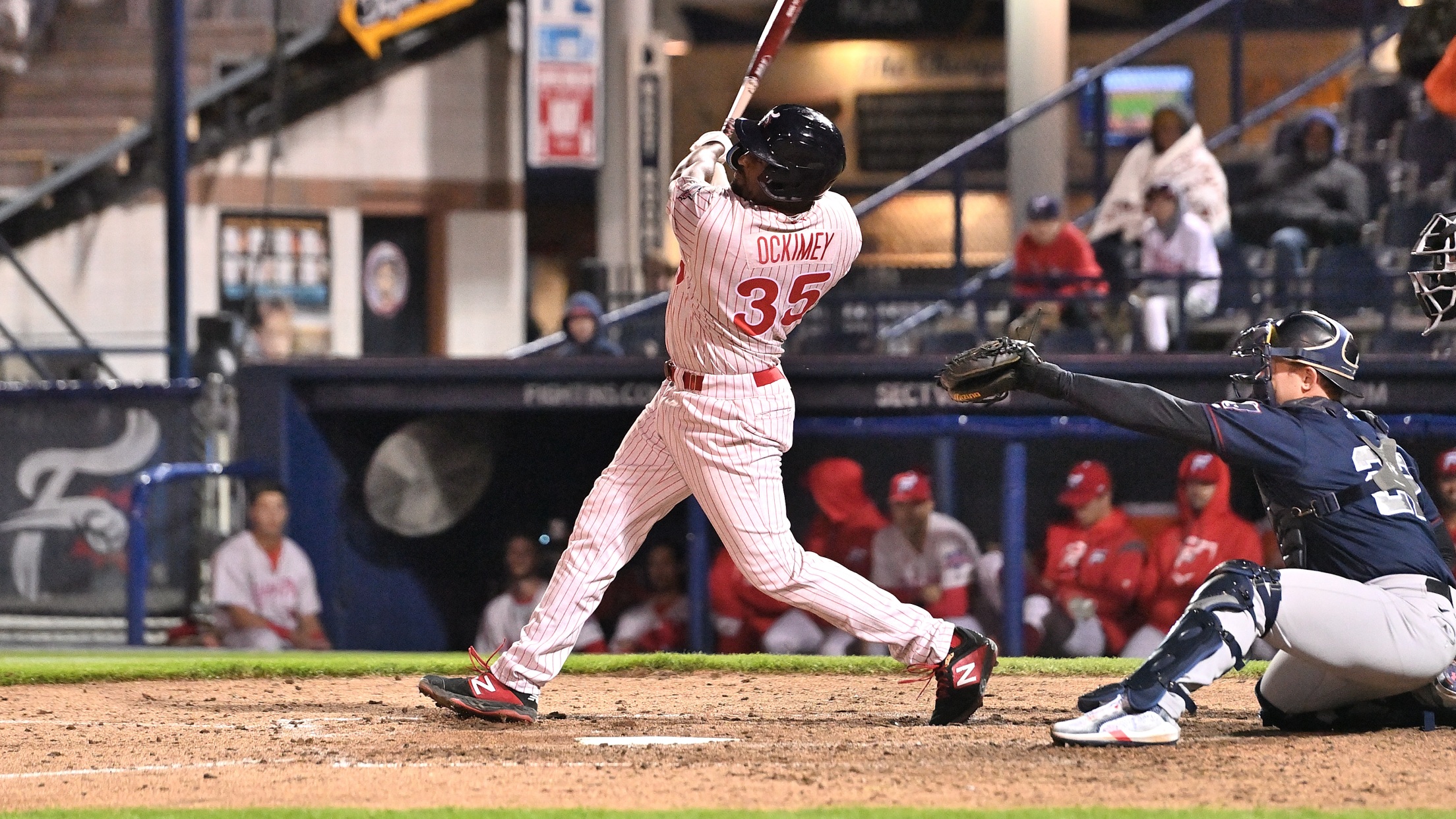 BOX SCORE | REA 10, NH 9 The Reading Fightin Phils routed the New Hampshire Fisher Cats 10-9 on a beautiful Sunday matinee contest. The team had a season high 14 hits, along with three home runs to take the victory. Reading took the six game set 4-2 for their
BOX SCORE | REA 10, NH 9
The Reading Fightin Phils routed the New Hampshire Fisher Cats 10-9 on a beautiful Sunday matinee contest. The team had a season high 14 hits, along with three home runs to take the victory. Reading took the six game set 4-2 for their first series win.
The Fisher Cats took an early lead with the bases loaded in the first. They scored on an RBI single from Orelvis Martin and a sacrifice fly from Phil Clarke to make it 2-0.
Reading poured it on in the top of the second, plating six runs on seven hits batting through the order. Madison Stokes reached on an error and both Jack Conley and Hunter Markwardt bunted for singles. With the bases loaded, Sal Gozzo sent pop up that dropped down the right field line to score a run. Vito Friscia's sacrifice fly tied the ball game at two a piece. The Fightins added two more on Josh Ockimey's RBI double. Jhailyn Ortiz sent one out to the deepest part of the park for a team-leading fourth home run of the season to make it 6-2.
New Hampshire inched their way back in to the game with back-to-back homers from Tanner Morris and Will Robertson. After five, it was 6-4.
In the sixth, Conley doubled, moved over on Markwardt's sacrifice bunt, and came home on a wild pitch. Reading led 7-4.
The team added on an insurance run in the seventh, when Conley walked with the bases loaded to score Ockimey.
The Fightins pitching staff allowed their first run of the season in the bottom of the seventh as a run scored on a passed ball, making it 8-5.
In the top of the eight, Friscia and Ockimey hit back-to-back home runs to make it 10-5. That was Friscia's fourth of the series and Ockimey's first of the season!
The Fisher Cats made a push in the bottom of the ninth. With the bases loaded they got within one run of the R-Phils. Ryan Gold struck out swinging to end the game and send Reading along with a 10-9 win and series victory.
Jack Perkins got the start pitching one inning, allowing two hits and two runs. Mike Adams threw two scoreless frames with three strikeouts. Braden Zarbnisky let up two solo shots in his two innings, but kept it quiet otherwise. McKinley Moore pitched an inning and a third allowing an earned run on a hit and a walk. A passed ball allowed the run to score. Francisco Morales kept his scoreless streak throwing 1.2 innings and striking out four. Brian Marconi hung on by a thread in the ninth after allowing four runs on three hits and three walks. He struck out the Fisher Cats with the bases loaded to end the game.