Bullpen Dominant as Reading Wins Pitchers Duel 2-1
Reading Scores Two Runs on Four Straight Walks in Seventh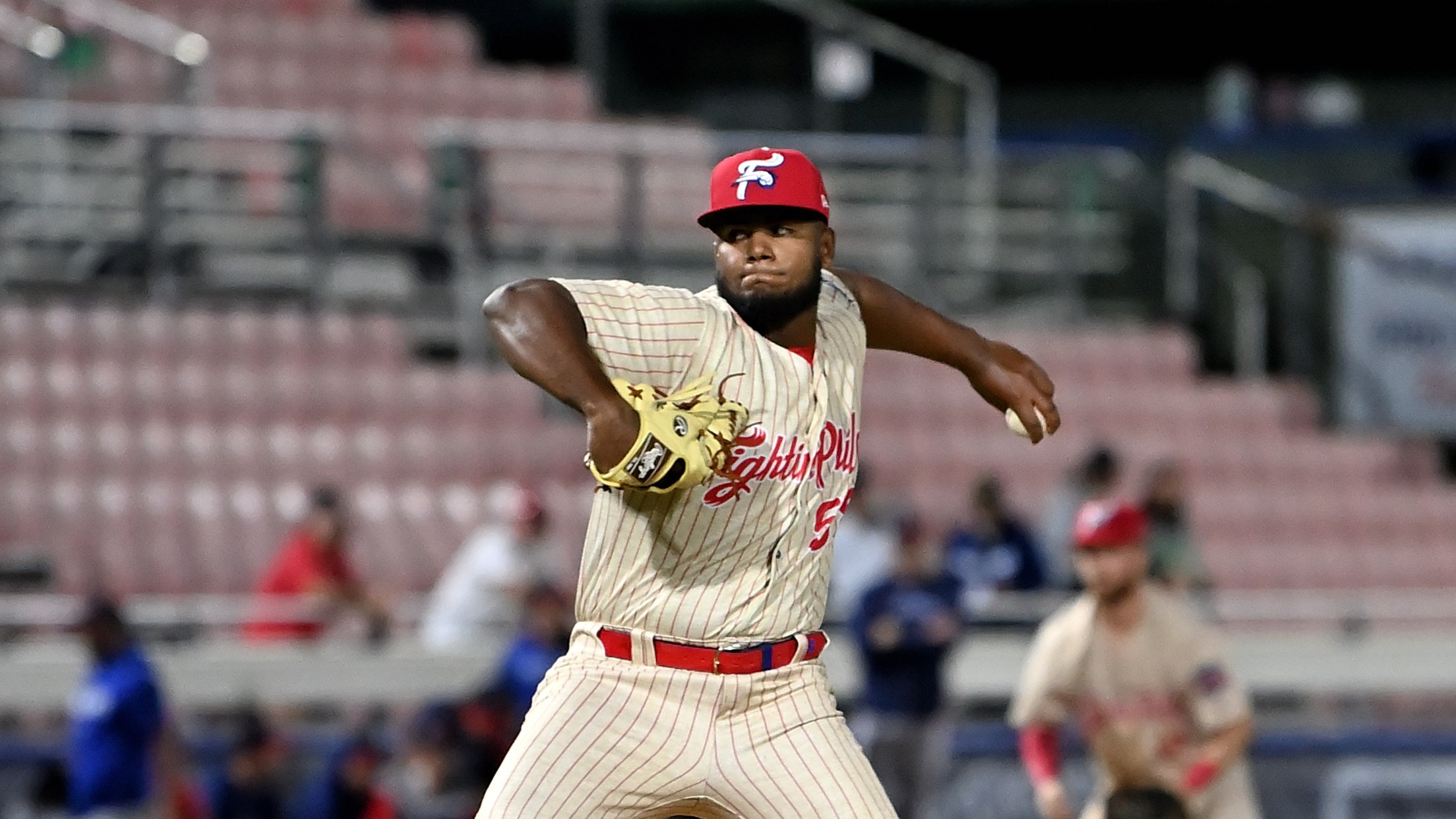 BOX SCORE (Binghamton, NY) - Four shutout innings from the bullpen led the Reading Fightin Phils (31-35, 59-75) to a 2-1 victory over the Binghamton Rumble Ponies (37-27, 72-61) on Friday night. With the win, Reading evens this week's series at two. David Parkinson started for Reading and was strong
(Binghamton, NY) - Four shutout innings from the bullpen led the Reading Fightin Phils (31-35, 59-75) to a 2-1 victory over the Binghamton Rumble Ponies (37-27, 72-61) on Friday night. With the win, Reading evens this week's series at two.
David Parkinson started for Reading and was strong in his final Double-A start this season. The lefty tossed five innings and scattered six hits with one run allowed. He fired eight strikeouts and walked just three. He did not factor into the decision.
Binghamton got its lone run in the fifth. Luis Guillorme led off the inning with a walk. Guillorme then moved to second when Jett Williams grounded out to short and then moved to third when on a ground out from Luisangel Acuna. With Guillorme on third, Drew Gilbert tripled down the right-field line to score Guillorme and make it 1-0 Binghamton.
Dom Hamel started for Binghamton and was strong against Reading again, holding the R-Phils off the board over five innings of work. He allowed just two hits, issued two walks, and struck out eight hitters. Junior Santos followed Hamel and tossed a scoreless sixth inning.
Reading responded with two runs in the top of the seventh frame off Kolby Kubichek (L, 1-1), who was called up to Binghamton from High-A Brooklyn prior to the game. Ethan Wilson first reached on a one-out single to right. With two outs, Reading proceeded to work four straight walks. Max McDowell and Nick Ward each reached to load the bases. Then, Marcus Lee Sang walked to plate Wilson, and Madison Stokes followed with a walk to score McDowell and put Reading up 2-1.
From there, Reading's bullpen was dominant. Erich Uelman (W, 1-0) tossed a scoreless sixth, with one strikeout, in his first appearance with Reading. Hans Crouse followed with a zero in the seventh, also in his first appearance. McKinley Moore struck out the side in the eighth, then Jordi Martinez (S, 1) tossed a scoreless ninth to pick up his first Double-A save. In total, Reading's bullpen did not allow a hit or run, with eight strikeouts. In total, the Fightin Phils had 16 strikeouts as a staff.
Offensively, Reading was held to just three hits, which matched a season low. The R-Phils worked ten walks, with Lee Sang having three, and Ward and Stokes each having two.
Reading continues its final series of the regular season at the Binghamton Rumble Ponies on Saturday at 6:07 p.m. RHP Adam Leverett is scheduled to start for Reading, and he will go opposite RHP Jordan Geber for Binghamton. Pregame coverage is underway at 5:45 p.m. and you can listen at rphils.com/radio. A video stream is available via MiLB TV or the Bally Live App.
The Reading Fightin Phils return to FirstEnergy Stadium to open the 2024 season on April 9, 2024, against the Portland Sea Dogs. Season tickets, mini plans, and group outings for 2024 are now available. For more details, go to rphils.com, call 610-370-BALL, or at the Customers Bank Ticket Office.
The 2023 R-Phils season is presented by Pepsi. Follow the Fightin Phils on Twitter @ReadingFightins, like us on Facebook, or follow us on Instagram @Fightins.