Carlos Ruiz to be Inducted into Baseballtown Hall of Fame
Former R-Phils and Phillies Catcher Will be Present for Induction Ceremony on May 30th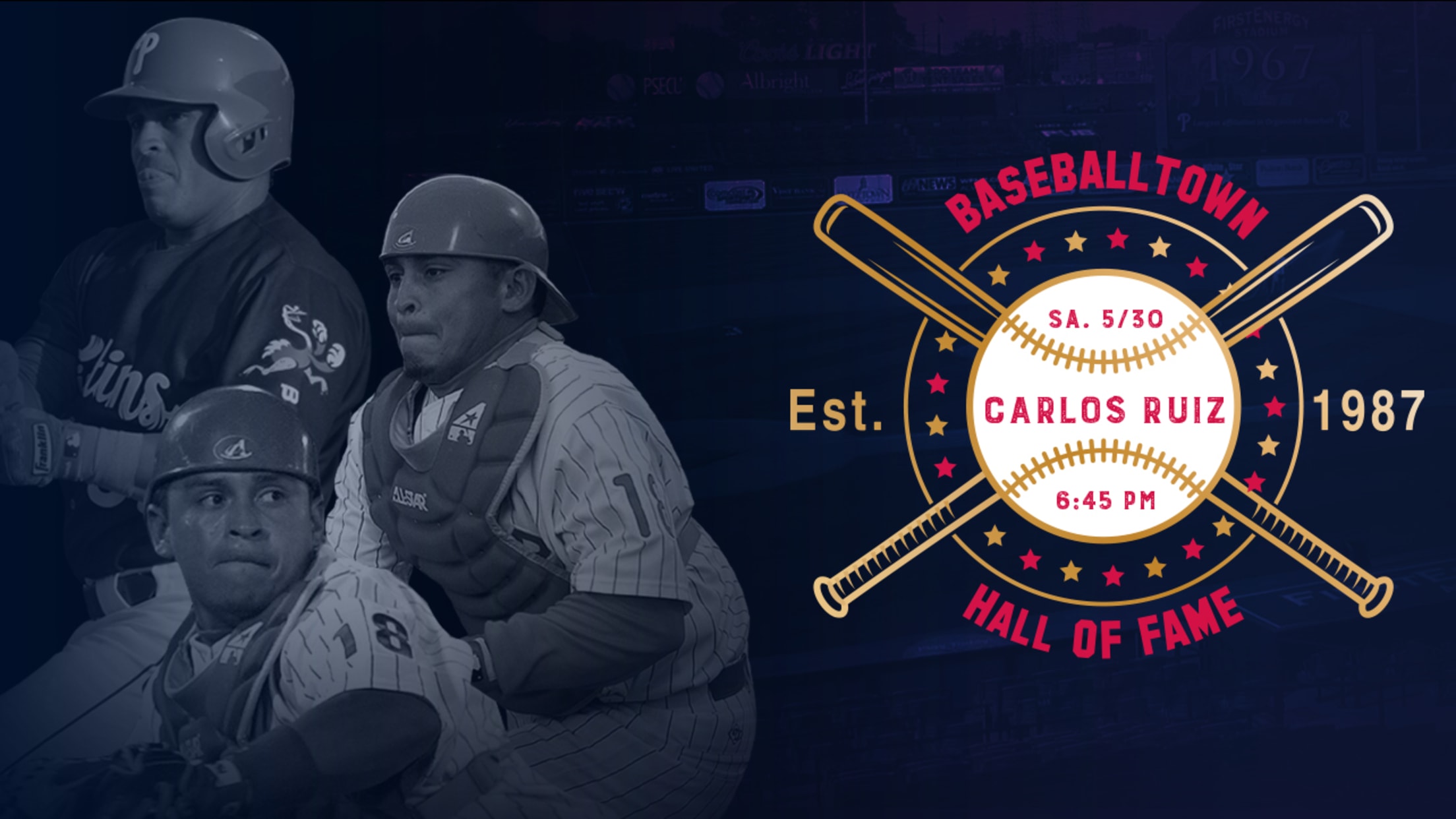 (Reading, PA) - The Reading Fightin Phils have announced that former R-Phils and Philadelphia Phillies catcher Carlos Ruiz will be inducted into the Penn State Children's Hospital Baseballtown Hall of Fame on Saturday, May 30th before the Fightins host the Akron RubberDucks at 6:45 p.m.Ruiz was a member of the
(Reading, PA) - The Reading Fightin Phils have announced that former R-Phils and Philadelphia Phillies catcher Carlos Ruiz will be inducted into the Penn State Children's Hospital Baseballtown Hall of Fame on Saturday, May 30th before the Fightins host the Akron RubberDucks at 6:45 p.m.
Ruiz was a member of the R-Phils in 2003 and 2004, when he hit .278 with 19 home runs and 66 RBIs combined over 153 games. The 2004 season spring boarded Ruiz to prospect status, after which he attended the Arizona Fall League and was added to the Phillies 40-man roster. After a season in Triple-A, Ruiz made his Major League debut with the Phillies on May 6, 2006. He was a member of the World Series Championship team in 2008, going 6-for-16 (.375) with two doubles, four walks, and a home run in the series to help lift Philadelphia to its first World Series title since 1980.
A 12-year big-league veteran, Ruiz retired following the 2017 season. In 1,136 MLB games (1,069 with Philadelphia), Ruiz hit .273/.330/.422 with 52 home runs and 278 RBIs. He was a National League All-Star with the Phillies in 2012, a year in which he hit a career-best .325. After 11 seasons with the Phillies, Ruiz was traded to the Los Angeles Dodgers in August of 2016, and appeared in 53 games for the Seattle Mariners in 2017 before retiring at age 38.
Ruiz threw out 27% of opposing base-stealers throughout his Major League career, including a career-best 41.7% in 2016, which led the National League. He is the MLB record holder, along with Jason Varitek, for the most career no-hitters caught (4). These include Roy Halladay's perfect game for the Phillies against the Florida Marlins on May 29, 2010, and Halladay's playoff no-hitter over the Cincinnati Reds in the 2010 NLDS - only the second postseason no-hitter in MLB history.
A native of David, Panama, Ruiz was signed by the Phillies on December 4, 1998.
The Baseballtown Hall of Fame Ceremony is sponsored by Penn State Children's Hospital, 830 AM WEEU, and 69 News Berks Edition.
After the game, fans will be treated to a Carpenter Technology MEGA Blast Fireworks Show - Largest Fireworks Show in Stadium History, thanks to Penn State Health St. Joseph Stroke Team.
Through Sunday, February 9th, Green Box seats for Baseballtown Hall of Fame night are on sale for $2 off, and RAM Club, Loge Box, and limited Blue Box seats are also available through the weekend here: Buy Hall of Fame Tickets Now
Season tickets and mini plans for the 2020 season are on sale now at the Weidenhammer Ticket Office at FirstEnergy Stadium, online at https://www.milb.com/reading/tickets/, or by calling 610-370-BALL.