FIGHTIN CANCER NIGHT: Morandini Appearance & Bobble to Support Darren Daulton Foundation
FREE Autographs & Photos, Limited-Edition Bobblehead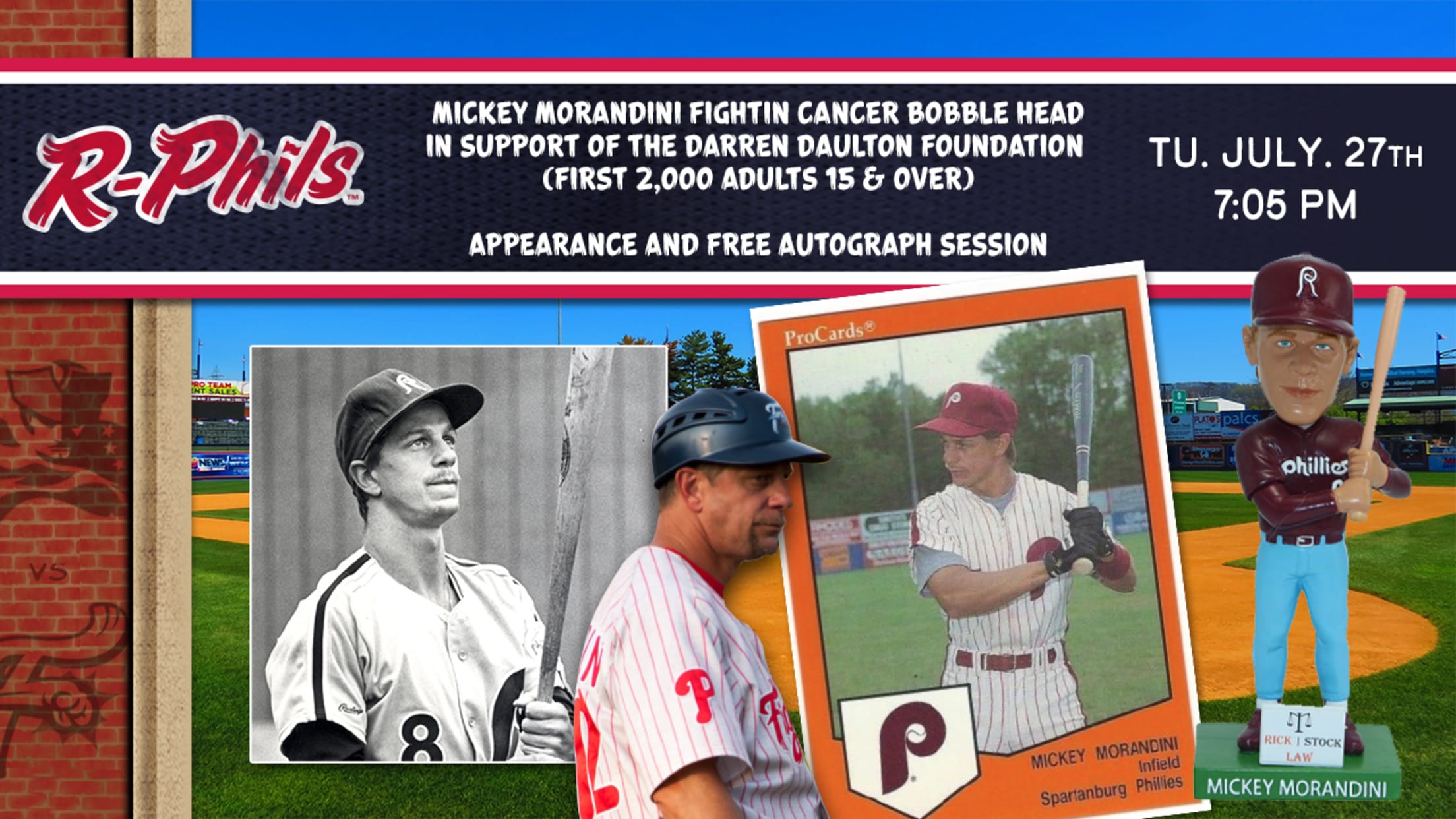 (READING) - The Reading Fightin Phils are proud to stand up to fight cancer and support the Darren Daulton Foundation. Our annual Fightin Cancer night will be on Tuesday, July 27th. Former Philadelphia Phillie Mickey Morandini will meet fans and sign autographs, and there will be an exclusive bobblehead giveaway
(READING) - The Reading Fightin Phils are proud to stand up to fight cancer and support the Darren Daulton Foundation. Our annual Fightin Cancer night will be on Tuesday, July 27th. Former Philadelphia Phillie Mickey Morandini will meet fans and sign autographs, and there will be an exclusive bobblehead giveaway from his playing time here in Reading on behalf of the Darren Daulton Foundation.
The first 2,000 adults to enter FirstEnergy Stadium will receive the bobble thanks to Rick Stock Attorneys at Law. The R-Phils host the Somerset Patriots (Yankees) with the first pitch at 7:05 pm, gates open at 5:00pm.
Mickey Mo will throw out a first pitch and address the crowd. Morandini will be in attendance in support of the Darren Daulton Foundation, whose mission is to provide financial support to families that are experiencing financial challenges due to treatment of a malignant primary brain tumor diagnosis.
Darren "Dutch" Daulton put up a strong fight against cancer and created this group to help others afflicted by the same disease. He was always known as a giving and loving family member, friend, and teammate. His memory lives on this way. Dutch and Mickey Mo were good friends and every year Morandini contributes to the foundation in his honor.Rick Stock Law (formerly Roland, Rick and Stock) is proud to once again sponsor a "Fightin Cancer" Bobble Head in support of the Darren Daulton Foundation. "We are honored to be participating again this year and to be sponsoring the Micky Morandini Fightin Cancer Bobble Head." said Attorney Charles Rick, a partner at Rick Stock Law, "We have sponsored these events in support of the Darren Daulton Foundation for several years now. One of our attorneys is a four-time cancer survivor, so supporting the Darren Daulton Foundation has special meaning to us."
Attorney Sandra Liberatori of Rick Stock Law was diagnosed with a cancer that mostly affects young people almost 40 years ago. Attorney Liberatori said, " I was treated for and cured of that first cancer. However, cancer survivors sometimes have late-term effects from their treatments. In the last decade, I have been diagnosed with three other types of cancer. Because of early detection, I have survived them all. As a cancer survivor, I have great respect and appreciation for organizations like the Darren Daulton Foundation and their support of those who suffer with cancer."
Mickey Morandini was drafted in the 5th round by Philadelphia back in 1988. Born and raised a Pennsylvanian, he played in 48 games in Reading the following year amassing 66 hits for a .351 batting average. Because of that summer, Mickey Mo was inducted into the Reading Baseball Hall of Fame in Baseballtown. He debuted in Philly during the end of the 1990 season and played in the big leagues for 10 years, where he was a member of the 1993 National League champion Phillies and 1995 All-Star team. Morandini spent part of 2015 as a coach in Reading before being called upon to be the first base coach out in Philadelphia.
Tickets for the Fightin Cancer Night are on sale now at: rphils.com/tickets, visit the Weidenhammer Ticket Office at FirstEnergy Stadium, or call 610-370-BALL.
The 2021 season is presented by Pepsi.
America's Classic Ballpark is proud to be a part of Pennsylvania's Americana Region and was voted the #1 stadium in all of Double-A by MiLB's Ben Hill. Follow the R-Phils at rphils.com, on Twitter and TikTok at @ReadingFightins, on Instagram @fightins, and like them on Facebook via _**www.facebook.com/fightins_** for all information.