Fightins announce "Go Green-Energy Conservation" Jersey Design Contest Winners
Artwork and concepts from five talented students made the final jersey design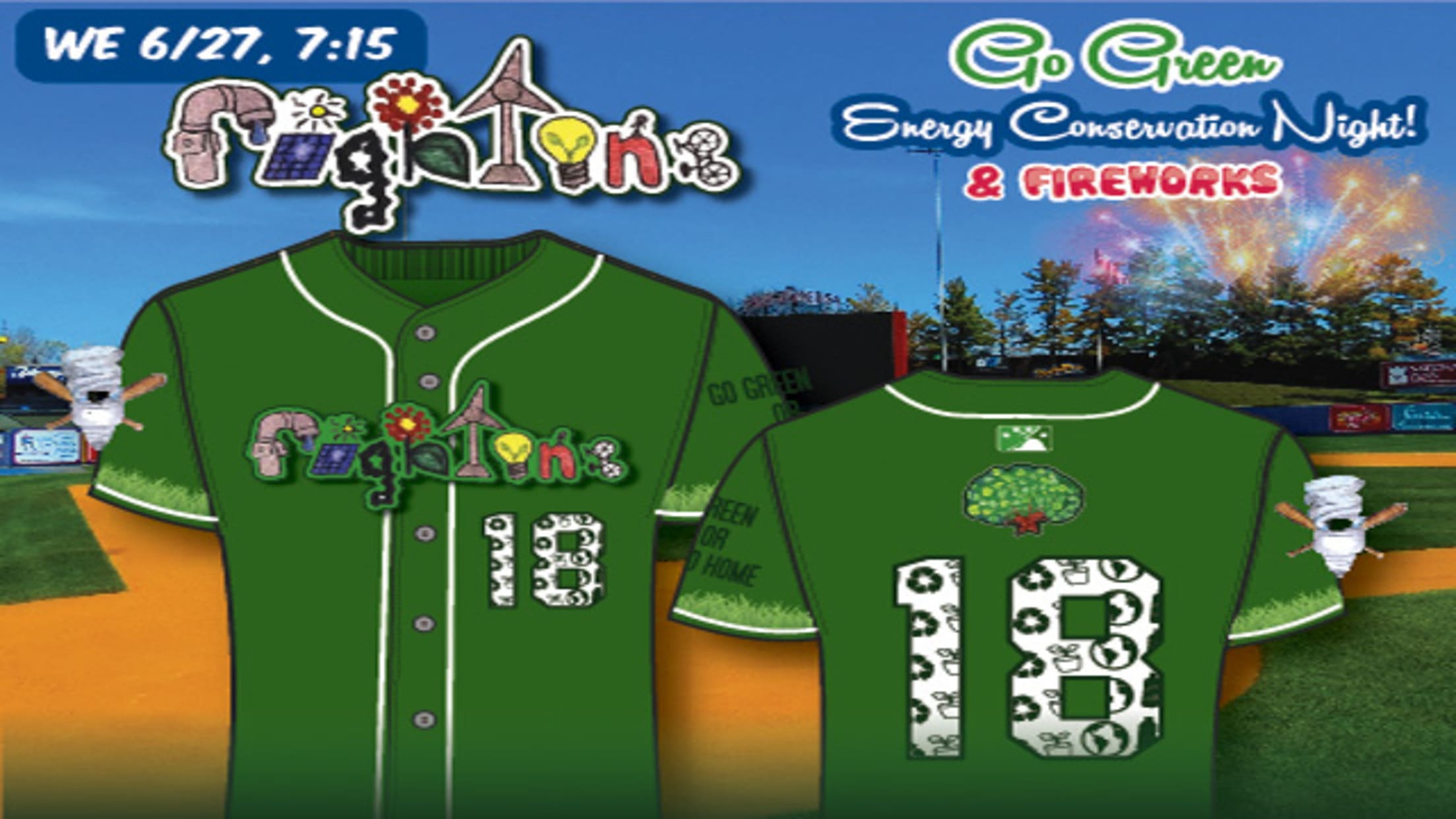 (Reading, PA) - The Reading Fightin Phils are excited to announce the final results of the "Go Green - Energy Conservation" jersey design contest! The contest was announced in February. The Fightin Phils decided instead of rewarding just one student artist, their graphics team decided to incorporate artwork and concepts
(Reading, PA) - The Reading Fightin Phils are excited to announce the final results of the "Go Green - Energy Conservation" jersey design contest! The contest was announced in February. The Fightin Phils decided instead of rewarding just one student artist, their graphics team decided to incorporate artwork and concepts from five talented students in the final jersey design. The jersey will be worn by the Fightin Phils on Wednesday, June 27th at 7:15 pm against the Erie SeaWolves.
Over 400 students submitted jersey designs and all designs will be on display at the Wednesday, June 27th game.
The five student winners are:

Curtis Fry, 12th grade - Perkiomen Valley High School
- Responsible for the overall style of the final jersey design
Allison Bracy, 8th grade - Hamburg Middle School
- Took the name "Fightins" and represented each letter using a different symbol of Energy Conservation
Katarina Kincade, 12th grade - Pottstown High School
- Combined baseball bats with "Compact Fluorescent Lamp" (CFL) and was incorporated as a Right Sleeve Patch on the final June 27th Fightin Phils jersey
Ellie Norton - Twin Valley High School
- Incorporated real grass into her jersey design.
Sanjana Kilaru, 4th grade - East Ward Elementary
- Her entry included images of trees and Energy Conservation Slogans. Her use of the tree being held up by hand-like branches and the slogan "Go Green or Go Home" were incorporated as a Back Plate Patch and Left Sleeve Patch
Each student will receive two free tickets to the game on Wednesday, June 27th at 7:15 p.m. Thanks to Reading Area Community College, all five winners will also receive a Go Green Jersey, four reserved box seats with all you can eat buffet, a $50 gift card to the Fightin Phils Merchandise Store and a ceremonial first pitch prior to the game on June 27th.
The specialty themed jerseys worn by the Fightin Phils will be auctioned during the game and proceeds will go to the Berks Conservancy. The game on June 27th will conclude with a post-game fireworks show thanks to Fromm Electric Supply. Tickets are available for purchase online at fightins.com or can be purchased in person at the Fightin Phils Box Office at FirstEnergy Stadium.
America's Classic Ballpark is proud to be a part of Pennsylvania's Americana Region. Individual and season tickets for the 2018 season are available online at Fightins.com, by phone at 610-370-BALL, and in-person at FirstEnergy Stadium. Follow the Fightin Phils on Twitter at @ReadingFightins and like them on Facebook via www.facebook.com/fightins.