Fightins to Host Breast Cancer Awareness Night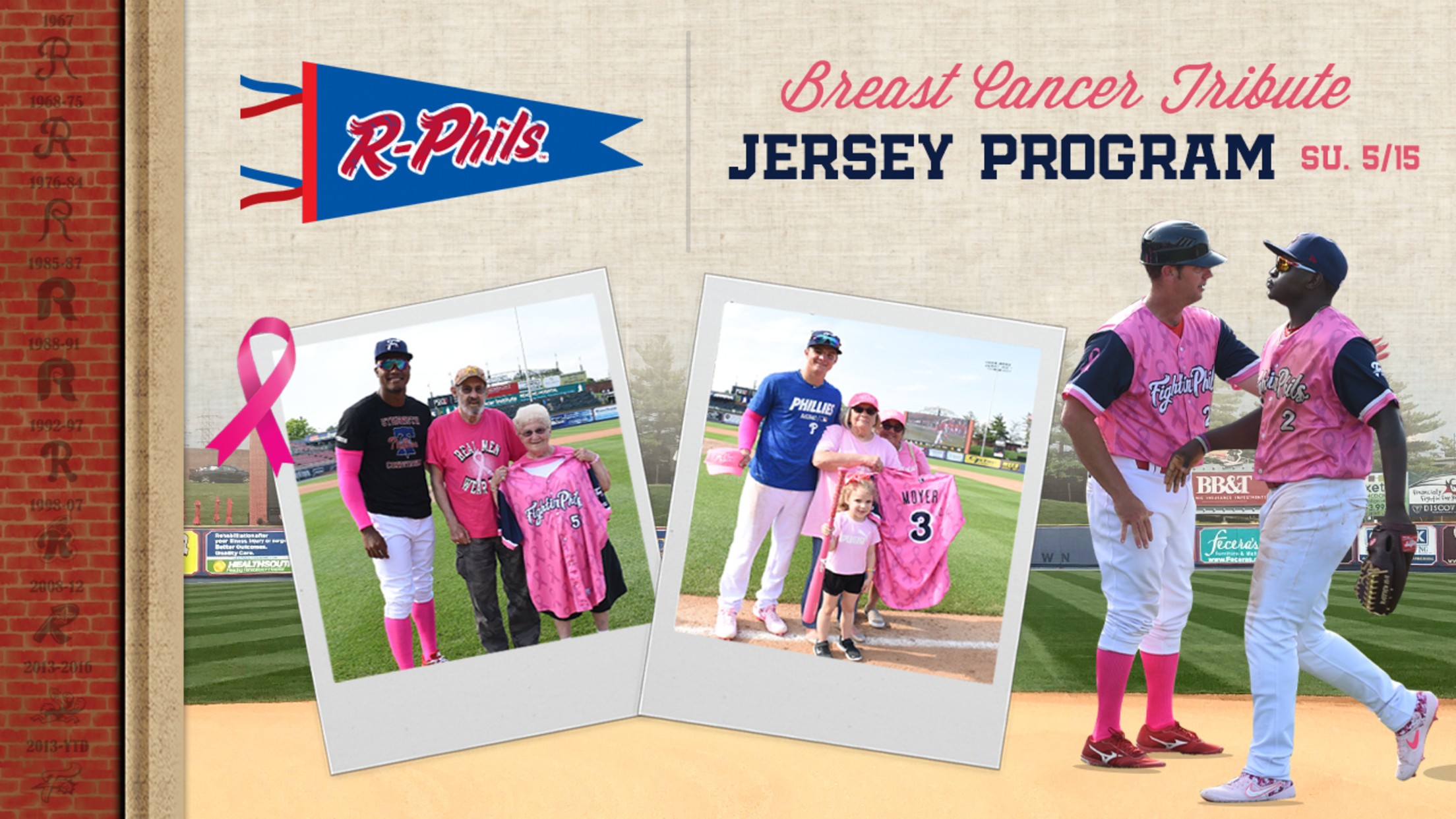 (Reading, PA) – The Reading Fightin Phils are pleased to host a Breast Cancer Awareness night at America's Classic Ballpark, FirstEnergy Stadium on Sunday, May 15th at 5:15pm. Thanks to the Reading Hospital McGlinn Cancer Institute, the R-Phils will honor those who are battling, have survived or have lost their
(Reading, PA) – The Reading Fightin Phils are pleased to host a Breast Cancer Awareness night at America's Classic Ballpark, FirstEnergy Stadium on Sunday, May 15th at 5:15pm. Thanks to the Reading Hospital McGlinn Cancer Institute, the R-Phils will honor those who are battling, have survived or have lost their fight to cancer. Families and friends can honor a loved one through our personalized pink Breast Cancer Awareness jerseys as the Fightins take on the Bowie Baysox (Orioles). Women twenty-one and older will also receive a Belated Mother's Day giveaway upon entry.
The Reading Fightin Phils players will wear special themed jerseys honoring 25 different women who have battled breast cancer, either in the past, or currently. The first 25 families and friends that purchase 20 or more tickets for reserved seating or a picnic area for the Sunday, May 15th game will have the opportunity to have a loved one represented on a jersey during the game for no additional charge.
Submit a form to honor an individual during the R-Phils Breast Cancer Game now.
About 1 in 8 U.S. women will develop invasive breast cancer over the course of her lifetime. Most of us know or have been these women. It is important to recognize the struggle and bravery of these women whether they have won or lost their battle with cancer. The R-Phils continue to admire the strength of these women and help to build awareness and funds to battle cancer.
The pink specialty jerseys will be personalized with the honoree's name on the back. Players will receive a photo and bio of the honoree they are representing on the field. A special post-game jersey ceremony will take place with the 25 jersey honorees receiving their game-worn jersey on the field. If the honoree is present, they will receive the jersey. If the honoree has passed, the family will receive the jersey.
Please complete this form to reserve the opportunity for a jersey to be worn by a player during the May 15th game. A Reading Fightin Phils representative will contact you to confirm your submission and coordinate your group outing for the game on May 15.
Fans can also celebrate and enjoy a belated Mother's Day with their mom or mother figure! The first 2,000 women 21+ will receive an R-Phils giveaway main gate. This day can be difficult for some fans, especially those who have lost a relative to cancer. Take the time to remember the special women in your life and celebrate them with a beautiful family at America's Classic Ballpark.
Contact Matt Koch at [email protected] with any questions!