Greg Legg returns as manager, field staff announced
Legg returns for second straight season as manager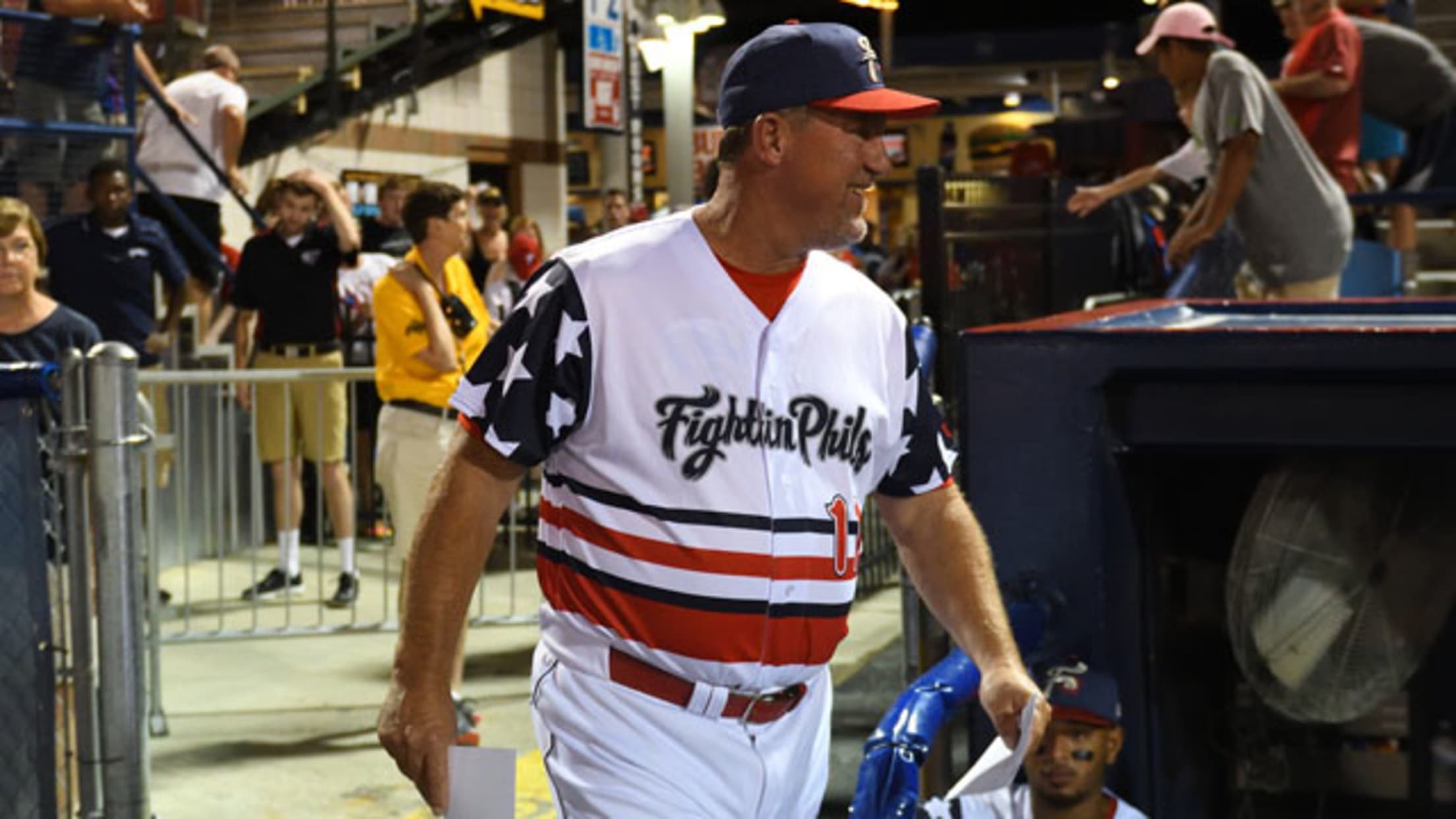 (Reading, PA) - Greg Legg will return as manager for a second straight season in Reading as announced by Joe Jordan, Philadelphia Phillies Director, Player Development. Legg will be joined by hitting coach Kevin Riggs, pitching coach Steve Schrenk, assistant coach Rico Brogna, athletic trainer Mickey Kozack and strength and
(Reading, PA) - Greg Legg will return as manager for a second straight season in Reading as announced by Joe Jordan, Philadelphia Phillies Director, Player Development. Legg will be joined by hitting coach Kevin Riggs, pitching coach Steve Schrenk, assistant coach Rico Brogna, athletic trainer Mickey Kozack and strength and conditioning coach Mike Lidge.
Legg returns having won a total of 274 games during his four prior seasons (2002-2004 and 2017) as manager of the Fightin Phils. Prior to his return to Reading last season, Legg had a successful tenure with advanced-A Clearwater (2015-2016). Both teams combined had a record of 161-112 (.590%) and made a playoff appearance in 2015. He won Florida State League Manager of the Year in 2015 after leading his team to the best record in the Florida State League.
Legg began his coaching career with Clearwater (A+) in 1995 and Scranton in 1996. He made his managerial debut in 1997 for Batavia (A). He also managed Martinsville (R) in 1998, Batavia in 1999 and Piedmont (A) in 2000. He managed low-A Lakewood (2001 and 2014) and was their hitting coach from 2008-2013. He managed Williamsport (R) in 2007, its first season as a Phillies affiliate since 1962. In 2011, he was honored with the John Vukovich Award, presented annually to a coach in the Phillies minor league system.
He was drafted by the Phillies in the 22nd round of the 1982 draft out of Southeastern Oklahoma State University in Durant, Oklahoma. He played in 238 career games with Reading as an infielder from 1983-1984 and again in 1988. He made it to the major leagues in 1986 and 1987, appearing in fourteen games.
Kevin Riggs will be entering his first season as hitting coach for the Fightin Phils. He joins the Phillies organization from the Altoona Curve (AA) of the Pittsburgh Pirates where he was their hitting coach for three seasons (2015-2017). Prior to that, Riggs began his coaching career with Casper (R) in 2007. He also made stops in Asheville (Class-A) and Modesta (Class A-Advanced). He was named manager for the Tulsa Drillers for two seasons (2013-2014) where he compiled a 139-138 record and made it to the league finals in 2014.
Steve Schrenk joins the Reading staff as pitching coach for a third straight season and fourth overall with the team (2009). The 49-year old spent 16 years (1987-2002) pitching professionally, including two seasons with Philadelphia, before transitioning to a coaching career in 2003. Schrenk has coached in the Phillies minor league system since 2004 and has been a pitching coach for advanced-A Clearwater (204, 2007-08, 2015), single-A Lakewood (2005, 2010-12), and rookie-level Gulf Coast Phillies (2013-14).
Rico Brogna returns to Reading after a 15 year hiatus this season as an assistant coach. Brogna coached in Reading in 2002 after a nine-year professional career that included stops in Detroit, New York, Philadelphia, Boston and Atlanta. He managed the Mobile Baybears (AA) in 2010 and finished with a 75-62 record. He joined the Angels' organization as a special assistant to the general manager in 2013 and became the Angels' player-information coach in 2014.
Mickey Kozack returns for his second straight season as athletic trainer for the Fightin Phils. He'll be entering his 12th season as a full-time staff athletic trainer with the Philadelphia Phillies. He spent three years (2014-2016) with Clearwater (A+) and six years (2008-2013) with Lakewood (A). Kozack spent the 2007 season with Williamsport and served as an intern in 2006 with Scranton/Wilkes-Barre (AAA). In addition to being a certified athletic trainer (ATC), he is also a certified health education specialist (CHES).
Mike Lidge will make his Fightin Phils debut in 2018. He joined the Philadelphia Phillies organization in 2017 and previously held the same position for four years (2013-2016) with the San Francisco Giants for Richmond (AA), San Jose (A) and the Arizona League Giants (R). He has a Master of Science in Exercise Science and his Bachelor of Science in Kinesiology from Northeastern Illinois University.
America's Classic Ballpark is proud to be a part of Pennsylvania's Americana Region. Season tickets for the 2018 season are available online at Fightins.com, by phone at 610-370-BALL, and in-person at FirstEnergy Stadium. Follow the Fightin Phils on Twitter at @ReadingFightins and like them on Facebook via www.facebook.com/fightins.