Jalen Mills Charity Softball Game Roster Grows With Added Eagles and Celebrities
More players for the Jalen Mills Charity Softball Game on Saturday, June 23rd have been added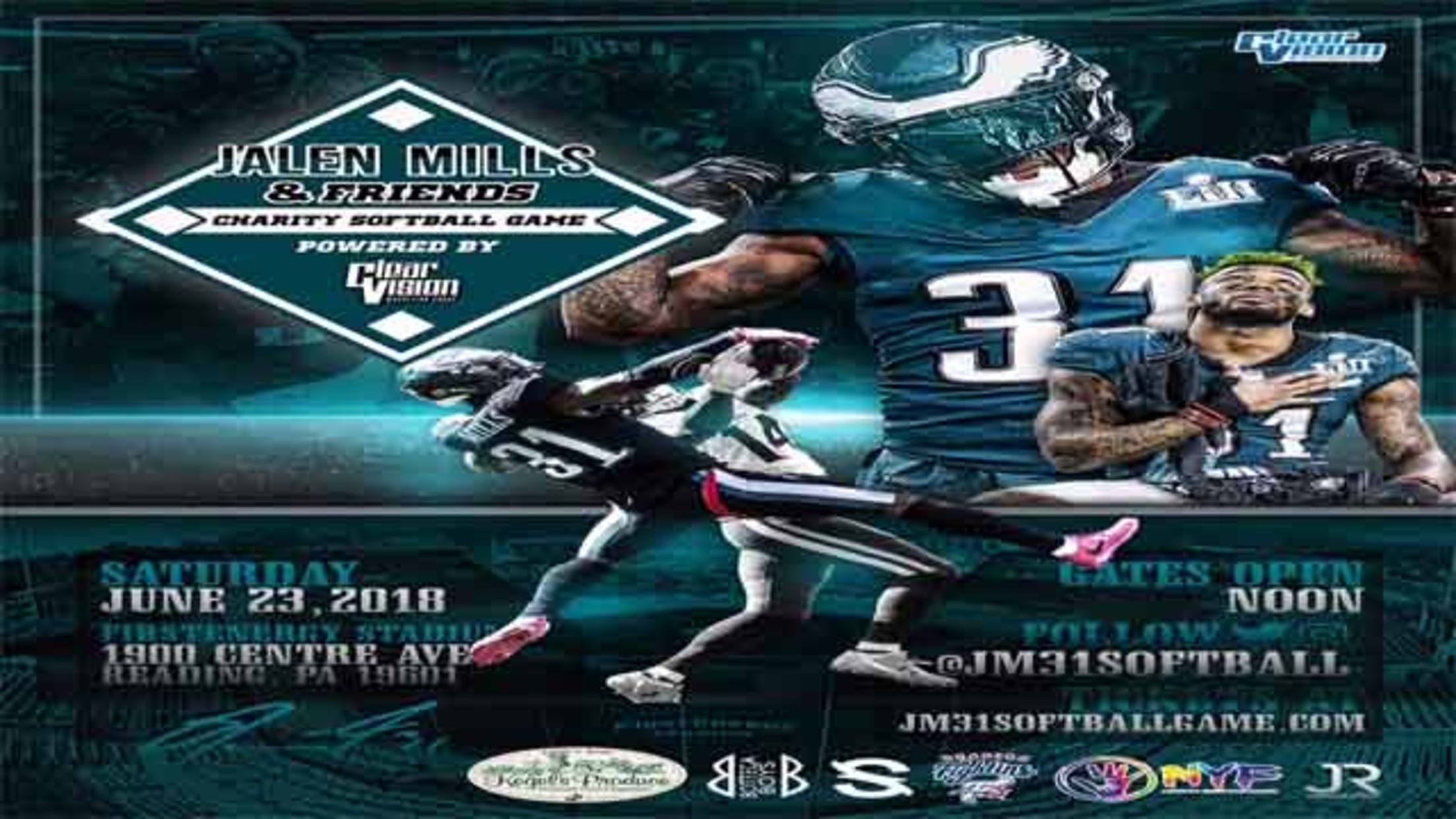 (Reading, PA) - The Reading Fightin Phils and Clear Vision Marketing Group have announced multiple additions to the Jalen Mills' Charity Softball Game benefitting the National Youth Foundation on Saturday, June 23rd at FirstEnergy Stadium in Reading, Pennsylvania. Buy Tickets NowThis exciting and inaugural game will help benefit the NYF
(Reading, PA) - The Reading Fightin Phils and Clear Vision Marketing Group have announced multiple additions to the Jalen Mills' Charity Softball Game benefitting the National Youth Foundation on Saturday, June 23rd at FirstEnergy Stadium in Reading, Pennsylvania.
Buy Tickets Now
This exciting and inaugural game will help benefit the NYF (National Youth Foundation), whose mission is to build character, empower and inspire young students to advance their skills through academic and team building projects.
Here is a list of the players who will be participating in the game on Saturday, June 23rd:
Philadelphia Eagles
Jalen Mills, Alshon Jeffery, Jason Peters, Brandon Graham, LeGarrette Blount, Corey Clement, Bryce Treggs, Rashard Davis, Mike Wallace , Terrence Brooks, Rick Lovato, and D.J. Killings.
Other NFL Teams
Leonard Fournette (Jacksonville Jaguars), Tyrann Mathieu (Houston Texans), Kwon Alexander (Tampa Bay Buccaneers), Jamal Adams (New York Jets), Terrance Brooks (New York Jets), Duke Riley (Atlanta Falcons), and Steven Johnson (NFL Free Agent).
Celebrities
Little League World Series Pioneer Mo'ne Davis, Singer/songwriter Willie Taylor, Philadelphia Rap Artist Gillie Da Kid, Musical Artist Fatboysse, World Class Eater Notorious B.O.B., Sports Agent Drew Rosenhaus, Power 99FM Radio Host DJ Diamond Kuts, 830 AM WEEU Morning Show Host Mike Keller, and Philadelphia Rap Artists Beanie Sigel, Young Chris, and Freeway.
Tickets are available now and include options of Front Row for $30, Main Grand Stand for $20, and General Admission for $10. Tickets may be purchased in-person at FirstEnergy Stadium Box Office located at 1900 Centre Ave, Reading, PA, over the phone at 610-375-8469 and online at WWW.JM31SOFTBALLGAME.COM. Gates will open on Saturday June 23rd at 12pm followed by a Home Run Derby at 1pm and the Softball Game will begin at 2pm.
For media inquiries, please contact Director of Public/Media Relations Michael Ventola at 610-375-8549 ext. 218 or by emailing him at [email protected]
America's Classic Ballpark is proud to be a part of Pennsylvania's Americana Region. Individual and season tickets for the 2018 season are available online at Fightins.com, by phone at 610-370-BALL, and in-person at FirstEnergy Stadium. Follow the Fightin Phils on Twitter at @ReadingFightins and like them on Facebook via www.facebook.com/fightins.