Keeping Up With the Prospects: Winter Leagues
Philadelphia hopefuls head abroad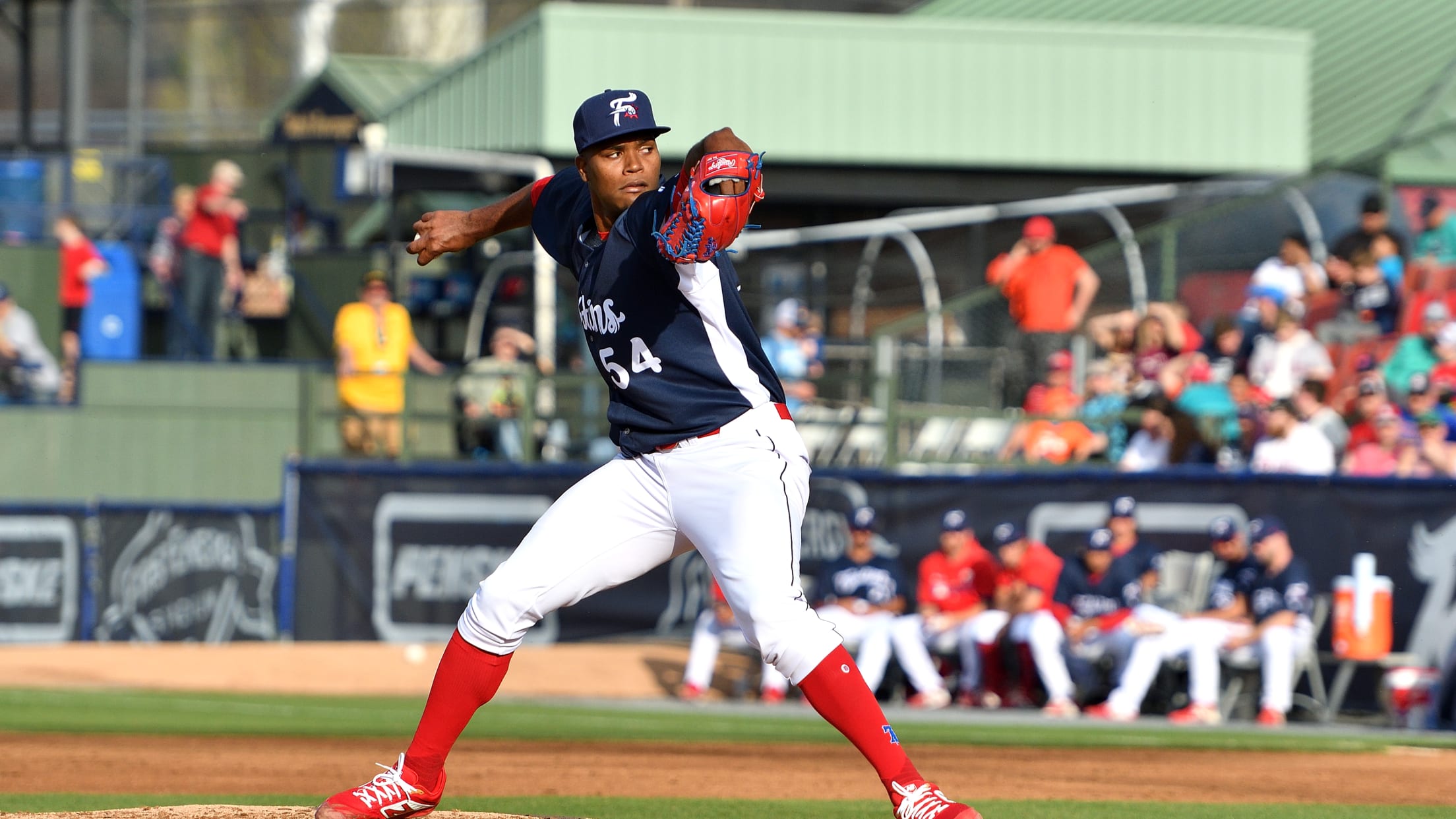 Last Updated: January 15, 2020 The Philadelphia Phillies have sent numerous top prospects to different leagues in Australia, Puerto Rico, Mexico, Venezuela, and the Dominican These players have the opportunity to practice and compete during the winter time in a safe and talented environment. Some you might have seen at
Last Updated: January 15, 2020
The Philadelphia Phillies have sent numerous top prospects to different leagues in Australia, Puerto Rico, Mexico, Venezuela, and the Dominican These players have the opportunity to practice and compete during the winter time in a safe and talented environment. Some you might have seen at FirstEnergy Stadium before and others will make their way to Reading next season for the first time! This article will be continuously updated as the teams announce their rosters for the season and as players compete and record stats.
AUSTRALIAN BASEBALL LEAUGE:
The Melbourne Aces have three players affiliated with Philadelphia that are set to play this winter. They are Chris Burke, Luke Leftwich, and Josh Tols. Both Leftwich and Tols pitched for the Fightins back in 2019. They reached Lehigh Valley, but plagued by injuries they could appear at least for some part of the season back in Reading. Burke, 19, recently signed with the Phillies in 2019. He's yet to make his debut with the farm system, but he's had plenty of professional experience with the ABL. The young catching prospect is sure to make waves when he gets here. The Aces also have former R-Phils players Drew Anderson and Damek Tomscha.
Leftwich has bounced back from a rocky start in his second appearance. He's brought his 15.00 ERA down to 6.00 in 3.0 innings. Coming off an injury that ended his winter ball season early last year, Tols is working on his return. In seven innings, he has recorded seven strikeouts and given up three earned runs. His ERA stands at 3.86. Burke is five-for-twenty four on the season with one homer, three runs scored and five walks. He's been flipping between the outfield and behind the plate to get his bat in the lineup.
However, Philadelphia has sent the most prospects to the Adelaide Giants. The two teams have had a solid partnership and Giants' manager, Australian-born Chris Adamson, is also the manager of the Jersey Shore Blue Claws. Infielders Kendall Simmons and Luke Williams, outfielder Cornelius Randolph, and pitchers Jonathan Hennigan, Taylor Lehman, and Austin Ross are all said to headed down under from America for the season, according to their website. Additionally, a few Aussie players are affiliated with the Phillies including catcher Mitchell Edwards, infielder Rixon Wingrove, outfielder Jordan McCardle, and pitcher Jason Lott.
Randolph, a first rounder in 2015, played in 102 games for the Fightins. He upped most of his numbers in the offensive categories from the previous season. The ABL season is sure to provide an opportunity for Randolph to prosper. With Adelaide, he is currently batting .182 in 22 at-bats. He's had four hits, one of them being a bomb to left center.
Hennigan and Williams also spent time in Baseballtown in 2019. Williams will most likely move up to Triple-A next summer, while Hennigan could make an appearance back in Reading. Currently Williams has recorded two hits with one walk and one stolen base. Hennigan has pitched one inning allowing no hits for a 0.00 ERA.
Ross spent time in Clearwater so it's probable that he will move up the pipeline to showcase his skills at America's Classic Ballpark. The Pennsylvania native has gone two strong innings, striking out four and not allowing a hit. Simmons who appeared in the New York Penn league back in 2018 has worked his way into the Giants lineup. He's already got one home run on the board and his glove looks promising in the infield. The Phillies prospects are piling on the homers as Edwards has notched one as well. Should he continue to produce in the ABL, fans will certainly have a chance to see him at FirstEnergy Stadium. However, former Penn Stater Taylor Lehman is still looking to find his rhythm on the rubber.
Australian-born Wingrove has been the most exciting prospect to keep tabs on thus far. He's had three home runs securing a .368 BA. Wingrove, 20, was singed by the Phils in 2018. The first baseman has flashed his leather in the Gulf Coast League and looks to secure some playing time in the higher levels of the minor league system this coming season. Teammate Edwards has impressed in the backstop, making only one error and nabbing two runners trying to take a base. Catching candidate McCardle was a standout in the league last year and will look to capitalize this year as well. Also turning heads is Jason Lott who has pitched 5.2 innings, maintaining a 1.59 ERA after giving up just one earned run.
MEXICAN PACIFIC LEAUGE:
Showcasing his skillset for the Mexican Pacific League is 2019 Fightin Darick Hall. Hall, 25, plays for the Caneros De Los Mochis where he is currently batting .227 in 21 games. He has hit 4 homers and recorded 20 RBIs. Back in Reading, the first baseman was honored as an Eastern League Season-Ending All Star. Hall was consistent at the plate, known for getting on base and usually coming up with an extra bag. Joining Hall is promising southpaw Erubiel Armenta. Armenta is new to the organization, not yet having played a game in America. For the Caneros, he has pitched in 14.2 innings boasting a 2.45 ERA.
Major Leaguer Victor Arano plays with the Yaquis de Obregon in the winter season. The right handed reliever made his MLB debut on September 12, 2017. Sidelined by injuries, Arano has bounced from Philadelphia to the minor league affiliates throughout the past few years. In '16 & '17, he played for Reading where he excelled on the mound and showcased his strikeout ability. Abroad he has pitched 10.0 innings recording eleven strikeouts for a 5.40 ERA. Arano has notched two saves.
Fernando Lozano is a rookie pitcher is on the roster of the Aguilas de Mexicali. He's been a star thus far pitching in 19.2 innings boasting three wins and a 1.83 ERA. The righty shined in the Gulf Coast League in 2019 with his impressive high strikeout to low walk ratio.
DOMINICAN WINTER LEAUGE:
A familiar face is starring in the Dominican Winter League for the Phillies, Ramón Rosso. The right hander made his major league debut on July 24, 2020. He was optioned down and recalled back up multiple times throughout the season to fill a reliever role for Philadelphia, although typically a starter in the minor leagues. Rosso split the 2019 season between the Fightins and the Lehigh Valley Iron Pigs. He is currently a part of the Águilas Cibaeñas with a 3.12 ERA after 26.0 innings. If he can right himself, he could be a star in the Phillies bullpen next season. His teammate Michael Ynoa just received an invitation to Philadelphia's spring training. He made it to the bigs with the Chicago White Sox, but has since spent his time in the minors. A right handed reliever, Ynoa has looked good so far in his winter league appearances. In 12.2 innings, he has kept his ERA to a mere 2.13 with 18 strikeouts and only four walks. Neftali Feliz, who also has been invited to spring training, has showcased some solid pitching in the Dominican. It's been two years since he was affiliated, but back in the day he made waves in the majors. Feliz really made his mark with the Texas Rangers where he was the AL Rookie of the Year in 2010. With the Águilas Cibaeñas, he has pitched in 14.2 innings for a 3.07 ERA, averaging more than one strikeout per inning.
Former Fightin Adonis Medina stars for the Tigres del Licey along with Enyel De Los Santos, and Austin Listi. Medina joined the parent club this summer as he made his debut on September 20th. There he started one game pitching four innings, giving up three hits and two earned runs while striking out four. Back in 2019, the right handed starter threw 105.2 innings in Reading. He racked up 82 strikeouts and holding hitters to just a .254 average. In the Dominican he has pitched in five games for a 5.73 ERA. Listi is currently batting .190 in six games with one homer. He spent parts of both 2018 and 2019 with the R-Phils. The utility player is extremely flexible and consistent, making waves in the Phillies minor league system. De Los Santos reached the show back in 2018 but has since been optioned back to the minors. The righty is struggling in the Dominican with an 11.57 ERA giving up three runs in 2.1 innings pitched.
Young gun Johan Quezada pitches for the Toros Del Este. The 26-year-old was claimed off waivers from the Miami Marlins at the end of October. Quezada made an appearance in the big leagues in September pitching 3.0 innings recording a 9.00 ERA, giving up three earned runs. Before that he had made it is as far as Advanced-A so it's quite possible fans will see him at FirstEnergy Stadium if he has a successful stint in the Dominican Republic. So far he's only thrown 4.0 innings for the Toros yielding one earned run and a 4.50 ERA, a promising improvement.
Rodolfo Duran, 22, is a catcher in the organization. The backstop was on the roster in Clearwater last minor league season where he made no errors, contributed to 5 double plays, and caught 26 runners stealing. Duran looks to keep that same ability behind the plate while adding some spice in the batter's box. With the Estrellas Orientales he is batting .188 in seven games with two RBIs. There's a strong possibility that he will move his way up to Reading in 2021. Also a future Fightin is Jonathan Guzman. The shortstop has recently struggled with his swing at the plate for the Leones del Escogido, but will look to turn things around in the upcoming games. In the Dominican, he's batting .138 with four hits and two walks. Christian Bethancourt is a former major leaguer looking to make his way back to the show. He played for multiple years with Atlanta and San Diego and was picked up by Philadelphia in 2020. After not playing this past summer and electing free agency, Bethancourt has received an invitation to spring training. The 29-year-old backstop can also moonlight at first base. In 20 games with the Estrellas Orientales, he has recorded eleven hits including one home run. Behind the plate, Bethancourt has made two errors but has caught two runners stealing. With the catching position up in the air, Bethancourt may be able to provide some experience and relieve some pressure for Philadelphia.
PUERTO RICAN LEAGUE:
In La Liga de Béisbol Profesional Roberto Clemente, the main professional baseball league in Puerto Rico, Gabriel Cotto, 22, plays for RA12 which is the developmental team started by Former Puerto Rican baseball player Roberto Alomar. Cotto has pitched in 9 innings, relinquishing only five hits and one earned run for a 1.00 ERA. The lefty reliever, drafted in the seventh round in 2018, has played in the Gulf Coast League for Philadelphia. Jadiel Sanchez is also a part of the RA12 and the GCL. The 19-year-old outfielder is just getting started in professional baseball, batting .250 in fourteen games with two doubles and a triple to his name. Kevin Escalante was signed to a minor league contract in 2018. He has yet to play a game with the Phillies organization but is participating in the RA12 league. Thus far he has no hits in 13 at-bats, but has batted in one run and walked twice.
VENEZUELAN PROFESSIONAL LEAGUE:
Daniel Brito, 22, was set to play for the Fightin Phils in 2019. The infielder previously had success with Clearwater, which he will look to capitalize on this winter season. With the Águilas del Zulia, Brito is batting .277 with 22 RBIs and three homeruns. Leonel Aponte, a right handed pitcher, also plays in the Venezuelan League. Aponte has started three games and came in for relief in another three for the Cardenales De Lara. Just 21 years old, he is trying to find his place on the mound after giving up six earned runs for a 3.48 ERA. His teammate Edward Barboza, 19, is just beginning his time with the Philadelphia organization. Batting .200 in five at-bats, the exciting catching prospect is looking to make waves. Another young contender, Yhoswar Garcia, plays for the Tiburones de La Guaira. He has yet to record a hit for Venezuela and has not played a game in a Phillies uniform.
Check back for updates on your Philadelphia prospects as they make their way through their respective Winter League seasons.