R-Phils to Host 19th Annual Morning Game
Hat and Photo Giveaway, with free hot dog & coffee before 9AM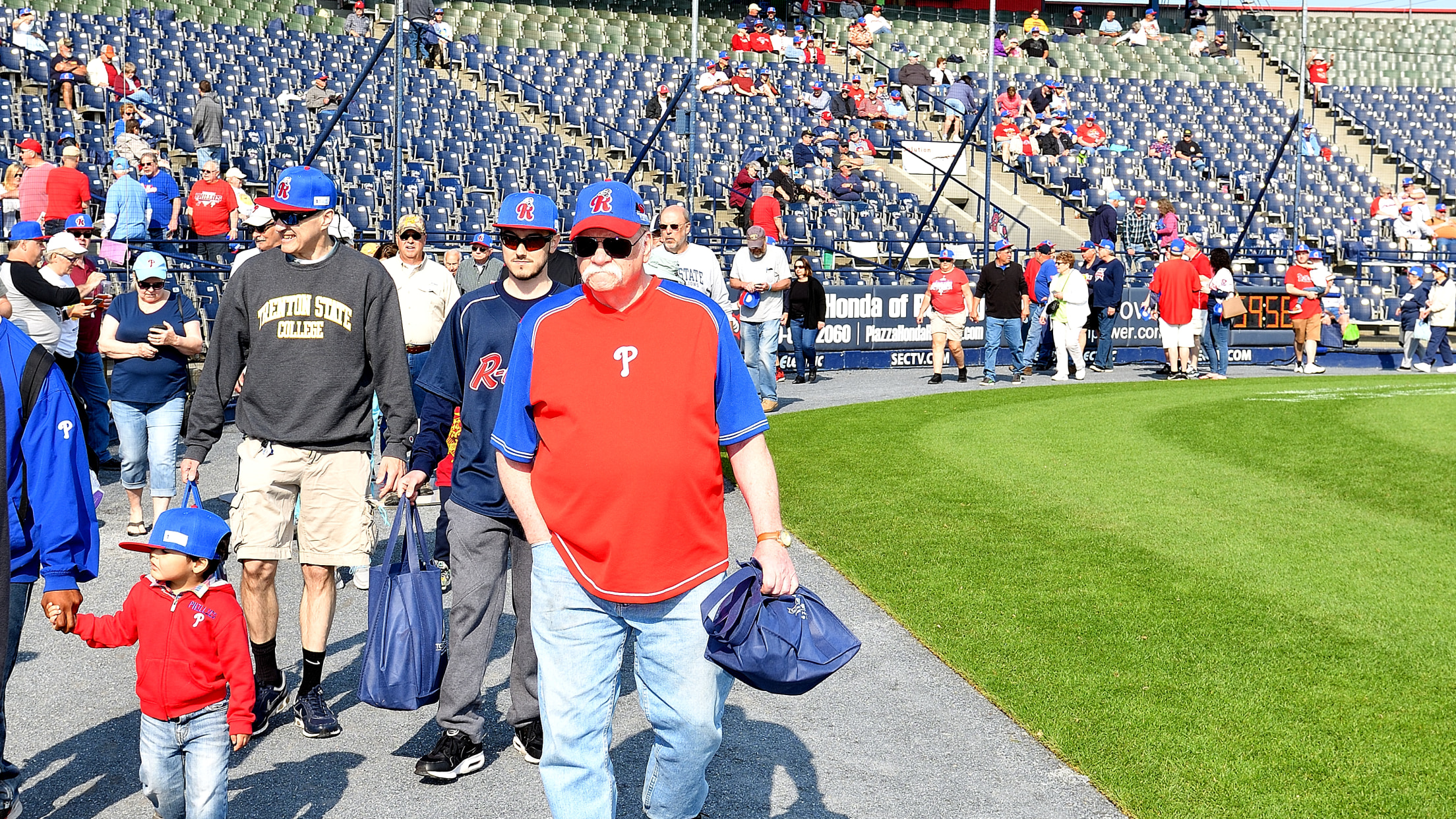 (Reading, PA) – The Reading Fightin Phils are excited to bring back the fan-favorite, 19th Annual Morning Game at First Energy Stadium on Wednesday, September 8. The Fightins face off against the New Hampshire Fisher Cats, Toronto Blue Jays affiliate, with a special first pitch time of 11:00 A.M. The
(Reading, PA) – The Reading Fightin Phils are excited to bring back the fan-favorite, 19th Annual Morning Game at First Energy Stadium on Wednesday, September 8. The Fightins face off against the New Hampshire Fisher Cats, Toronto Blue Jays affiliate, with a special first pitch time of 11:00 A.M.
The first 2,000 adults 15 & over receive an R-Phils Black "R-Trains" Hat, courtesy of Reading Hospital. Don't feel left out kids, because the first 1,000 kids 14 & under receive an R-Phils 2021 Team Photo, thanks to Stratix Systems.
Fans will receive a free Berks Packing Hot Dog and Gerhart Coffee before 9:00AM. The celebration begins early, with gates opening at 9:00, so make sure to come out early and energetic for this special start time. There will also be a Happy Hour beginning at 9:00 thanks to Rusty Rail Brewing Company and a pre-game concert with "Bobby Newton and 3 the Hard Way." Fans are invited to take a pregame stroll around the warning track starting at 10:00 A.M.
The morning will feature a Beer Tasting Festival presented by Beer Wall on Penn will also be taking place at the Seidel Auto Group Deck. Fans can enjoy a two-and-a-half-hour buffet, and two-hour beer sampling from 10:00-12:30 P.M. for only $34
Wednesday also means that it is Berks Packing Wednesday Family Fun Night, where 4 tickets, 4 hot dogs, and 4 sodas cost you just $50.
Plus, St. Boniface Craft Brewing will be hosting a Happy Hour and Post-Game Concert after the final out.
Don't wait to make sure you can be a part of the fun. Tickets are available now through rphils.com/tickets.
America's Classic Ballpark is proud to be a part of Pennsylvania's Americana Region and was voted the #1 stadium in all of Double-A by MiLB's Ben Hill. Follow the R-Phils at rphils.com, on Twitter and TikTok at @ReadingFightins, on Instagram @fightins, and like them on Facebook via www.facebook.com/fightins for all information.