Todd Hunsicker Promoted to Executive Director
Hunsicker titled Executive Director of Promotions, Entertainment, and Education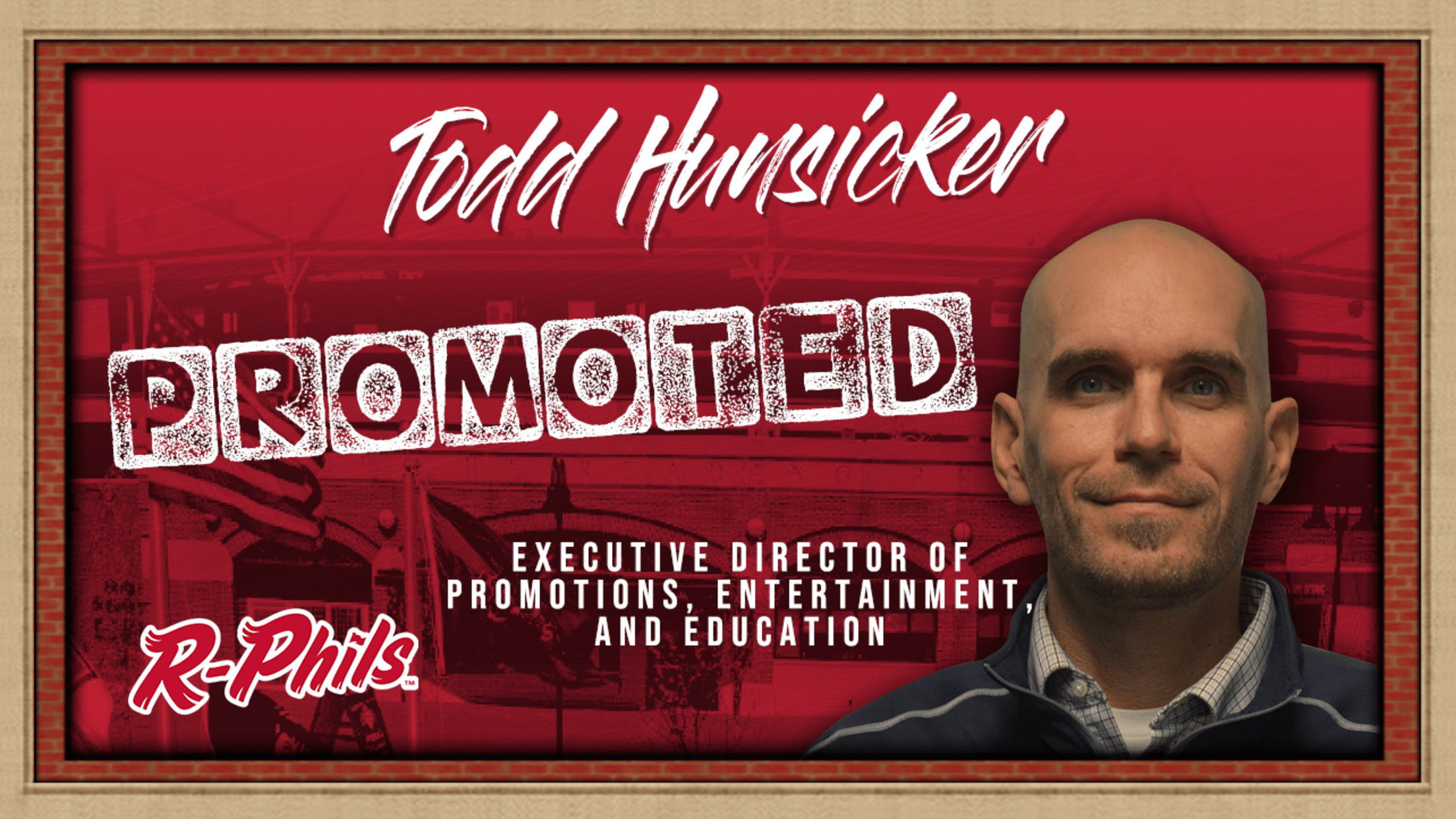 (Reading, PA) - The Reading Fightin Phils have announced that front office staff member Todd Hunsicker has been promoted to Executive Director of Promotions, Entertainment, and Education. Hunsicker's creativity, energy, and community involvement, especially within the local classrooms has made him an important part of fan engagement here at the
(Reading, PA) - The Reading Fightin Phils have announced that front office staff member Todd Hunsicker has been promoted to Executive Director of Promotions, Entertainment, and Education. Hunsicker's creativity, energy, and community involvement, especially within the local classrooms has made him an important part of fan engagement here at the R-Phils.
"I'm excited to continue supporting and building relationships with schools from across the region," Hunsicker stated. "It is important to me to make each visit to America's Classic Ballpark as entertaining, educating, and irresistible as possible for young R-Phils fans."
Hunsicker began his time at America's Classic Ballpark as an intern back in 2010. Since then, he was promoted all the way to Chief Director of Promotions to handle all school related programs, live music, and in-game entertainment.
A former school teacher in the Philadelphia system as well as a substitute in the Reading school district has allowed Hunsicker to use his connections to engage students from all around Southeast Pennsylvania. As an Executive Director he will have more opportunities to be at the forefront of decision making and planning in regards to fan engagement. In addition, all of his music experience and knowledge helps to bring together all kinds of musical backgrounds on the T-Mobile stage.
R-Phils General Manager Scott Hunsicker is thrilled about Todd joining the already outstanding Executive Director leadership team. "Todd has continued to lead the charge on outstanding fan entertainment, live music, and all of our educational programming, working with hundreds of schools throughout the region," said [Scott] Hunsicker. "The fact that he was a classroom teacher, and a professional musician, has proved to be extremely valuable to our organization, as he builds relationships based on those experiences. We look forward to his continued growth and leadership."