Strong Pitching Fuels Offense in 5-0 Shutout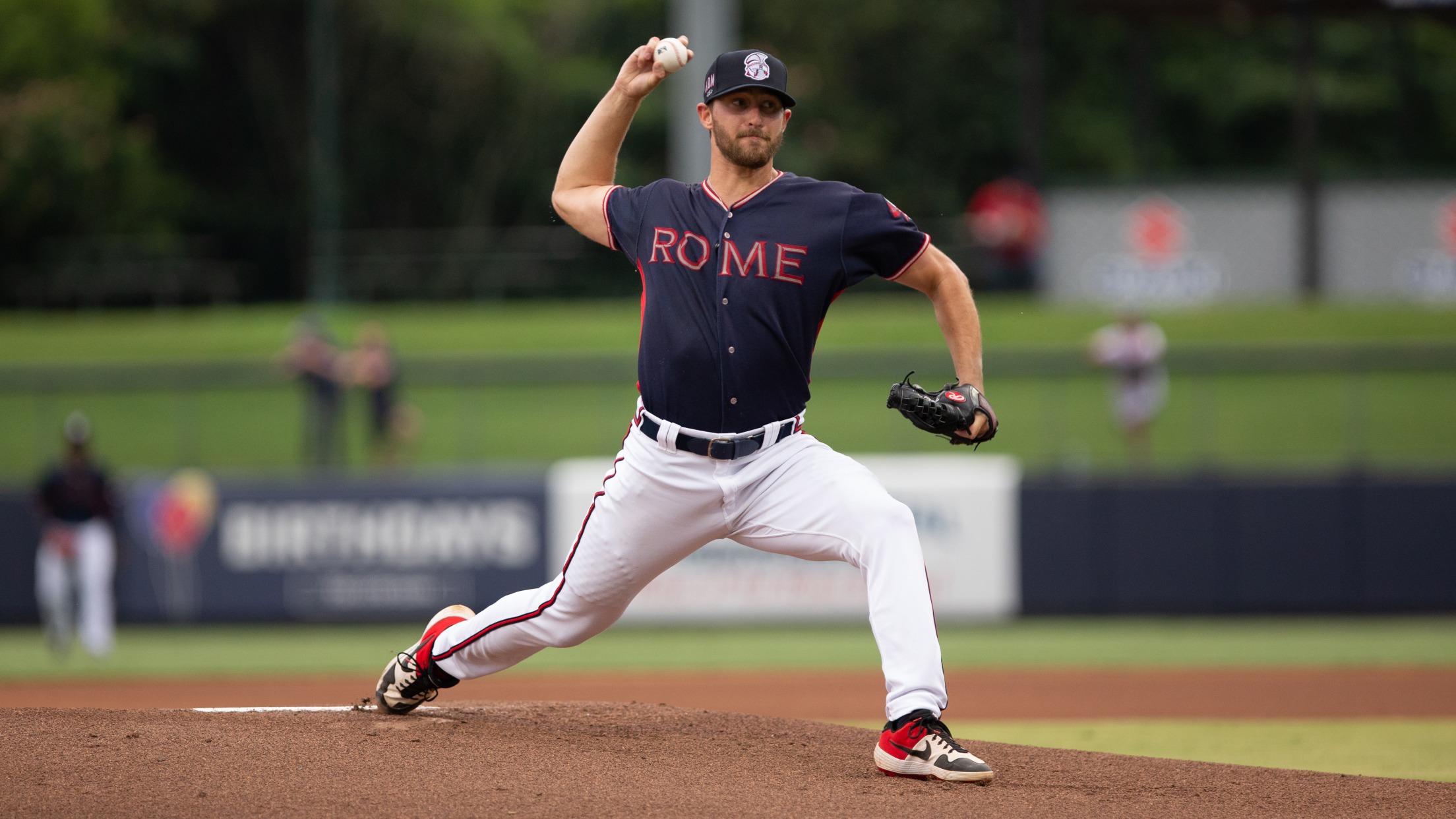 AJ Puckett fans 6 batters on the way to a 5-0 shutout win against Winston-Salem on September 2, 2021. (Mills Fitzner)
The Rome Braves (48-56) shut out the High-A affiliate of the Chicago White Sox, the Winston-Salem Dash (39-65), 5-0 on Thursday evening at State Mutual Stadium. Solid pitching for the Braves staff only surrendered two hits, adding to a strong night at the plate. The Braves plated the first run
The Rome Braves (48-56) shut out the High-A affiliate of the Chicago White Sox, the Winston-Salem Dash (39-65), 5-0 on Thursday evening at State Mutual Stadium. Solid pitching for the Braves staff only surrendered two hits, adding to a strong night at the plate.
The Braves plated the first run of the game in the bottom of the second. Carlos Martinez singled to center to score Vaughn Grissom. Grissom was just promoted to Rome today from Low-A Augusta.
Rome scored three more runs in the home half of the third. Riley Delgado singled and then advanced to third after Winston-Salem made a fielding error. This scored Cody Milligan. Michael Harris II then hit his 20th double of the season to score Delgado. Harris II then came home to score after Grissom grounded into a double play.
The final run of the game for the Braves came in the bottom of the seventh thanks to a wild pitch by Winston-Salem pitcher Edgar Navarro.
Harris II went 1-for-3 with a double and had a RBI. Grissom went 1-for-2 and had two walks.
A.J. Puckett got the start for Rome and was solid over four innings of work. He gave up no hits or runs and stuck out six. Marrick Crouse (W, 4-1) threw two innings in relief and gave up one hit and struck out one. Trey Riley also pitched two innings, gave up one hit and struck out one. Benjamin Dum closed the game for Rome and struck out two.
Up Next
The R-Braves now have a 2-1 lead in the series against the Dash and will face Winston-Salem in game four of the series on Friday evening at State Mutual Stadium. First pitch is set for 7 p.m. and gates will open at 6 p.m.
After tonight's game, the Braves are 23 games behind Bowling Green in the High-A East standings.