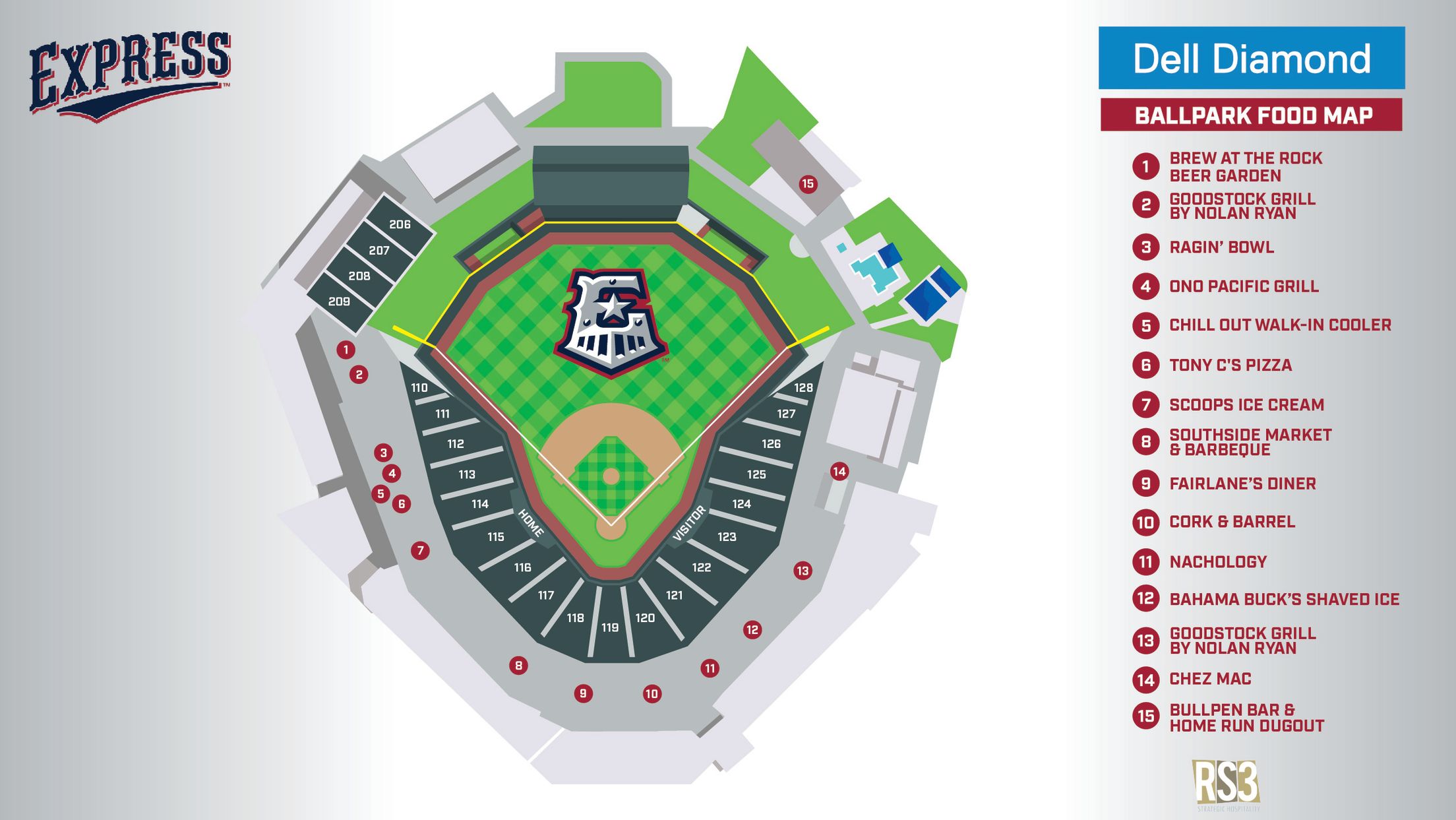 Dietary Restrictions Information
Please note, all food at Dell Diamond is prepared and stored in the same facility so there is a risk of cross contamination. However, we are happy to accommodate any food allergy and/or dietary needs with ample time to prepare and adequate communication.
To discuss these options further, please contact Brenda Gomez at [email protected].
Gluten-Free Options:
All items at both Goodstock Grill by Nolan Ryan locations can be made without bread to be gluten-free or with gluten-free bread
All items at Ono Pacific Grill with bread can be made with gluten-free bread
The Smoked Brisket Plate, ordered without bread, at Southside Market & Barbeque is gluten-free
All items at Nachology are gluten-free
All popcorn throughout Dell Diamond is gluten-free
The Nacho Business and Carne Asada Fries at Bullpen Bar are gluten-free
Dairy-Free Options:
All items at both Goodstock Grill by Nolan Ryan locations can be made without cheese or cheese sauce to be dairy-free
The Portobello Cheesesteak, Polynesian Cheesesteak and Uala Kahiki at Ono Pacific Grill can be made without cheese to be diary-free
The Smoked Brisket Plate at Southside Market & Barbeque is dairy-free
The Garlic Pretzel at Cork & Barrel without the dipping sauces is dairy-free
The Chicago Dog at Fairlanes is dairy-free
All items at Bullpen Bar can be made without cheese to be dairy-free, plus all wings and the Garden Salad can be ordered without ranch to be dairy-free
Vegan Options:
The Portobello Cheesesteak at Ono Pacific Grill can be made without cheese or aioli to be vegan
The Rio Grande Bowl at Ragin' Bowl can be made without beef fajitas or sour cream to be vegan
The Garden Burger at Bullpen Bar is vegan and the Garden Salad can be ordered without ranch and cheese to be vegan
Vegetarian Options:
The Portobello Cheesesteak at Ono Pacific Grill is vegetarian
The Chopped Brisket Nachos at Southside Market & Barbeque can be made without brisket to be vegetarian
All bowls at Ragin' Bowl can be made to be vegetarian
The Garden Burger, Garden Salad, Pretzel Sticks, Xangos and Chocolate Chip Cookie at Bullpen Bar are vegetarian
The side of mac at Chez Mac is vegetarian