Davis walks it off for River Cats in pitchers' duel
Six Sacramento pitchers combine to allow just one run on four hits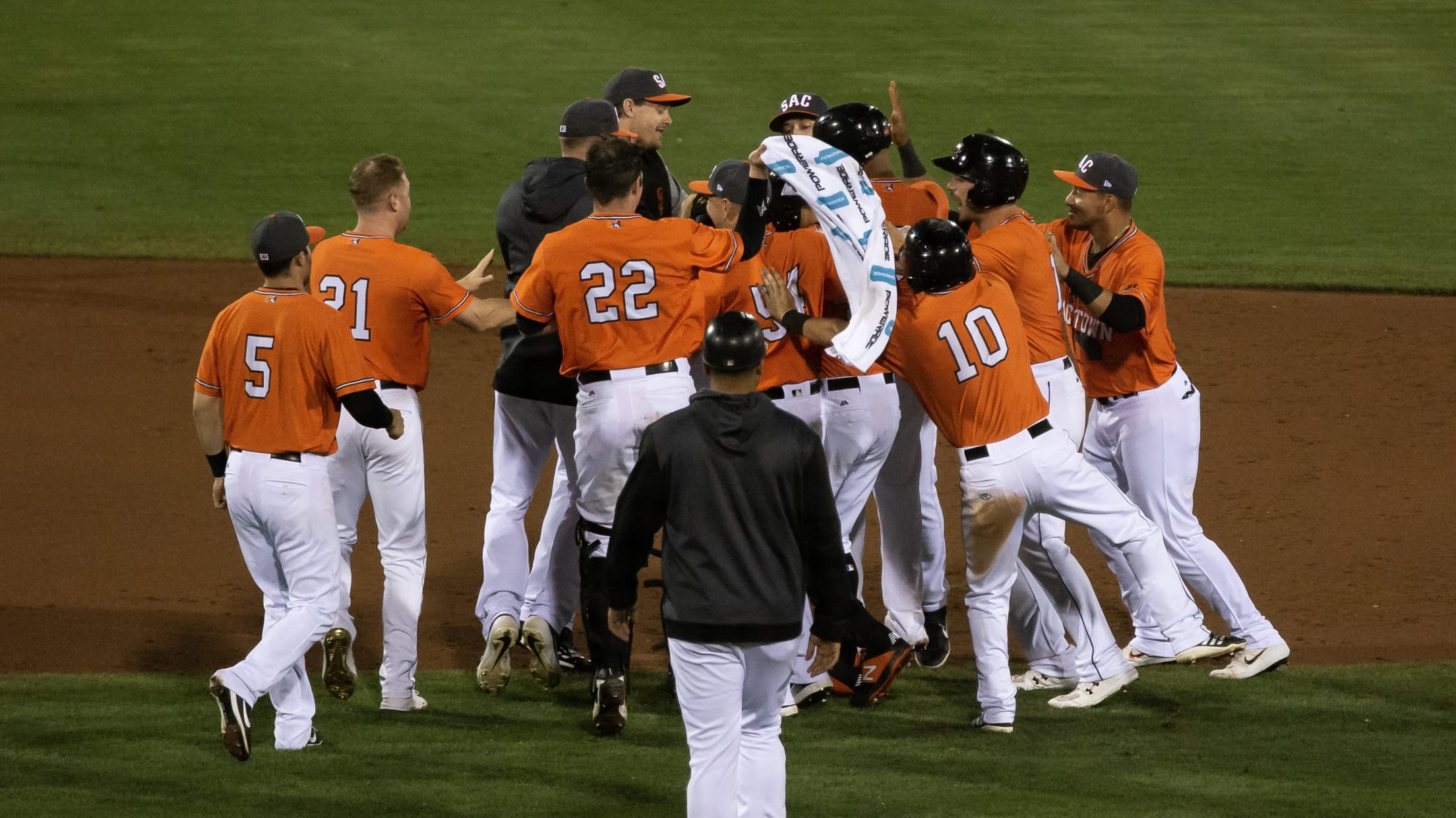 Photo: Ricardo Cazares
WEST SACRAMENTO, Calif. -- After clinching their berth into the Pacific Coast League playoffs, the Sacramento River Cats (71-66) can now play spoiler. Their 2-1 defeat over the El Paso Chihuahuas (79-58) on Friday night narrowed their chances of catching the Las Vegas Aviators in the race for the Pacific
WEST SACRAMENTO, Calif. -- After clinching their berth into the Pacific Coast League playoffs, the Sacramento River Cats (71-66) can now play spoiler. Their 2-1 defeat over the El Paso Chihuahuas (79-58) on Friday night narrowed their chances of catching the Las Vegas Aviators in the race for the Pacific Southern division title.
Right-hander Burch Smith was a late scratch from the lineup, so instead it was lefty Steven Okert followed by five other bullpen arms that combined to hold El Paso's potent offense to just one run on four hits. The lone Chihuahuas run was scored on a solo shot from leadoff man Rodrigo Orozco, but the club would fail to record a hit during the final four innings. Hard-throwing right-hander Melvin Adon was particularly effective as he faced three batters in the top of the ninth and struck out all of them.
As the 1-1 game moved into extras, a perfectly-placed bunt single from infielder Abiatal Avelino moved the winning run to third base. Outfielder Jaylin Davis came to the plate and launched a ball into left-center field that landed on the warning track for the game-winning hit, giving the club its seventh walk-off victory of the season.
Giants right-hander Johnny Cueto (0-1, 6.23) will take the mound for the second time during the homestand in what will likely be his final rehab appearance before joining the big-league club. El Paso will counter with southpaw Dillon Overton (9-5, 5.76). First pitch is set for 7:05 p.m. (PT). Listen to all of the action live online at rivercats.com, on the MiLB First Pitch app, and on Money 105.5 FM.
Additional Notes
• Infielder Peter Maris was desperately in need of a hit as he was in an 0-for-26 slump with the River Cats heading into tonight's ballgame. After making it 0-for-28, Maris's third plate appearance of the night resulted in looping single into center field for his first career Triple-A hit. He eventually drew a walk in the bottom of the ninth, as well.
• With tonight's win, the River Cats secured their first winning season since switching affiliations from Oakland to San Francisco going into the 2015 season.