Haley's strong start not enough to clinch
Reno's eighth inning five-spot sinks River Cats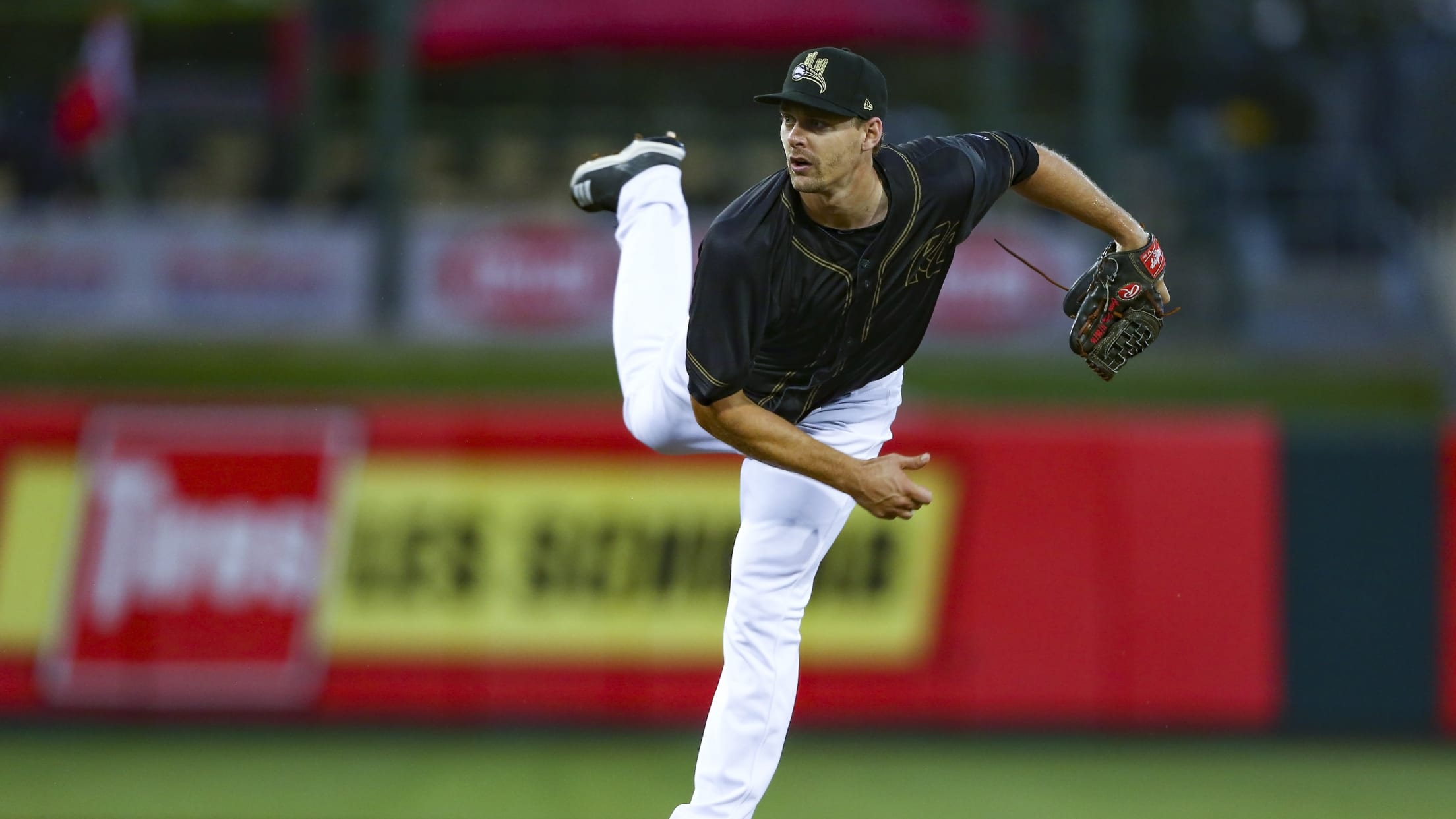 Photo: Ralph Thompson / River Cats (Ralph Thompson)
WEST SACRAMENTO, Calif. - The Sacramento River Cats (69-66) rode an incredible start from Sacramento native Justin Haley into the eighth inning, but a five-run frame from the Reno Aces (64-71) spoiled things late for the home club. The River Cats magic number remains at one following a tough 5-1
WEST SACRAMENTO, Calif. - The Sacramento River Cats (69-66) rode an incredible start from Sacramento native Justin Haley into the eighth inning, but a five-run frame from the Reno Aces (64-71) spoiled things late for the home club. The River Cats magic number remains at one following a tough 5-1 loss on Wednesday night.
Right-hander Justin Haley was brilliant through seven innings for the River Cats, carrying a shutout into the eighth inning before things went south. Haley gave up a homer to start the inning on a ball that just barely carried out to left field. Two batters later he surrendered the lead when left fielder Jamie Westbrook hit an opposite-field homer into the River Cats bullpen. Righty Sam Wolff was unable to close out the eighth, giving up the third homer in the inning which allowed Reno to extend the lead to 5-1 before lefty Sam Selman could come on to stop the bleeding.
Offensively, Sacramento was held in check once again, mustering just a single run on a Chris Shaw single up the middle in the third. Aramis Garcia led the River Cats in hits, going 2-for-4 with a double.
The River Cats will look to avoid the sweep tomorrow with right-hander Chase Johnson (1-2, 8.56) taking the mound. The Aces will counter with righty Riley Smith (2-1, 6.37). First pitch is set for 7:05 p.m. (PT). Listen to all of the action live online at rivercats.com, on the MiLB First Pitch app, and on Money 105.5 FM.
Additional Notes

After missing nearly two months due to personal matters, the switch-pitching Pat Venditte returned to the River Cats to pitch a scoreless ninth on Wednesday, striking out three batters.
After averaging nearly six runs (5.96) per game this season, the River Cat offense has struggled to score during their five-game skid, averaging just 3.6 runs.
*The Sacramento River Cats are the Triple-A affiliate of the three-time World Champion -San Francisco Giants. The team plays at Raley Field in West Sacramento, consistently voted one of the top ballparks in America. Season Tickets, Mini-Plans, and Flex Plans can be purchased for the River Cats' 20th season by calling the River Cats Ticket Hotline at (916) 371-HITS (4487). The only place to guarantee official River Cats tickets is at www.rivercats.com. For information on other events at Raley Field, visit www.raleyfield.com.