Hypothetical River Cats Roster: If the Season Actually Started Today
Here's what the defending Triple-A National Champions might have looked like tonight at Sutter Health Park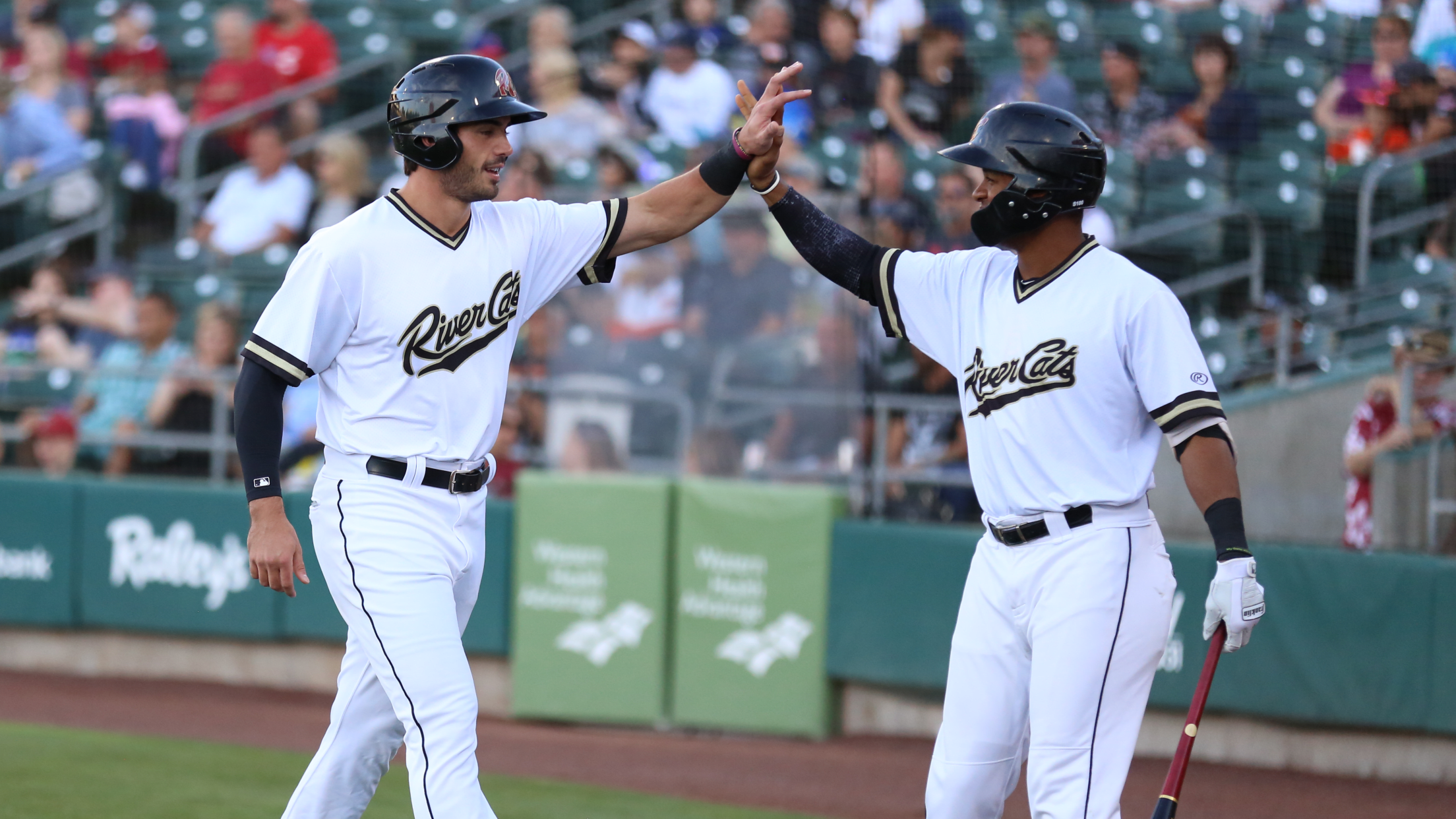 Chris Shaw and Abiatal Avelino high five on June 15, 2019 against the Iowa Cubs after a run scored. (Credit: Kaylee Creevan) (Kaylee Creevan)
West Sacramento, Calif. - It's hard to improve on a championship season, but after an offseason full of transactions, the Sacramento River Cats head into 2020 in quest of their first repeat as an affiliate of the San Francisco Giants.To further increase the talent from last season, the Giants brought
West Sacramento, Calif. - It's hard to improve on a championship season, but after an offseason full of transactions, the Sacramento River Cats head into 2020 in quest of their first repeat as an affiliate of the San Francisco Giants.
To further increase the talent from last season, the Giants brought in a whopping 31 non-roster invitees to Spring Training. Given how competitive it is to make the big-league club, the River Cats should reap the benefits of those sent to the Pacific Coast League.
Although the lineup won't be exactly the same as the one that hoisted the trophy in Memphis, the River Cats' Opening Day roster should be just as solid for what would have been our April 14 home-opener at Sutter Health Park.
Returning Players
The 2019 Champions' Opening Day lineup should be littered with familiar faces, as plenty of fan-favorites return.
Infielders Abiatal Avelino, Cristhian Adames, and Zach Green, as well as outfielders Chris Shaw, Jaylin Davis, and Joey Rickard figure to begin the year in Sacramento.
The loss of team-MVP Mike Gerber will hurt, but improvement in run-manufacturing and further development by younger hitters should supplement the loss.
Setting the table atop the lineup could be Avelino. The River Cats' leader in both games played (121) and at-bats (473) kicked off the Triple-A Championship with a single and scored the game's first run. Avelino played 80% of his games last season at shortstop, but he's versatile, and logged innings at four other positions last season.
Although Gerber led the team in hits (143), home runs (26), doubles (41), runs (95) and RBIs (83), Green (.659) and Shaw (.592) both provided stronger slugging percentages and were close behind Gerber in the power categories.
As learned last season, Sacramento's pitching staff will change frequently as the Giants cycle through arms. However, to start the season, arms like Conner Menez, Dereck Rodríguez, Logan Webb, and Enderson Franco project to log the most time on the mound.
Webb's development and handling will garner the most attention. The 23-year-old had a cup of coffee in Sacramento (seven innings pitched) before making his MLB debut in August. He utilizes an upper-90s fastball and a strong sliding-curve to keep hitters off balance. With further seasoning in Triple-A, the right-hander should rejoin the Giants at some point in 2020.
While Webb, Rodriguez, and Menez are likely to fill the rotation, Franco figures to anchor the back end of the bullpen. The 27-year-old struggled as a starter in 2019 (6.53 ERA in 102 innings pitched), but a late-season move to the 'pen translated to a much better 2.61 ERA in 10.1 innings split between Sacramento and San Francisco.
Some other recognizable names could include shortstop Ryan Howard and outfielder Joe McCarthy, in addition to pitchers Melvin Adon, Sam Selman, and playoff hero Caleb Baragar.
New Faces
There should be plenty of major-league talent joining the roster as well. Some veterans possibly heading to Sacramento include former Philadelphia slugger Darin Ruf, utility player Drew Robinson, as well as Oakland-era former River Cats Tyson Ross.
Ruf returns to the United States after three seasons in the Korean Baseball Organization, where he totaled 86 home runs and 350 RBIs. Prior to his move overseas, Ruf hit 35 home runs in 286 games across five seasons with the Phillies. The first baseman/outfielder's power should translate well toward the hitter's dream PCL.
Ruf was also having a monster spring before all baseball operations were shut down. He had amassed nine extra-base hits in just 32 plate appearances, including five doubles and three home runs, so he would certainly on his way to potentially earning a spot on the Giants' 26-man roster.
If not in San Francisco, Tyson Ross will once again try to use Sacramento as a steppingstone to get back to the big leagues. Ross spent parts of the 2011-2013 seasons in Sacramento before being traded to the San Diego Padres.
Other potential newcomers include young infielder Kean Wong, California Baptist product Trevor Oaks, and former Oakland starter Andrew Triggs.