Countdown: Top five games in River Cats history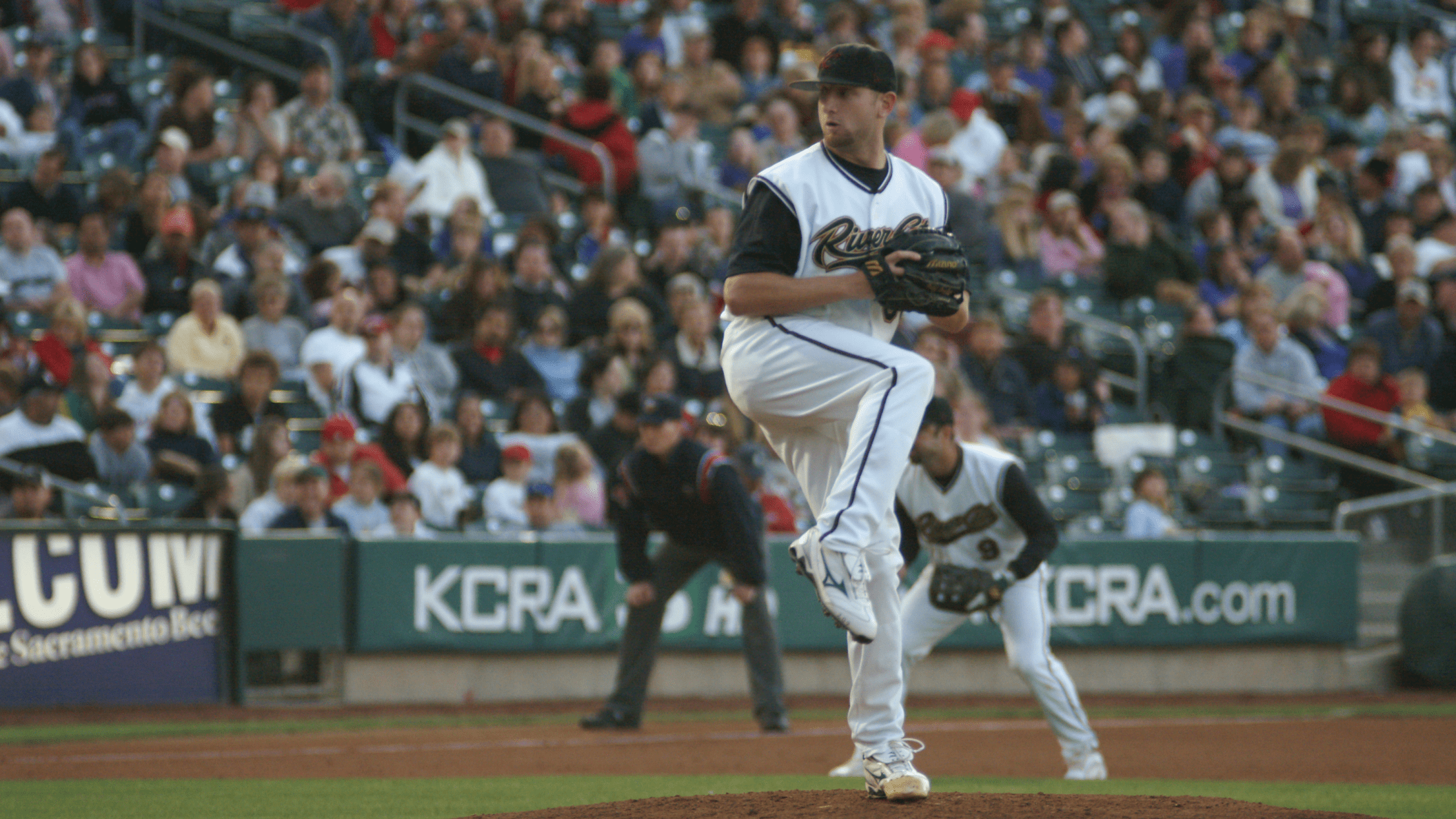 The five-time Pacific Coast League Champion Sacramento River Cats have quite the history in their 20 years of play. As the Triple-A affiliate of both the Oakland Athletics (2000-2014) and San Francisco Giants (2015-present), the River Cats have played a wide variety of great ballgames so far this century, but
The five-time Pacific Coast League Champion Sacramento River Cats have quite the history in their 20 years of play. As the Triple-A affiliate of both the Oakland Athletics (2000-2014) and San Francisco Giants (2015-present), the River Cats have played a wide variety of great ballgames so far this century, but a few stand out as the best.
We're going to count down the top five games in the franchise's history. Coming in at No. 3 might have been a precursor to a future masterpiece.
3. Dallas Braden's 17-strikeout performance
Monday, August 27, 2007 at Raley Field - River Cats 3, Sky Sox 0
Former Oakland pitcher Dallas Braden is best known for the perfect game he threw on Mother's Day in 2010. Yet, a start three years prior in Sacramento hinted at what was to come.
Pitching against the Colorado Springs Sky Sox on Aug. 27, 2007, Braden showed flashes of perfection, striking out 17 hitters and allowing just three hits.
The historical performance did not look likely early on. Braden allowed back-to-back singles to start the game. A three-pitch strikeout of Seth Smith, however, got him back on track and from that point on, he retired 26 of the next 28 batters.
The dominance wasn't against weaker competition, either. The Sky Sox, then the Triple-A affiliate of the Colorado Rockies, started eight players that had played or would play at the highest level.
One of the hitters Braden dismantled was Jeff Baker. Over his 11-year MLB career, Baker specialized in hitting left-handed pitchers. He hit .296 with an .860 OPS in his 1,016 career plate appearances against lefties while striking out 7.8% less often than against righties. On Aug. 27, Braden struck him out in all four matchups, granting Baker the rare Golden Sombrero.
Center fielder Nick Blasi fueled the offense for Sacramento. He scored two runs, one being on his fifth-inning, two-run home run, which provided just enough offense to earn Braden a comfortable 3-0 victory.
4. Danny Putnam wins game four on three-run walk-off home run
Saturday, September 8, 2007 at Raley Field - River Cats 7, Bees 4
After two games of the 2007 PCL Semifinals, the River Cats were down to their last game. The Salt Lake Bees won games one and two at home by one run each. A two-run home run by outfielder Danny Putnam in game three helped keep Sacramento alive with a 7-4 victory. There was still work to be done, however, as the River Cats needed two more wins at home to move on.
Game four was just as close as the previous three. The River Cats overcame an early 3-0 deficit with another two-run home run by Putnam to take a 4-3 lead. Yet, heartbreak returned when Salt Lake center fielder Tommy Murphy singled home the tying run in the eighth.
Both Salt Lake's pitcher Greg Jones and Sacramento's Brad Ziegler traded zeros for two innings. In his third inning of work, however, Jones faced his first jam. Kevin Melillo worked a leadoff walk and he was bunted over by Gregorio Petit. In order to set up the force, JD Closser walked on four pitches.
This set up another chance for Putnam to play hero. Putnam took the first four pitches he saw, and on a 3-1 count, he launched a three-run home run to extend the series in walk-off fashion.
The River Cats would not only go on to win game five to advance, they would win their next five games to clinch the first Triple-A Championship in franchise history.
5. Jarrett Parker's grand slam clinches wild marathon comeback
Sunday, April 12, 2015 at Raley Field - River Cats 6, Salt Lake Bees 5
The River Cats' inaugural season as the Triple-A affiliate of the San Francisco Giants (2015) had quite the start. They kicked off their season with a 1-0 victory over the Salt Lake Bees, where the only run was a walk-off home run by Adam Duvall. In game two, the offense was once again missing, as they were shut out in a 2-0 defeat.
Neither of the two games were that eventful, aside from the Duvall walk-off, as both were basic pitching duels. What made this series memorable is what happened in game three when things changed for the better (or worse depending on how long you stayed).
Each team scored two runs over the first seven innings, and after nine, the game was once again heading to extras. Unlike Duvall's blast, which provided fireworks and a prompt conclusion, this game had no intention of ending quickly.
The River Cats and Bees traded zeros for the first eight extra innings before Salt Lake's Carlos Perez finally broke the tie with a solo home run off Brett Bochy in the 18th. The Bees added two insurance runs when Alfredo Marte doubled home Grant Green and Alex Yarbrough.
However, with it being so early in the season and managers not wanting to overwork their bullpen, the Bees were forced to put backup catcher Charlie Cutler on the mound to lock down the save.
Still, a three-run deficit is hard to overcome in one inning no matter who is on the hill. The River Cats wasted no time putting pressure on Cutler, as third baseman Carlos Triunfel led off the inning with a double. Guillermo Quiroz walked to bring the tying run to the plate in the form of John Bowker, but he popped out for the first out of the inning. Duvall, with a chance to walk it off for the second time in three games, was walked as well to set up a grand opportunity for right fielder Jarrett Parker.
Rather than try for a ball in the gap to tie it, Parker decided five hours and 22 minutes was long enough. He unloaded on Cutler's pitch to right-center field to win the game on a walk-off grand slam. The game was tied for the longest game in franchise history in terms of innings and was the second longest in terms of time - July 18, 2012 at Tacoma (18 innings, 5 hours and 32 minutes). Oddly enough, the River Cats lost that game in 2012 by a score of 2-1 on a walk-off by the Rainiers against outfielder Shane Peterson, who was pitching in the 18th inning.
Stay tuned as we continue to count down the remaining games on this list.