Dash reveal promotional schedule for 2019 season
Taco Tuesdays and Winston Wednesdays highlight new weekly promotions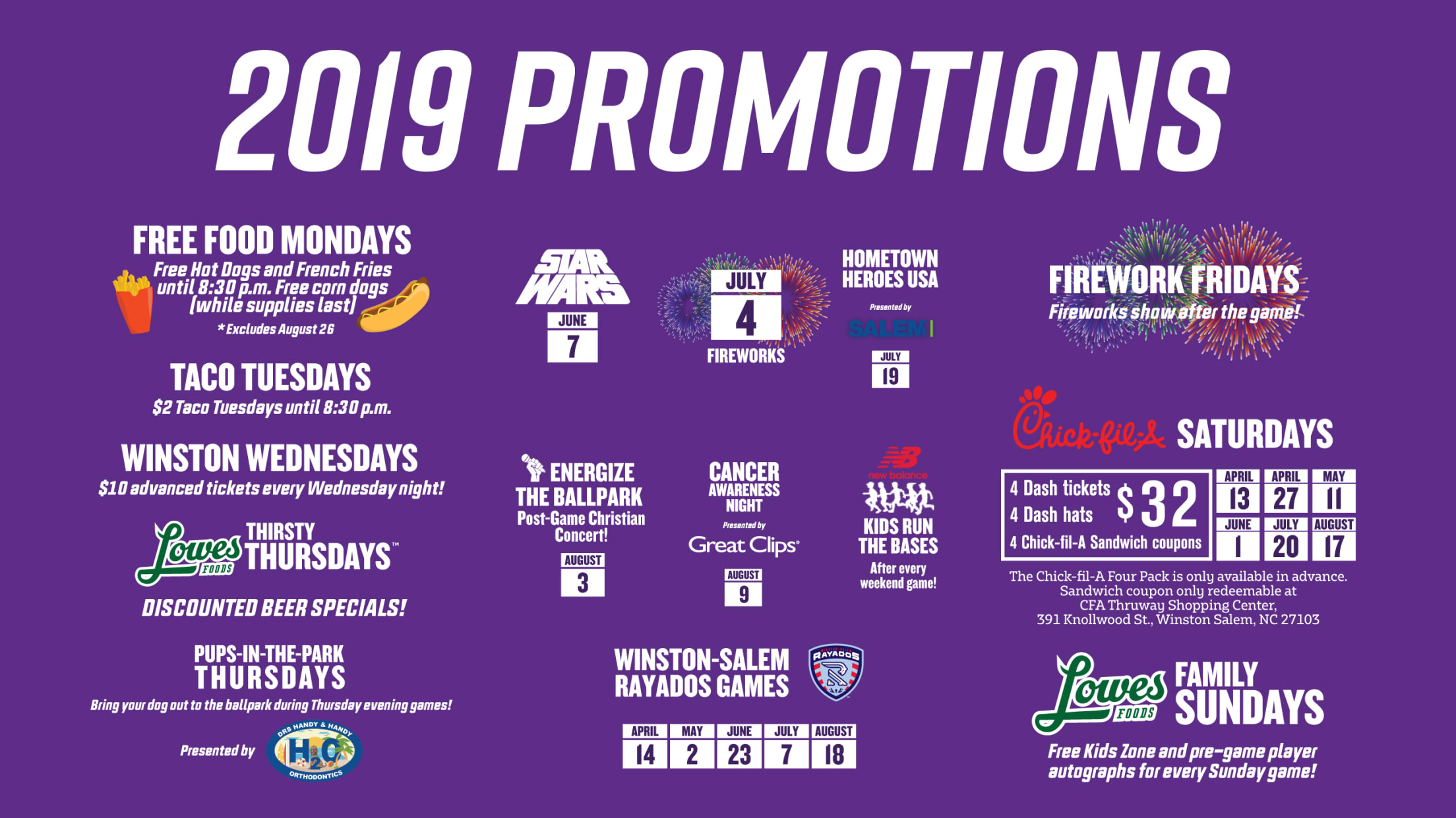 WINSTON-SALEM, N.C. (March 25, 2019) - The 10th anniversary season at BB&T Ballpark is less than three weeks away. The 2019 season will include great promotions for Dash fans of all ages to enjoy.Among our newest weekly promotions are Taco Tuesdays and Winston Wednesdays. For Tuesday home games, the Dash
WINSTON-SALEM, N.C. (March 25, 2019) - The 10th anniversary season at BB&T Ballpark is less than three weeks away. The 2019 season will include great promotions for Dash fans of all ages to enjoy.
Among our newest weekly promotions are Taco Tuesdays and Winston Wednesdays. For Tuesday home games, the Dash will be serving $2 tacos through 8:30 p.m. Winston Wednesday will celebrate the Twin City with $10 presale tickets.
The team will be bringing back one of its most popular food-related promotions. As part of "Free Food Mondays" this season, fans can enjoy free hot dogs and french fries until 8:30 p.m. for seven of the Dash's eight Monday home contests (April 15, April 29, May 20, June 10, June 24, July 8 and July 22). Corn dogs on those dates will also be available for free while supplies last. Normal ticket prices apply.
The following recurring promotional nights will also be back at BB&T Ballpark this season:

Pups in the Park Thursdays, presented by Handy and Handy Orthodontics - For 10 Thursday home games (April 11, May 2, May 9, May 23, May 30, June 6, June 20, July 18, August 1 and August 29), fans can bring their furry friends to the ballpark. Lawn seats are only $8, and Pooch Passes are $5, with proceeds benefitting an animal-related charity.
Thirsty Thursdays™, presented by Lowes Foods - Discounted beer specials will be available for all Thursday home games, excluding July 4th.
Fireworks Fridays - All 11 Friday games at BB&T Ballpark will conclude with a fireworks display. Fireworks will also follow the Dash's game on Thursday, July 4.
Chick-fil-A Four Pack Nights - On six Saturdays this season (April 13, April 27, May 11, June 1, July 20 and August 17), the Dash and the Chick-fil-A at Thruway Shopping Center are teaming up to offer fans the best entertainment deal in the Triad. For as low as $32, fans will receive four tickets to the game, along with four Dash hats and four Original Chicken Sandwich vouchers, redeemable at the Chick-fil-A at Thruway Shopping Center. This deal must be purchased in advance.
Live Music Saturdays - Every Saturday home contest will feature a local band performing on the patio prior to the game.
Family Sundays, presented by Lowes Foods - Children who are 12 and under can enjoy the Kids Zone for free on Sundays. Also, Dash players will sign autographs on the concourse before every Sunday home contest.
Kids Run the Bases, powered by New Balance Winston-Salem - Youngsters can run the bases after all Friday, Saturday and Sunday games.
Latin American Jersey Day - The Dash will be celebrating their local Latin American community again this season by wearing Rayados jerseys for five games as part of Minor League Baseball's "Copa de la Diversión", or "Fun Cup," initiative; "Rayados", which translates to "the Striped Ones," is born out of collaboration with the baseball team and the Hispanic League of Winston-Salem. These dates are April 14, May 2, June 23, July 7 and August 18.
Other notable promotional events include the following:

Food Truck Festival - April 13
Craft Fair - April 14
Halfway to Halloween - April 26
Prom Night - April 27
Millennial Night - May 9
Pageant Night - June 1
Star Wars Night - June 7
Daddy-Daughter Date Night - June 21 and August 16
Women in North Carolina Night - June 26, July 17 and August 28
Hometown Heroes USA Night, presented by Salem One - July 19
Energize the Ballpark Night with a postgame concert - The Dash have partnered with Energize Ministries for the fourth annual "Energize the Ballpark" concert at BB&T Ballpark on August 3
Cancer Awareness Night, presented by Great Clips - August 9
336 Day - August 27, includes a special 3:36 p.m. gametime
For more information on each promotion, visit wsdash.com.
The Dash's home slate begins with a Lowes Foods Thirsty Thursday™ on April 11. The other promotions during the Dash's Opening Weekend against the Potomac Nationals include a Fireworks Friday, a Chick-fil-A Four Pack and a Food Truck Festival on Saturday, and a Craft Fair and Lowes Foods Family Sunday.
Season and single-game tickets for the Dash's 70-game home slate are on sale now. Fans can call (336) 714-2287 or click here to purchase their tickets for the 2019 season.