Irons in the Fire: Curve alumni on the move
First wave of Hot Stove season sees former Altoona players in new places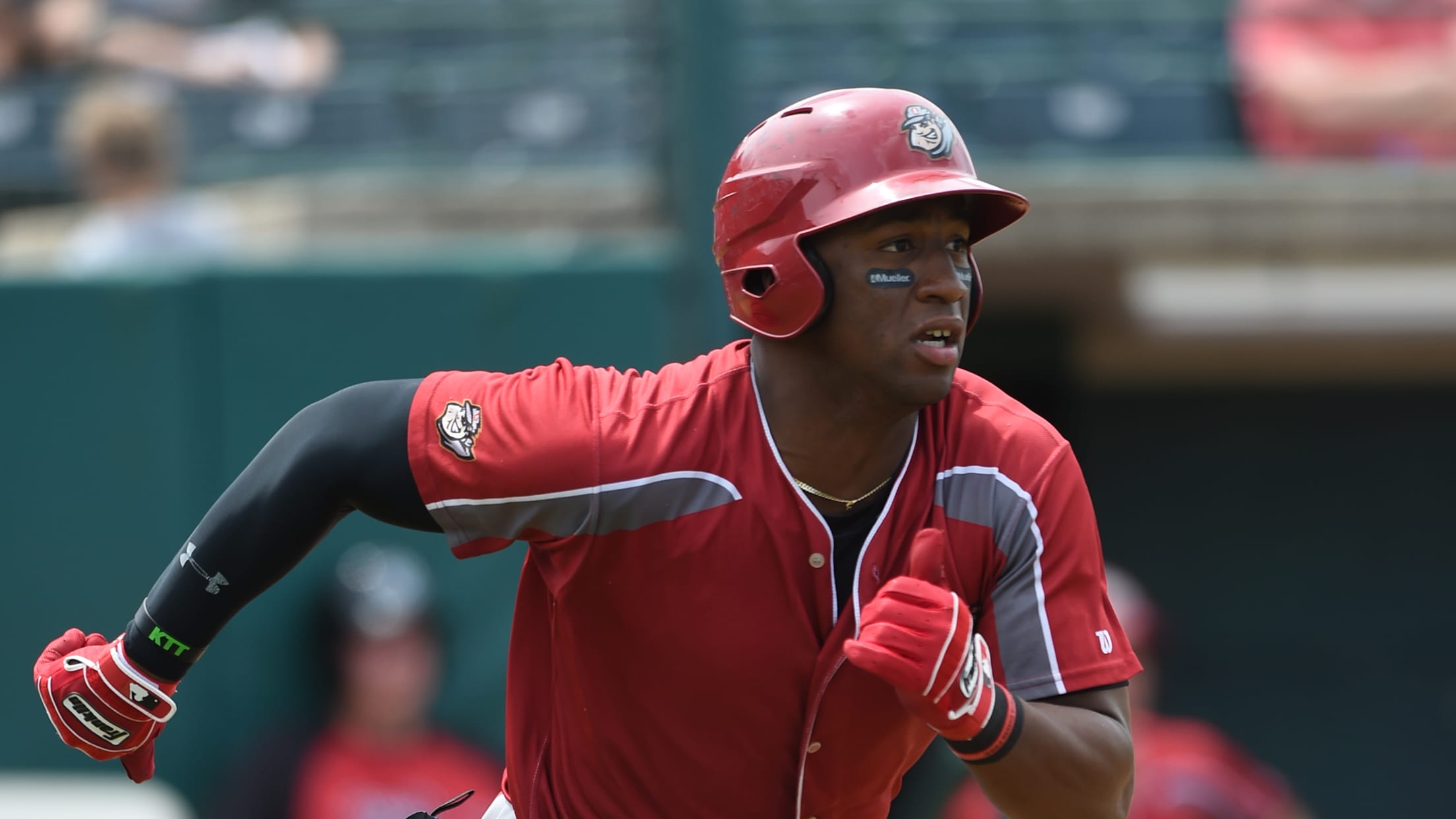 Former Altoona Curve outfielder Mel Roajs Jr. is taking his talents from Korea to Japan (Kevin Pataky)
Promotional visionary and former Major League owner Bill Veeck said it best. "There are only two seasons: winter and baseball." There is more truth behind his famous quote than we know. Baseball's offseason always heats up as winter settles in. Build a team. Play a season. Repeat. See? There really
Promotional visionary and former Major League owner Bill Veeck said it best. "There are only two seasons: winter and baseball."
There is more truth behind his famous quote than we know. Baseball's offseason always heats up as winter settles in. Build a team. Play a season. Repeat. See? There really are two seasons.
The Winter Meetings are now in the rear-view mirror and some of the biggest names on the free agent market are still available while trade rumors swirl like the winds of the Laurel Highlands. Despite no big splash just yet, there has been no shortage of former Altoona Curve players on the move as teams tinker with their roster.
Several players found themselves on new teams before the regular season even ended. The Pirates traded a pair of 2019 Curve pitchers for cash on September 20. Domingo Robles, who pitched a franchise-record-tying two complete-game shutouts in 2019, was sent to the St. Louis Cardinals organization. Additionally, Joel Cesar was traded to the Philadelphia Phillies on the same day.
One of the best pitchers in recent Curve history departed the Pirates organization about a month later on October 30. Brandon Waddell became a Minnesota Twin that day after he was claimed on waivers from the Pirates. He reached the Major Leagues with the Pirates in the most unlikely of ways in 2020 when we went from working out at home, to the alternate training site in Altoona, and finally to a big league mound in the span of three days in August. Waddell was a key piece to the Curve's 2017 Eastern League Championship and pitched parts of four seasons with Altoona. He ranks tied for fifth on the Curve's career strikeouts list with 235.
The month of November resulted in new contracts for a slew of Curve alumni. Mitchell Tolman, another member of the 2017 Curve and returned in 2019, signed a minor league deal with the New York Mets on November 4 after not getting an opportunity to play during the pandemic-ridden 2020 campaign. However, his tenure with the Mets lasted just 36 days because the San Francisco Giants snagged him in the minor league phase of the Rule 5 Draft. The Curve's all-time saves leader, Montana DuRapau (38), signed a minor league deal with the Oakland Athletics on November 16 one day after former Curve teammate Connor Joe inked a pact with the Colorado Rockies. One of the MLB free agent markets prized pitchers, Charlie Morton, signed with the Atlanta Braves two days before Thanksgiving.
December is always a busy transactional month for former Curve players with free agency and the Rule 5 Draft. Robert Stock found a new home with the Chicago Cubs after he was picked up off waivers from the Boston Red Sox, who designated him for assignment after 10 outings in the big leagues this year. The Pirates re-upped with Clay Holmes on December 7 after he was non-tendered. Jason Martin was another player like Holmes that did not make it through the Pirates 40-man roster crunch but Martin was picked up by the Texas Rangers on a minor league deal on December 14 with an invitation to Spring Training.
A pair of former Curve players outside the Pirates organization that did not get a 60-player pool invite in 2020 that resigned for minor league opportunities for 2021 is Jerrick Suiter and Jason Creasy. Suiter is now a right-handed pitcher with the Chicago Cubs after spending his Pirates career as an outfielder and first baseman. Creasy will be 29 in May and is still looking for his first shot at the majors with the Atlanta Braves.
A few Curve alumni have found new opportunities in Japan as well. Dovydas Neverauskas and José Osuna are playing internationally for the first time after the Pirates moved on from their services.
But the most interesting case internationally is Mel Rojas Jr., who signed a deal with Japan's Hanshin Tigers. Rojas played for the Curve from 2013-15 but never made it to the Major Leagues during his years with the Pirates and Braves. He spent the last four years with the KBO's KT Wiz and contributed 132 home runs, 409 RBIs and a .321 batting average during his Korean career. During the pandemic when the KBO received much more visibility in the United States, Rojas led the league with 47 homers and 135 RBIs. He will look to measure himself up against a slightly higher level of competition in Japan before a return to the US.
While many former Curve players have their 2021 plans in place, many familiar names are waiting for the dominoes to fall. Curve alumni with Major League experience without 2021 contracts include Robbie Grossman, Brock Holt, Jared Hughes, Tony Watson, Justin Wilson, Neil Walker, Dario Agrazal, Nick Burdi and Pablo Reyes.