GAME #74: Pelicans Break Out Bats For 7-3 Win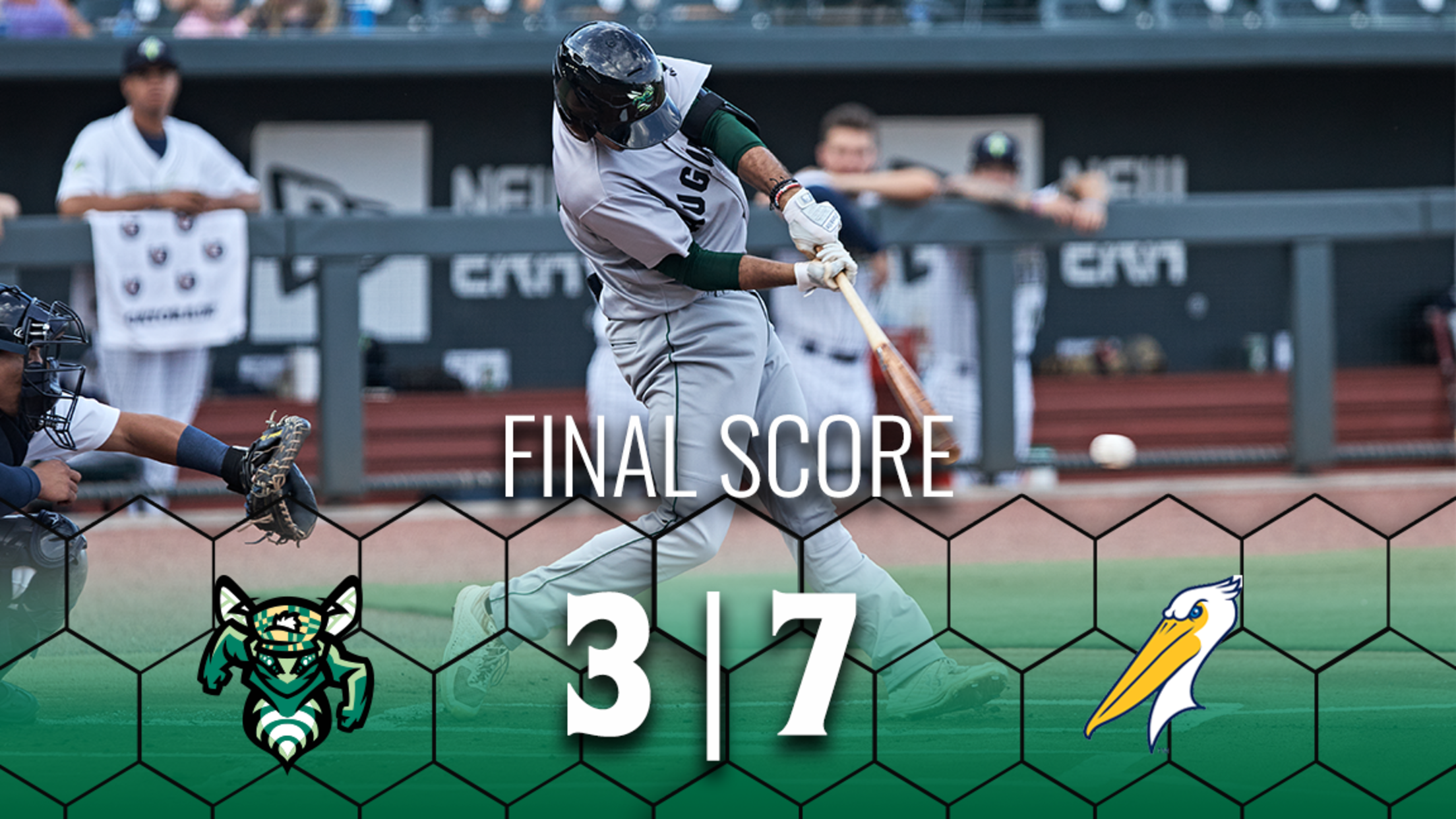 North Augusta, SC - After a dramatic walk-off win on Tuesday, the Augusta GreenJackets fell Wednesday to the Myrtle Beach Pelicans by a final score of 7-3. The win snaps a four-game losing streak for the Pelicans. Augusta goes to 32-42. Myrtle Beach improves to 34-40. The offense continued to
North Augusta, SC - After a dramatic walk-off win on Tuesday, the Augusta GreenJackets fell Wednesday to the Myrtle Beach Pelicans by a final score of 7-3. The win snaps a four-game losing streak for the Pelicans.
Augusta goes to 32-42. Myrtle Beach improves to 34-40.
The offense continued to score runs in the first inning, and on Wednesday it was Cade Bunnell with a leadoff home run. His 10th homer of the year made it 1-0 Jackets. Myrtle Beach answered with a solo home run from Jordan Nwogu in the second inning.
With the game tied at one, Stephen Paolini hit his fourth home run of the year in the third inning. The blast gave Augusta a 3-1 lead, but not for long. In the fourth inning, Myrtle Beach found an answer. Kevin Made singled with two outs to score Nwogu, and Jonathan Sierra came around as the ball was misplayed by Paolini. The game was tied at three.
Jose Miguel Gonzalez went five innings, allowing three runs. He tied a career high for innings-pitched.
Myrtle Beach broke the tie on a Sierra single to score Nwogu, and it was 4-3.
In the eighth inning, Myrtle Beach added two more. A Sierra double scored one, and an Ethan Hearn single scored another.
The Pelicans added one more in the ninth
NOTES:
Tanner Gordon goes 4 IP, 4 H, 3 ER, 2 R, 1 BB, 5 SO
Stephen Paolini has hit all four of his home runs in the month of July.
Malcolm Van Buren went 1.1 IP, 0 H, 1 R,1 ER, 0 BB, 3 SO in his debut. He struck out the side in the 7th.
HOMESTAND: Tuesday, July 27th - Sunday, August 1st vs Myrtle Beach Pelicans (Chicago Cubs)
Thursday July 29th, 2021 vs Myrtle Beach Pelicans – 7:05 p.m.
· Gates Open 6:00pm
· University of Georgia Night Featuring Aaron Murray Appearance & Cam Shepherd Poster Giveaway
o Football season is around the corner, and University of Georgia night is the PERFECT way to see other Bulldog fans! (Pssst. It's also Thirsty Thursday)
o Thanks to Cintas, the first 1,000 fans through the gates get a poster of GreenJackets shortstop, and former Georgia Bulldog, Cam Shepherd!
o Aaron Murray Appearance at SRP Park
§ Pre-game VIP Meet and Greet (approx. 6-6:30) Package for only $20
· Includes a reserved ticket (section 109), Food Voucher, & Aaron Murray Photo
· Only 150 available purchase today: https://bit.ly/3yNbXhe
§ General Public Autograph Opportunity following first pitch (1 per guest)
· Thirsty Thursday returns Presented by KICKS99, BOB FM, Garden City Social and Mr. Tattoo. The weekly promotion features $1 PBR and Natural Light and all draft beer and 21 oz Coca-Cola Fountain Soda half price from 6:00-8:00 PM.
· Media Partner: KICKS99
Friday, July 30th, 2021 vs Myrtle Beach Pelicans – 7:05 p.m.
Gates Open 6:00pm
Mason Jar Giveaway (1,000) presented by American Pest Control
Outdoors Night
o Come celebrate the great outdoors at SRP Park! Everyone loves a good camping trip or a hike into the mountains! That's why we are flying every fan to Mount Everest postgame to climb Earth's highest mountain above sea level! (Just kidding. We are not doing this. But we got your attention and we promise that outdoors night will be way cooler than actually climbing Everest.)
Braves BUZZFest – Red Out: The GreenJackets will be wearing their new Red Affiliate Jerseys on Fridays!
Bee A Fan Feature Friday is back where every Friday Game features a select beer on special at the Keg Stand and Chef John and Team Food & Beverage whip up a special menu option available all weekend long!
End of July Keg Stand Special - Half-off of all drafts at the Keg Stand from 6:00PM-8:00PM.
Featured Food: Crab Rangoon dog: A hotdog wrapped in a wonton, deep fried and topped with cream cheese, chili sauce and cilantro.
Pimento Cheese Item: Breakfast of champions burger: Pimento cheese, fried egg and bacon. All beef patty
Sweetwater Cup Series Night #2
Media Partner: HD 98.3
Saturday, July 31st, 2021 vs Myrtle Beach Pelicans – 6:05 p.m.
Gates Open at 4:30 p.m.
The White Claw Concert Series continues with a Pre-game concert.
Guests can enjoy $2 off White Claw until first pitch
Live from SRP Park...it's Saturday Night!
o Hey kids, you know all those funny TV moments your dad tries to get you to watch on the old Youtube machine? Well guess what? If you bring him to this baseball game, you will make him the happiest man on the planet. We plan to honor Saturday Night Live throughout the game as we celebrate some of the best moments in TV history.
It's our SEVENTH MEGA BOOMing fireworks show of the 2021 season! You don't want to miss a Saturday baseball game finished off with fireworks!
Another Saturday, another Anthony and London Thaun State Farm Family Saturday! Come on out and cheer on the Jackets!
Media Partner: KICKS99
Sunday, August 1st, 2021 vs Myrtle Beach Pelicans – 5:05 p.m.
o It's the dog days of summer and it's time to eat a hot dog, or two...or seventy five. Come out to the ballpark and do your best Joey Chestnut impersonation.
o It's going to be a PARTY...a Pajama Party! Wear your PJ's to the ballpark (Remember pajama shirts and shorts/pants are required...don't be a weirdo).
o "Sunday FUNday," returns with kid-friendly themes each week. Face Painting with Rainbow Factory will be available for two hours!
o Help us collect much needed school supplies for local children! Partnered with the United Way of the CSRA! Fans that bring in school supplies will receive a Hot Dog voucher (1 per guest)! It's presented by SRP Federal Credit Union and WOW! Internet, Phone, Cable
Bark in the Park presented by Hollywood Feed
o Bring out your four-legged GreenJackets fan for a night at the ballpark presented by Hollywood Feed. Please Note: Dogs are welcome in the lower seating bowl (excluding section 100). Dogs cannot go up to the WOW! Club, Suites and MurphyAdvantage.com Lounge. Dogs are free to the game. Dogs and owners must check in the Dog Waiver Table by the Main Gate Entrance. Relief areas for dogs are the Berm and behind the centerfield near the Batting Cages
Every Sunday features the Maurice's Piggie Park BBQ Sunday Savings Meal Deal for fans 12 and under to enjoy savings and a delicious menu option.
Jr. Jackets Game presented by Best Office Solutions, Family Y of Greater Augusta, Pediatric Partners and Tum-E Yummies.
Kids 12 and under get in this game for FREE by joining our FREE Club to select games throughout the season and receive great giveaways and benefits. Not a member sign up today: https://www.milb.com/augusta/community/jr-jackets-activities
Kids Run the Bases partnered with Shout 94.7FM
Media Partner: 94.7FM
To learn more or purchase tickets to this homestand or any 2021 GreenJackets home game visit: https://www.milb.com/augusta/tickets/promotions
The MLB Mandated clear bag policy is in effect for the 2021 season. For a complete rundown of SRP Park Gameday need to knows visit: https://www.milb.com/augusta/ballpark/srp-park-rules.
To stay up to date on all things GreenJackets follow us on social media: Facebook, Instagram and Twitterand sign up for the 'Jackets Buzz e-newsletter today by visiting https://bit.ly/AGJBuzz.
About SRP Park/Augusta GreenJackets
GreenJackets Baseball Tickets are on sale now and available online www.GreenJacketsBaseball.com. Join us to BEE a FAN all summer long at SRP Park.
2021 Augusta GreenJackets season seat memberships are on sale now. To learn more about the benefits and to get in on the 2021 action, visit www.gjmembers.com or call (803) 349-WINS (9467).
The Low-A East schedule is subject to change. It is the Low-A East and Major League Baseball's commitment to protecting the health and safety of players, club employees, and fans.
SRP Park is the anchor piece of Riverside Village, a live, work, "playball" development which includes apartment living, retail, restaurants, class "A" office space, and a Crowne Plaza Hotel and Conference Center. To learn more about SRP Park and hosting events and availability, visit www.thesrppark.com.
-GreenJackets -