Nolin struggles while Wings takes series opener
The Herd starts its final homestand with a 7-2 loss to Rochester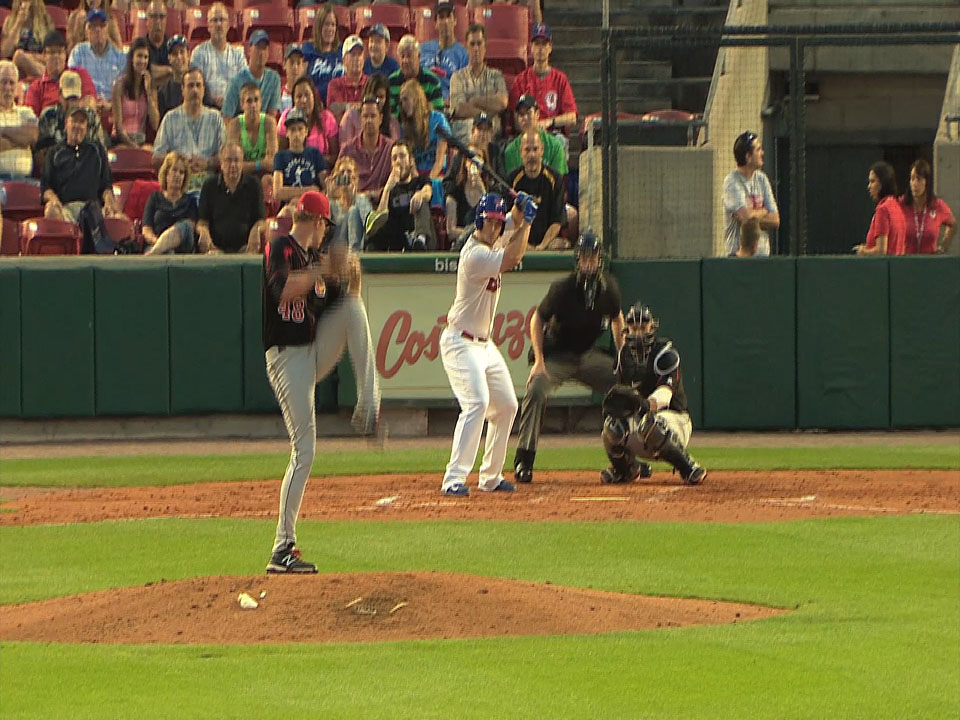 By Joe Sarro / Buffalo Bisons | August 19, 2014 9:35 PM ET
Before Tuesday night, Sean Nolin had been stellar in his last four starts. The southpaw allowed runs in just one of his previous 23 innings of work, but Rochester had a different story on their minds in their 7-2 win at Coca-Cola Field.
The Bisons' have had their way with Rochester, winning eight of its twelve games and needing just one win for the season series against the Red Wings. The Herd's starting pitchers have been playing well recently, posting a 1.52 ERA in 17 games this month. These stats didn't affect Rochester too much on Tuesday though.
"It obviously wasn't his best start," manager Gary Allenson said. "He's been pretty good since he's come back. It's a mulligan start for him. Just got to forget about it because even real good starters in the big leagues have those."
Rochester started the scoring off with a bang, piling together six runs through the first four innings.
Pedro Florimon started out the scoring when he walked and then proceeded to third on a Josmil Pinto single. Chris Hermann's grounder to third cashed in Florimon and Wilkin Ramirez plated Pinto from third to cap off the first inning scoring.
Chris Colabello took Nolin yard in the third when he took Nolin's first-pitch-fastball and torched it over the centerfield wall. Rochester followed up the third with a three-run fourth off Nolin. Rochester loaded the bases on the lefty with two walks and a single. Florimon created more damage to the scoreboard when he cleared the bases with a double to the gap in right center off Nolin to put the Red Wings up 6-0.
Nolin departed after the fourth. In his four innings of work, the southpaw allowed six runs and walked four batters.
Chad Jenkins relieved Nolin to start the fifth, but it didn't get much better for the Herd. Ramirez came back in the fifth to tattoo his fourth homer of the season. Ramirez took Jenkins' high breaking ball deep to left field and over the wall. It fell just short of the screen to give Rochester its six-run lead back again.
Meanwhile, Nolin's opposition Tyler Duffey, threw a gem to give the Herd a hard time to generate any runs. It was Duffey's second Triple-A start and it looked much like his first one where he tossed six innings and struck out seven to get his first win.
In his second quality start, the 23-year-old was delivering early by striking out the side in the first on just 11 pitches. The righty allowed three singles in the sixth to Buffalo but the Herd couldn't rally around it as they only put up one run on the starter. In his six innings pitched, Duffey allowed two runs off six his and fanned six Bisons batters, including giving the golden sombrero to talented outfielder Anthony Gose.
"With them having the lead, he pitched a lot more aggressively than he has in the past," Bisons first baseman Brett Wallace said. "I think sometimes momentum shifts quickly in a game and I think they got a little momentum early. For us it was about to slow the game down and get some momentum on our side."
"The way their starter was going there, it didn't seem like he was going to give us much of an opportunity," Allenson said post game. "Any time we play nine innings and score two runs I'm going to say the outcome is not good."
One man that really gave problems to Duffey was first baseman Brett Wallace. Wallace made his name known on Tuesday night when he was in on both of the scoring plays for Buffalo. Wallace went 3-4 with a double, an RBI single and a bombing home run in the fourth that left the ballpark.
With the loss, the Herd drops to three games out of Pawtucket, who are currently holding the lone wild card.
The two teams will face off again tomorrow when Rochester's Alex Meyer will face Buffalo's Brad Mills with first pitch at 7:05pm.
Bisons Notes:
The Blue Jays claimed two-time IL All-Star INF Matt Hague on Monday. The slugger hit .267 with 14 homers and 66 RBI in 93 games with Indy this year. RHP Sergio Santos has allowed just one hit to 32 batters over nine outings (8.2 IP).
This story was not subject to the approval of the National Association of Professional Baseball Leagues or its clubs.
View More