Too Little, Too Late:  Late Inning Rally Not Enough as BKLYN Falls 4-3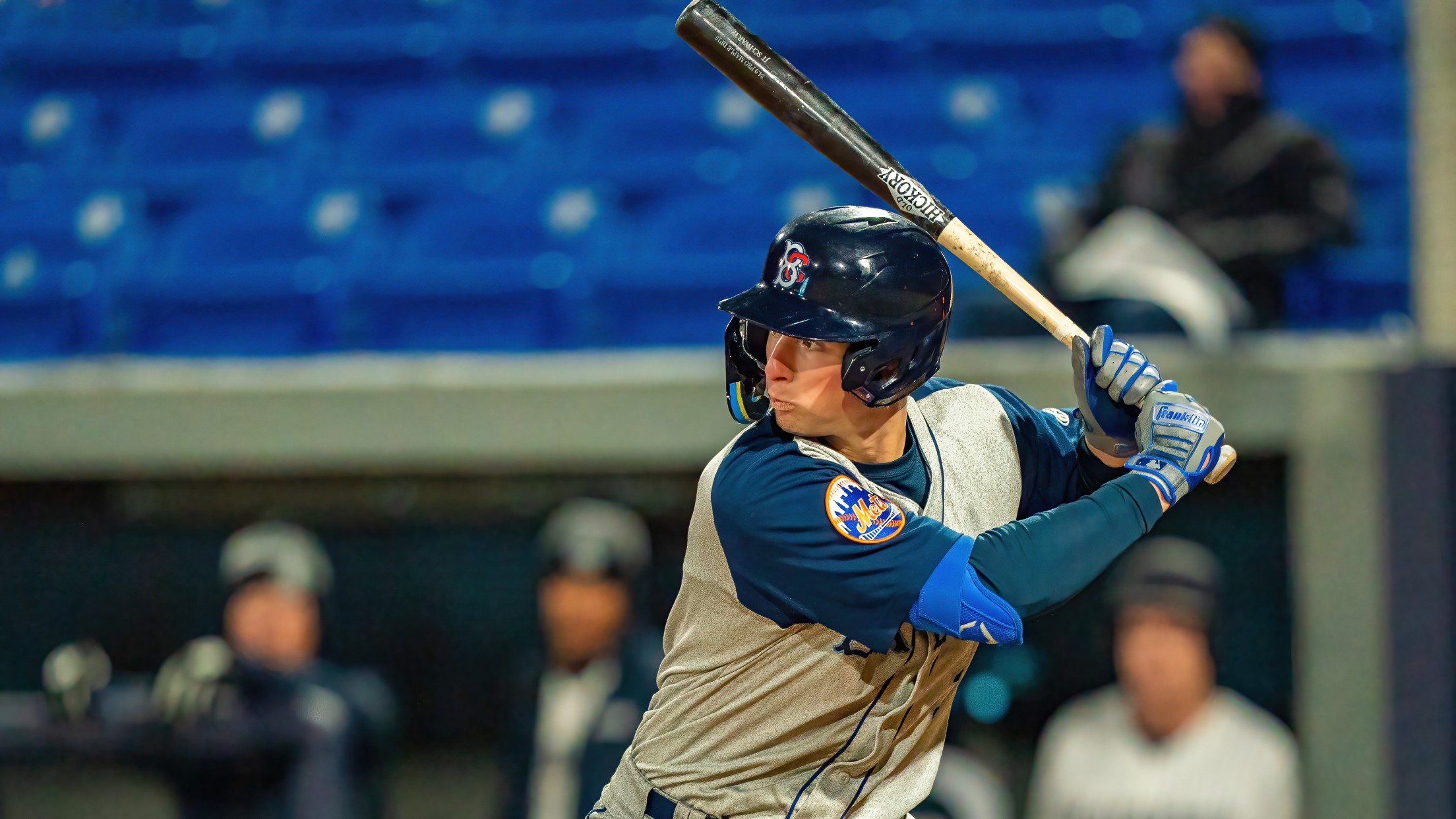 WILMINGTON, DE (June 17, 2022) – Despite a ninth-inning rally, the Brooklyn Cyclones, the High-A affiliate of the New York Mets, fell short in a 4-3 loss against the Wilmington Blue Rocks at Frawley Stadium on Friday night. Win: Cate (4-2) | Loss: Rojas (5-3) Box Score KEY PLAYS -
WILMINGTON, DE (June 17, 2022) – Despite a ninth-inning rally, the Brooklyn Cyclones, the High-A affiliate of the New York Mets, fell short in a 4-3 loss against the Wilmington Blue Rocks at Frawley Stadium on Friday night.
Win: Cate (4-2) | Loss: Rojas (5-3)
KEY PLAYS
Down 4-1 into the ninth inning, Brooklyn scored twice to cut the deficit to 4-3. Nic Gaddis' RBI single and Warren Saunders' RBI fielder's choice brought the Cyclones to within one. But with the tying run at first, Matt O'Neill struck out against Amos Willingham to end the game.
Wilmington's Tim Cate allowed one unearned run over six, striking out four and walking two in the victory. He departed with a 2-1 lead and received a boost on teammate Nick Banks' two-run blast to extend the lead to 4-1 in the bottom of the eighth.
Cyclones reliever Nate Jones, pitching in emergency relief for the injured Oscar Rojas, tossed three scoreless innings in his High-A debut.
Brooklyn cut the Blue Rocks lead to 2-1 in the top of the fifth, scoring on Matt O'Neill's run-scoring double in the right-centerfield gap.
KEY CYCLONES PERFORMERS
Matt Rudick: 2-4, triple
Matt O'Neill: 1-3, double, RBI, walk
JT Schwartz: 2-4, run
Nathan Jones: 3 IP, 2 H, 0 ER, 2 BB, 2 K
NEWS AND NOTES
Nathan Jones, who was the starting pitcher in Brooklyn's 2019 Championship victory against Lowell, made his High-A debut with the Cyclones.
Oscar Rojas exited the game in the third inning due to apparent injury.
Wilmington leads the series three games to two heading into Saturday's doubleheader.
Joe Suozzi snapped a five-game hitting streak, going 0-for-4.
WHAT'S NEXT
*Brooklyn at Wilmington – Saturday, June 18 – 5:05 p.m. (doubleheader)
G1: LHP *Nick Zwack (0-1, 2.74 ERA) vs. LHP Mitchell Parker (3-0, 2.31 ERA)
G2: RHP Garrison Bryant (1-1, 4.33 ERA) vs. TBD
Audio: BrooklynCyclones.com