McGarry Puts the K in Brooklyn as Cyclones Fall 5-3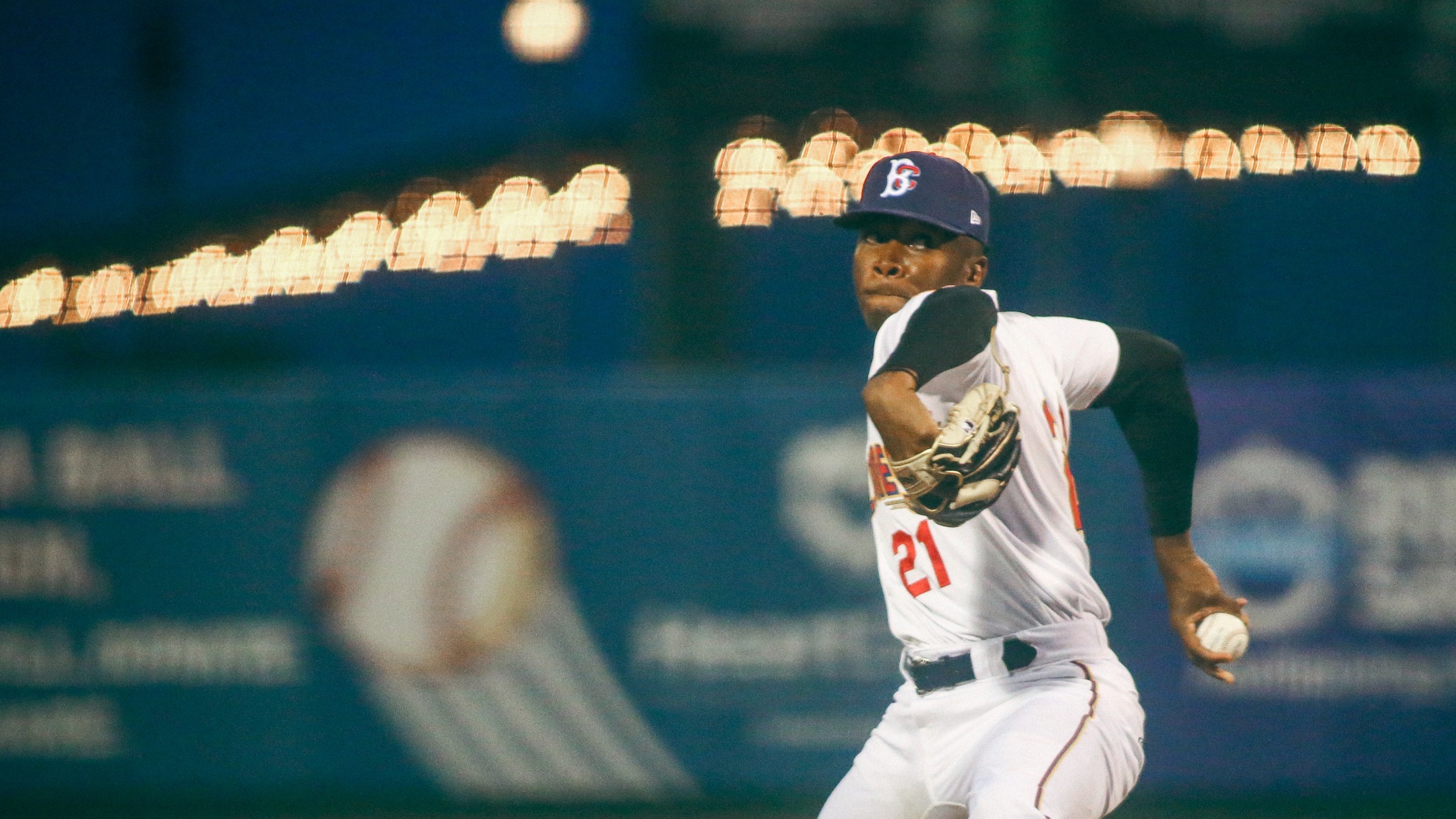 BOX SCORE Win – McGarry (2-3) Loss – J. Santos (3-6) Save – Hughes (3) Home Runs – JER: Stewart (7) / BRK: None Time of Game – 2:44 Brooklyn, NY (June 22, 2022) – The Jersey Shore BlueClaws defeated the Brooklyn Cyclones by the score of 5-3 on Wednesday
Win – McGarry (2-3)
Loss – J. Santos (3-6)
Save – Hughes (3)
Home Runs – JER: Stewart (7) / BRK: None
Time of Game – 2:44
Brooklyn, NY (June 22, 2022) – The Jersey Shore BlueClaws defeated the Brooklyn Cyclones by the score of 5-3 on Wednesday night on Coney Island. Griff McGarry was the story of the game as the righthander struck out 13 Cyclones over his 5.1 innings on the mound – including eight in a row at one point. Brooklyn batters struck out 16 times overall.
Junior Santos (3-6) made the start for Brooklyn and immediately found himself in trouble as back-to-back singles from Carlos De La Cruz and Ethan Wilson started off the top of the first and put runners on the corners with nobody out. With Johan Rojas batting, Jose Mena allowed a passed ball to score De La Cruz and Rixon Wingrove followed with an RBI single to give the BlueClaws a 2-0 edge.
The lead doubled in the top of the fifth when DJ Stewart drilled a two-run home run off the scoreboard in left field to make it 4-0.
Brendan Hardy was the first reliever out of the bullpen for Brooklyn, making his first appearance since May 27th, and received a rude welcome from Baron Radcliff – who doubled to right field to immediately start a threat. After a groundout moved Radcliff to third, Hardy uncorked a wild pitch that plated Jersey Shore's fifth run of the game.
After dominating through the first 5.0 innings, Griff McGarry started to run out of gas as he closed in on the 100-pitch mark and Brooklyn was able to finally break through. Tanner Murphy singled to start the frame and Shervyen Newton followed with a one-out walk to put a pair of runners aboard. JT Schwartz then roped an RBI single into right field to plate a run and put an end to McGarry's night. Jason Ruffcorn came out of the bullpen for the BlueClaws and walked Joe Suozzi to load the bases, but Nic Gaddis struck out and Jose Mena flew out to end the threat.
The 'Clones sliced into the Jersey Shore lead again in the seventh, when Jaylen Palmer scored from second on an error to make it 5-2. The comeback attempt continued in the ninth when Matt Rudick had a two-out RBI double to score Tanner Murphy all the way from first. Shervyen Newton then came to the plate as the tying run, but the Cyclones shortstop flew out to left field to end the game.
Thursday night will mark the final game of the 2022 South Atlantic League First Half before starting the back half of the season on Friday night.