Power Best 'Birds on Closing Day
Harvey gives up two runs in three innings, strikes out five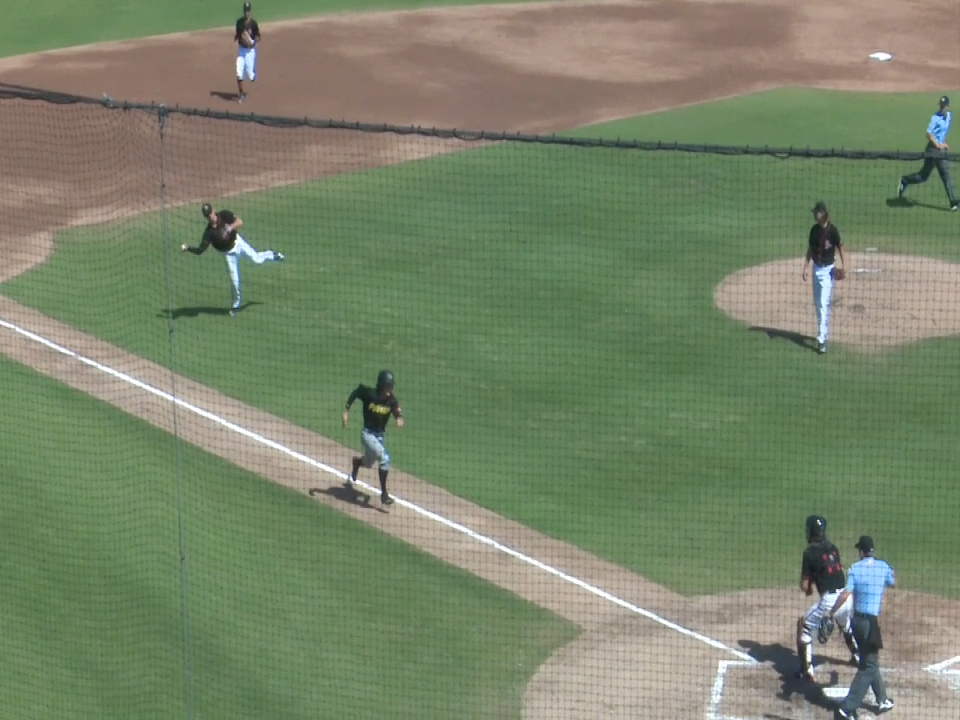 By Will DeBoer / Delmarva Shorebirds | September 4, 2017 5:29 PM
SALISBURY, MD - The West Virginia Power sent the Delmarva Shorebirds into the offseason with a 3-2 loss on Monday afternoon at Arthur W. Perdue Stadium.
The Shorebirds finish their 22nd season with a 59-78 record, including 30-39 in the second half. The Power went 69-67 this season and 39-31 in the second half, tied for first place in the Northern Division with the Greensboro Grasshoppers but losing out on percentage points. Greensboro will meet the first-half champion Kannapolis Intimidators in the divisional round on Wednesday. The winner faces either the Greenville Drive or Charleston RiverDogs in the SAL Championship Series.
Eduardo Vera (8-7) won in his final start for the Power, allowing one run on seven hits in seven innings while walking none and striking out four. Orioles' No. 7 prospect Hunter Harvey (0-1) picked up the loss in his third start for the Shorebirds, giving up two runs on three hits in three innings. He walked one and struck out five. Julio Eusebio saved it for West Virginia with a 1-2-3 ninth, his sixth of the year.
Garrett Brown led off the top of the third with a single. He then stole second base, but nobody covered the bag and the throw sailed into center, allowing Brown to take third. Adrian Valeiro then hit a soft grounder down the third base line, and Collin Woody slung it to the plate to get Brown. Clark Eagan was hit by a pitch to put two on, then after a strikeout, Hunter Owen lined a double into the left center gap, scoring Valerio and Eagan to make it 2-0 Power.
The Shorebirds got one back in their half of the third as Alejandro Juvier led off with a double and scored on a Preseton Palmeiro RBI single.
It stayed at 2-1 until the eighth inning when the teams traded a run each. In the top of the eighth, Owen walked to lead off and Rosario took his place on a fielder's choice. Andrew Walker then hit a grounder behind the mound that Milton Ramos couldn't handle from short. Raul Hernandez dropped a liner into left but Frank Crinella forced out Rosario at third. Victor Fernandez then lined another one into left to score Walker and make it 3-1.
Collin Woody got hit by a pitch with one out in the bottom of the eighth and moved up to second on a wild pitch. Gerrion Grim then slashed a single into left to score Woody and get Delmarva within one run again. Season-long bullpen catcher Wagner Ramirez came up to pinch hit for his first at-bat of the season, but he lined into a double play at second base to end the threat.
Palmeiro finished 2-for-4 with his 77th RBI of the season, good for fifth in the SAL. Woody went 1-for-2 with a run and two HBPs, bringing his SAL-leading total and Shorebirds single-season record to 35.
Albert Baur had three hits for the Power, while Owen drove in two runs with a double. Rosario and Fernandez each had two-hit games.
Kory Groves, Tyler Erwin, Steven Klimek, and Aaron Myers gave up one unearned run in six combined relief innings.
The Shorebirds will open the 2018 season on Thursday, April 6, at home against the Asheville Tourists. First pitch at Perdue Stadium will be announced in the coming months. Check back to theshorebirds.com all offseason for more information.
This story was not subject to the approval of the National Association of Professional Baseball Leagues or its clubs.
View More