RoughRiders release 2024 schedule
Frisco hosts home opener on April 9th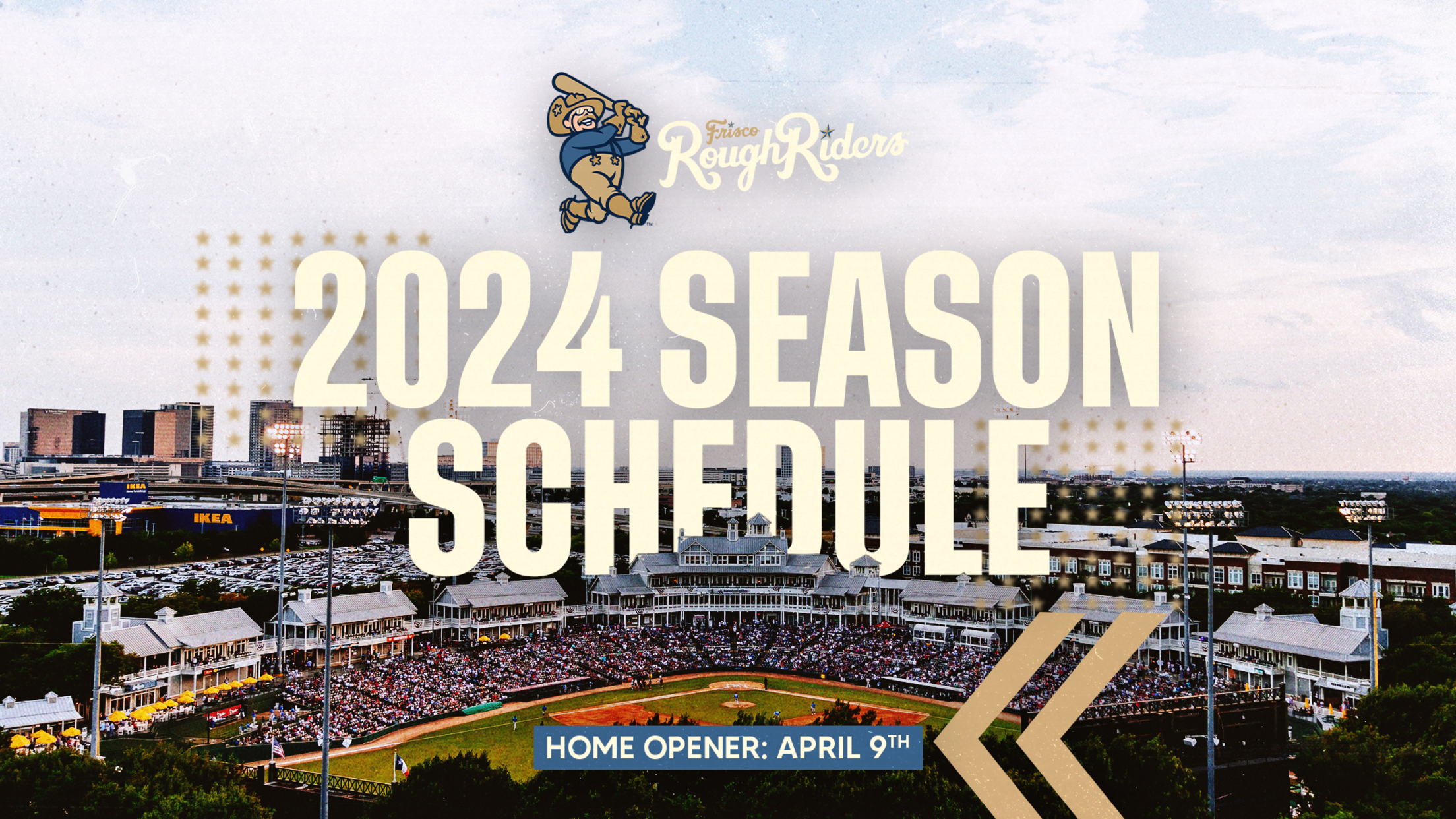 FRISCO, Texas (August 28, 2023) – The Frisco RoughRiders are thrilled to release the 2024 season schedule. The RoughRiders are slated to play a 138-game schedule in 2024, which includes 69 home dates at Riders Field. The season kicks off on the road in Wichita from April 5th - 7th
FRISCO, Texas (August 28, 2023) – The Frisco RoughRiders are thrilled to release the 2024 season schedule.
The RoughRiders are slated to play a 138-game schedule in 2024, which includes 69 home dates at Riders Field. The season kicks off on the road in Wichita from April 5th - 7th versus the Wichita Wind Surge (a Minnesota Twins affiliate) and the RoughRiders return for their home opener on Tuesday, April 9th against the Corpus Christi Hooks (a Houston Astros affiliate) to start a six-game series.
A key element of the 2024 RoughRiders schedule is 12 fun-filled weekends at Riders Field, spanning from early April to mid-September. There will be two home weekends per month with the exception of July (three home weekends) and September (one).
The Riders will kick off July 4th weekend at Riders Field in 2024 with three-straight fireworks nights against the Arkansas Travelers (a Seattle Mariners affiliate).
From August 13th - 25th, the RoughRiders will host back-to-back series against the Springfield Cardinals (a St. Louis Cardinals affiliate) and the San Antonio Missions (a San Diego Padres affiliate).
Corpus Christi will make two trips to Frisco. The Astros affiliate heads to Riders Field from April 9th - 14th and June 25th - 30th.
The All-Star Break will be from July 15th to July 18th.
You can view the PDF version of the 2024 schedule by clicking here.
Game times for the 2024 season will be announced at a later date.
For tickets and more information about the Frisco RoughRiders, visit RidersBaseball.com or call 972.731.9200.
About the RoughRiders
The Frisco RoughRiders are the Double-A affiliate of the Texas Rangers and the 2022 Texas League champions. In 2023, the team is celebrating its 20th anniversary and has consistently finished in the top five among all Double-A franchises in attendance yearly. In August 2014, the RoughRiders were purchased by an ownership group led by Chuck Greenberg. Since then, the new ownership group, together with the City of Frisco, has spearheaded numerous major franchise enhancements, investing over $8 million in a wide array of facility upgrades and improvements, including a state-of-the-art HD video board, sound system, Bull Moose Saloon, Bullpen Bar, Riders Outpost Team Store and the world's largest water feature in a sports facility, the massive Lazy River. These enhancements earned the Riders and the City of Frisco Ballpark Digest's prestigious "Best Ballpark Renovation" award for two consecutive years (2015 and 2016). More than 190 former RoughRiders players have gone on to play Major League Baseball including current Rangers Josh Jung, Grant Anderson and Martin Perez. For more information on the Frisco RoughRiders, please visit RidersBaseball.com or contact [email protected].