RoughRiders top all of Double-A in attendance for 14th consecutive year
Four of top 10 crowds in team history came in 2018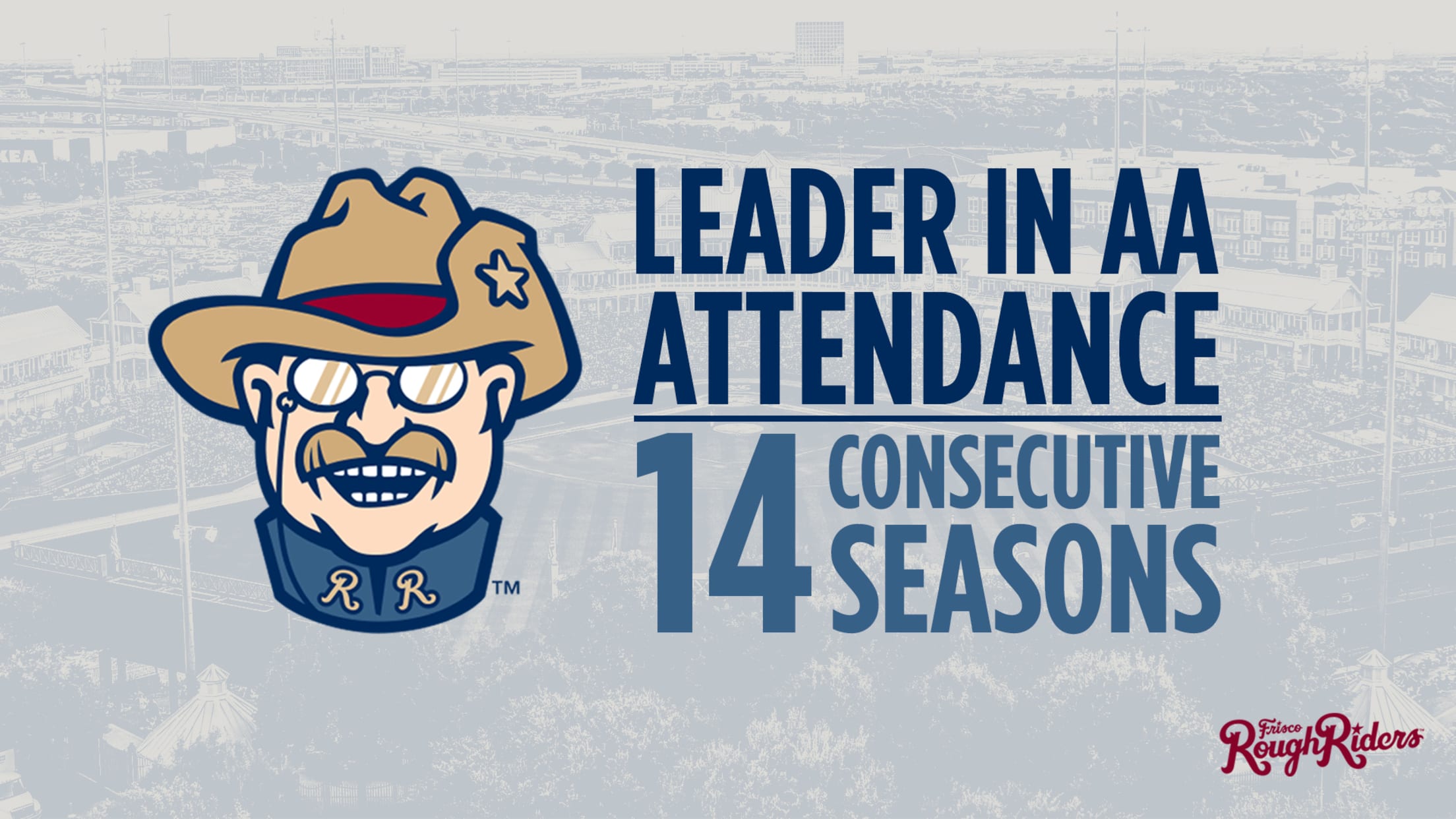 FRISCO, Texas (September 5, 2018) - The Frisco RoughRiders, the Double-A affiliate of the Texas Rangers, finished with the highest attendance among all 30 Double-A franchises for the 14th consecutive season in 2018.The RoughRiders welcomed 468,259 fans to Dr Pepper Ballpark in 2018, averaging 6,886 per game - an increase
FRISCO, Texas (September 5, 2018) - The Frisco RoughRiders, the Double-A affiliate of the Texas Rangers, finished with the highest attendance among all 30 Double-A franchises for the 14th consecutive season in 2018.
The RoughRiders welcomed 468,259 fans to Dr Pepper Ballpark in 2018, averaging 6,886 per game - an increase from the 2017 average of 6,812. That mark put the Riders well ahead of the next closest Double-A team (Richmond, 6,198).
The RoughRiders brought in seven crowds of at least 10,000 in 2018, including a franchise record 12,067 fans July 20 for Dude Perfect Night. That evening also marked the earliest sellout in RoughRiders history (three days in advance). Additionally, the crowd of 11,015 on April 5 signified the largest Opening Night crowd in franchise history and the 11,844 fans in attendance on May 21 marked the largest day-game crowd in the 16-season history of the franchise
Four of the 2018 crowds ranked among the top 10 in franchise history. All 10 of those crowds have come since the start of the 2015 season, which was the first full season of General Partner & CEO Chuck Greenberg's ownership tenure.
"Once again, our great fans proved that they're the best in Double-A and we're so grateful for their continued support over the years," Greenberg said. "2018 was a year we were really proud of and we are already hard at work preparing for 2019 to ensure that Riders games continue to be the best place in North Texas for affordable, family-friendly experiences that create unforgettable memories."
TOP 10 CROWDS IN FRANCHISE HISTORY
1. 12,067 - July 20, 2018
2. 11,927 - June 12, 2015
3. 11,915 - May 8, 2015
4. 11,897 - May 5, 2017
5. 11,876 - July 4, 2015
6. 11,844 - May 21, 2018
7. 11,842 - May 1, 2016
8. 11,841 - September 3, 2017
9. 11,838 - August 25, 2018
10. 11,837 - August 31, 2018
The RoughRiders open the 2019 season April 4 at Dr Pepper Ballpark. The full 2019 schedule will be released soon, in addition to information on season ticket plans, other ticket packages and group hospitality areas. For more information, visit RidersBaseball.com.
About the RoughRiders
The Frisco RoughRiders are the Double-A affiliate of the Texas Rangers and play their games at beautiful Dr Pepper Ballpark in Frisco, Texas. The team was founded in 2003 and has finished first among all Double-A franchises in attendance in each of the last 14 seasons (2005-2018). In August 2014, the RoughRiders were purchased by an ownership group led by Chuck Greenberg. Since then, the new ownership group, together with the City of Frisco, has spearheaded numerous major franchise enhancements, investing over $8 million in a wide array of facility upgrades and improvements, including a state-of-the-art HD video board, sound system, Bull Moose Saloon, InTouch Grille, Riders Outpost Team Store and the world's largest water feature in a sports facility, the massive Choctaw Lazy River. These enhancements earned the Riders and the City of Frisco Ballpark Digest's prestigious "Best Ballpark Renovation" award for two consecutive years (2015 and 2016). More than 140 former RoughRiders players have gone on to play Major League Baseball, including All-Stars Chris Davis, Adrián González, Ian Kinsler and Neftalí Feliz, as well as current Rangers stars Elvis Andrus, Rougned Odor and Nomar Mazara. For more information on the Frisco RoughRiders and Dr Pepper Ballpark, please visit RidersBaseball.com or contact Ryan Rouillard at [email protected].