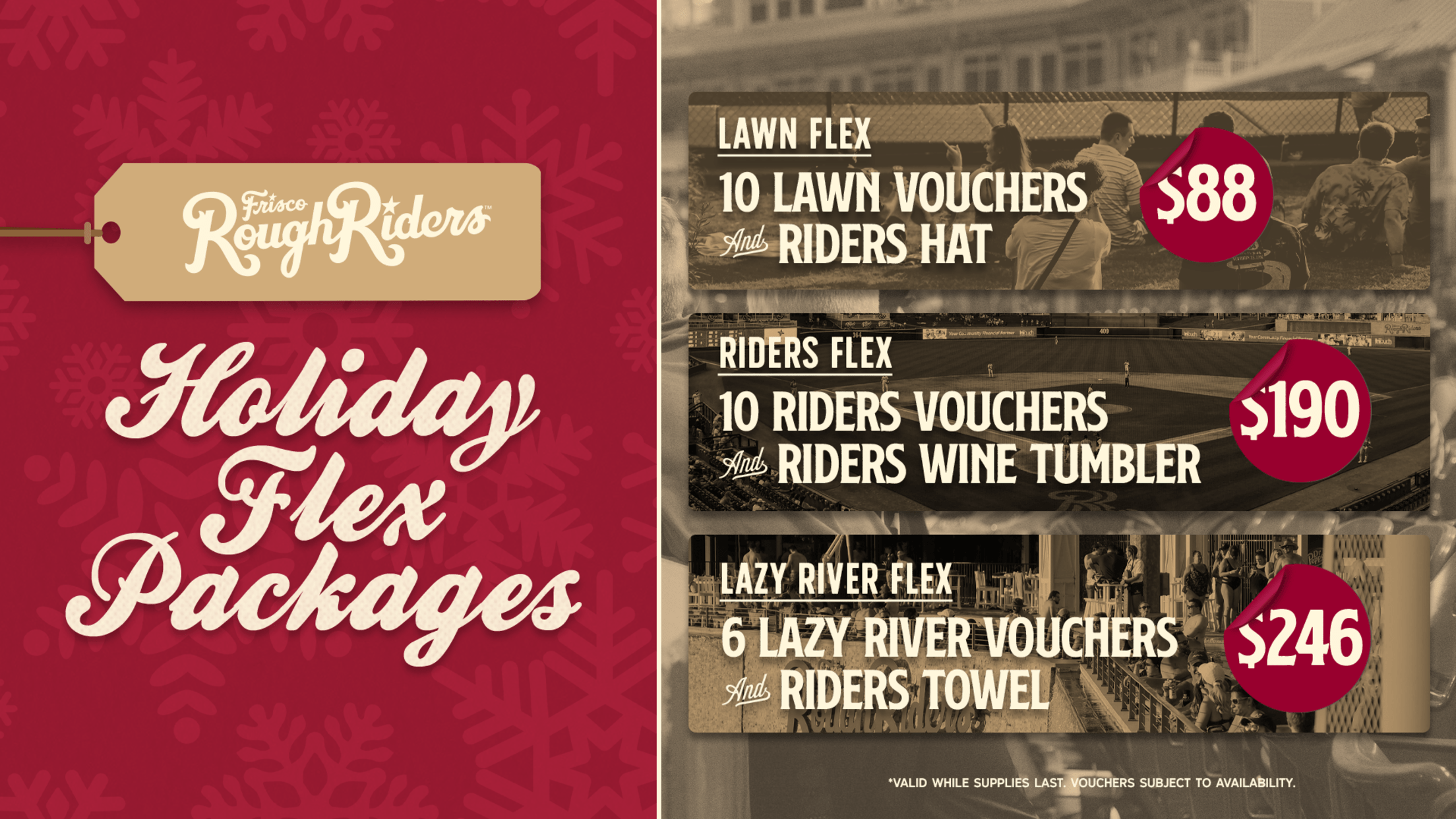 Lawn Flex Pack
10 Lawn Vouchers
Riders Hat
Only $88

Riders Flex Pack
10 Riders Vouchers
Riders Wine Tumbler
Only $190

Lazy River Flex Pack
6 Lazy River Vouchers*
Riders Towel
Only $246
Offer ends 12/18 at 11:59 pm. Vouchers must be redeemed for a ticket to the game(s) of your choice during the 2022 season.
*Lazy River Flex Pack vouchers valid Sunday only. Subject to availability.
Give the Gift of Baseball this Holiday Season!
Looking for the perfect holiday gift for the baseball fan in your life? Look no further than the Frisco RoughRiders Holiday Bundle! For just $99, you get 10 ticket vouchers for the 2021 season, your choice of a RoughRiders souvenir hat, scarf, or youth jersey, and we'll top it off with a pass for 1 vehicle to visit this year's Radiance! Frisco - a drive through light show extravaganza taking place in Dr Pepper's south parking lot. Purchase a RoughRiders Holiday Bundle today!
*Orders must be placed by Wednesday, December 16 at 5:00 PM to ensure delivery by December 25*
Bundle Includes
10 Flex Ticket Vouchers
(1 exchanged voucher = 1 game ticket for the 2021 season)
1 Pass to Radiance! Frisco
Your choice of one of the following*: Hat, Scarf, or Youth Jersey
$99
*Limited Quantities Available in All Items
Your bundle includes a pass for one (1) vehicle to the Radiance! Frisco drive through light show extravaganza, located right in Dr Pepper Ballpark's south lot. Radiance! Frisco will run nightly from November 11, 2020 through January 3, 2021. Learn more about Radiance! here.