Home Runs for Heroes Returns in 2021
Through this unique program, OceanFirst Foundation has donated almost $400,000 to local military-based non-profit organizations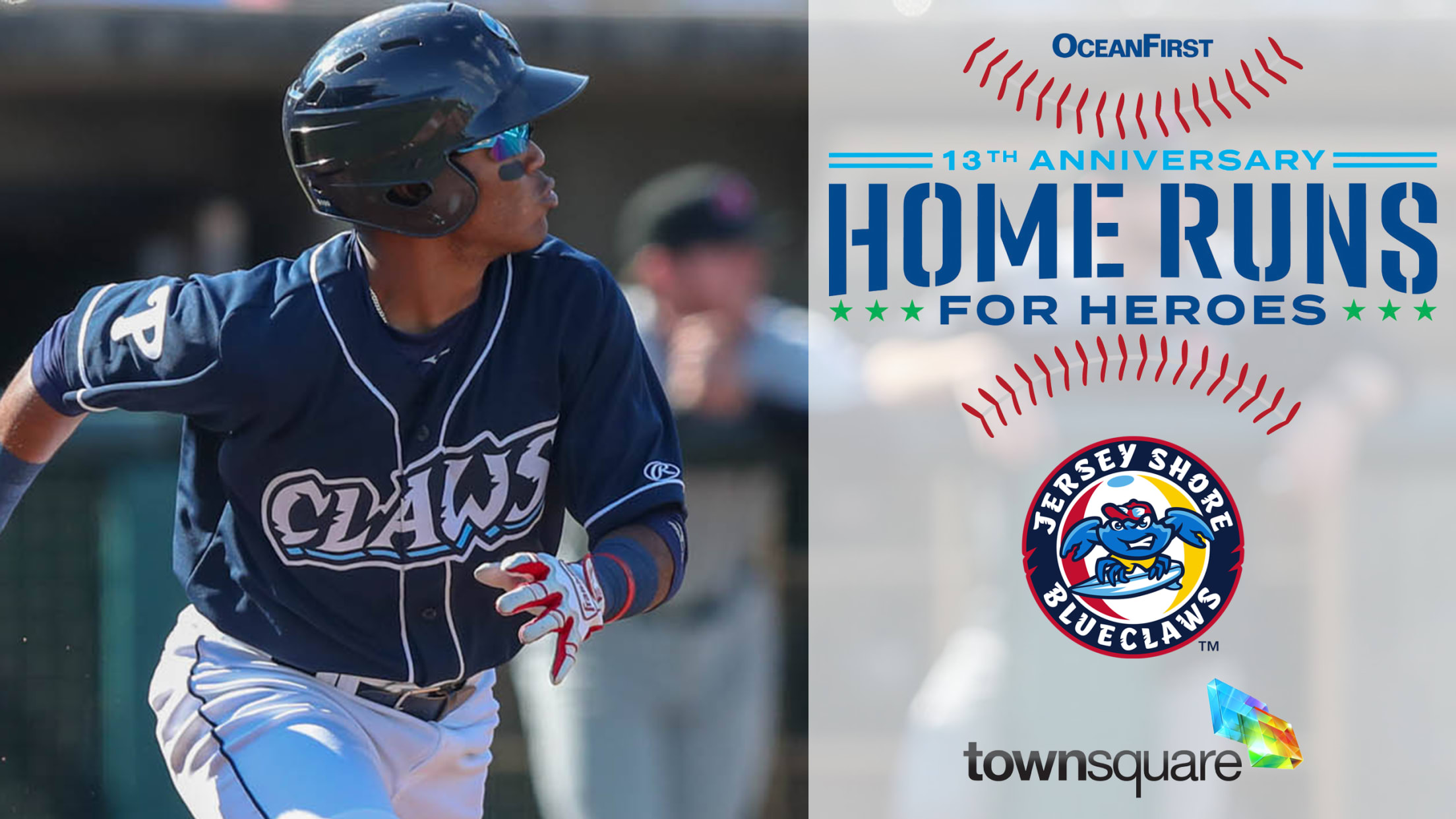 JERSEY SHORE, NJ – OceanFirst Foundation, the BlueClaws and Townsquare Media are set to once again partner on Home Runs for Heroes, a unique program through which OceanFirst Foundation donates to military-based non-profits for each home run hit by the BlueClaws at home this summer. Since debuting in 2009, the
JERSEY SHORE, NJ – OceanFirst Foundation, the BlueClaws and Townsquare Media are set to once again partner on Home Runs for Heroes, a unique program through which OceanFirst Foundation donates to military-based non-profits for each home run hit by the BlueClaws at home this summer.
Since debuting in 2009, the program has raised $376,000 for military-based non-profit organizations.
"We thank the Jersey Shore BlueClaws organization and Townsquare Media for their continued partnership that brings much needed relief to local military families and Veterans," said Katherine Durante, Executive Director of OceanFirst Foundation.
Added BlueClaws Team President Joe Ricciutti: "Members of our armed forces deserve our ultimate praise and we are honored to be a part of this program. Thank you to OceanFirst Foundation for their generous support of these great organizations."
"92.7 WOBM and Beach Radio 104.1 are proud to partner once again with the Jersey Shore BlueClaws
and OceanFirst Foundation to promote the positive contributions these amazing organizations are making to active and retired members of the military," said Kevin Williams of Townsquare Media. "It is an honor to play a part in Home Runs for Heroes."
Every home run hit at FirstEnergy Park means a donation to the corresponding organization(s) tied to each inning of the game. The list of innings and organizations appears below:
1st Inning - American National Red Cross, Homes for All
2nd Inning - Army Emergency Relief, Catholic Charities of Trenton – Ocean Community
3rd Inning - Ma Deuce Deuce, Vetgroup Inc.
4th Inning - Lt. Dennis W. Zilinski II Memorial Fun, Recalibrate
5th Inning - GI Go Fund, Volunteers of America
6th Inning - Navy-Marine Corps Relief Society
7th Inning - Cape May County Coast Guard Community Foundation
8th Inning - Chariot Riders Inc., Deborah Hospital Foundation
9th Inning + Extras - Operation First Response
Each BlueClaws home run at the Jersey Shore this summer doesn't just help win that day's game, but it helps support military-based non-profits in the area.
The BlueClaws are the Shore's top spot for affordable, family entertainment. They have drawn 7.7 million fans through their first 19 seasons and open the 2021 season on May 4th against Hudson Valley.
OceanFirst Foundation empowers organizations to think bigger, solve more problems, and make life better in the neighborhoods served by OceanFirst Bank. OceanFirst Foundation's priorities include Health & Wellness, Housing, Improving the Quality of Life, Youth Development and Education. Since 1996, OceanFirst Foundation has awarded more than 8,200 grants totaling more than $42 million to over 1,900+ local charities and schools. Learn more at oceanfirstfdn.org.
Townsquare Media is is a community-focused digital media, digital marketing solutions, and radio company focused outside the top 50 media markets in the United States.
-Jersey Shore BlueClaws-