JSBC Staff Spotlight: Jamie Bertram
Highlighting the talented members of the BlueClaws staff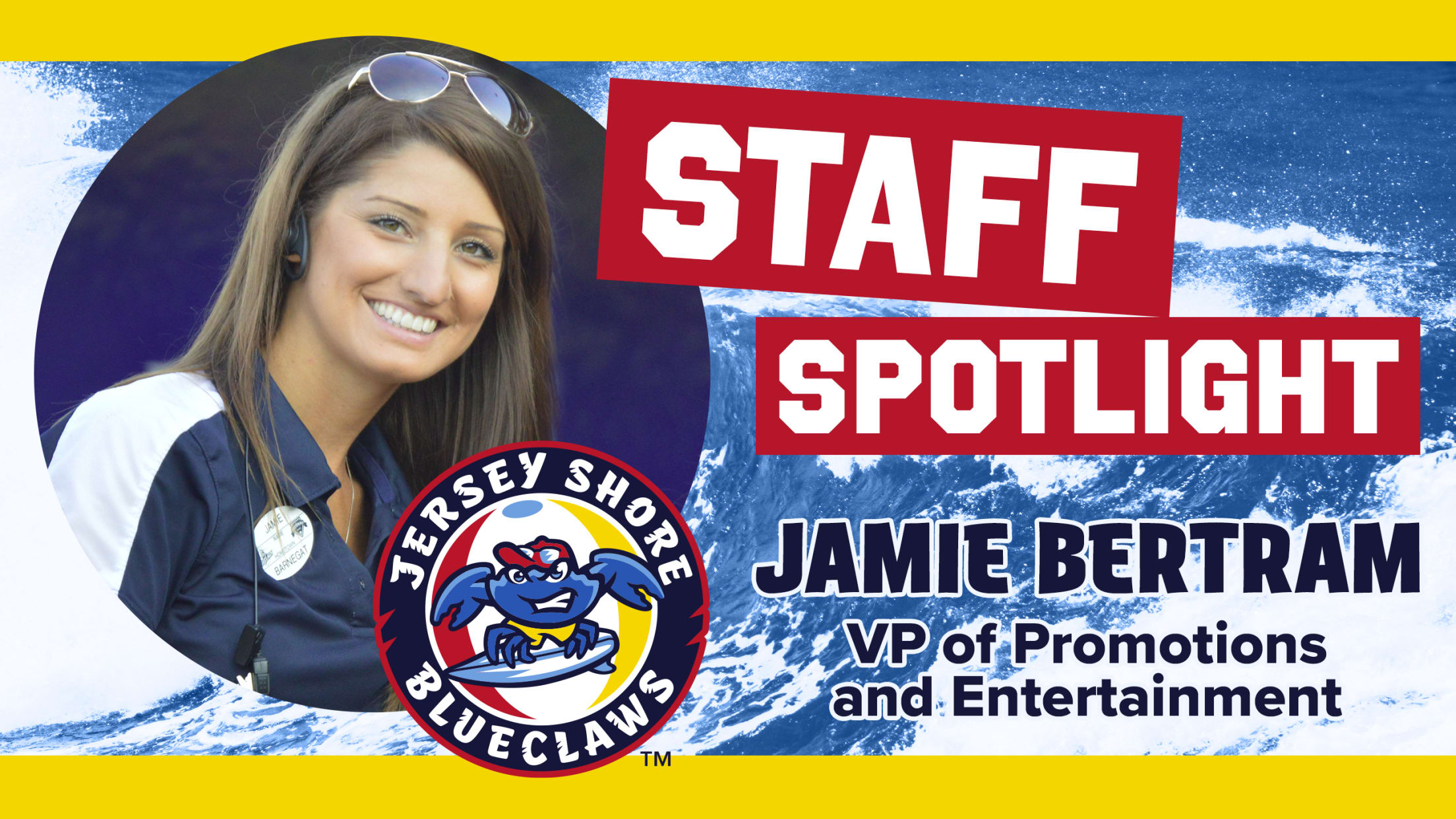 JERSEY SHORE, NJ - In our next Jersey Shore BlueClaws Staff Spotlight, we introduce you to Jamie Bertram, our VP of Promotions & Entertainment. Jamie joined the BlueClaws in 2011 in the Food & Beverage Department, returned in 2014 as a Group Sales representative, and since 2015 has overseen all
JERSEY SHORE, NJ - In our next Jersey Shore BlueClaws Staff Spotlight, we introduce you to Jamie Bertram, our VP of Promotions & Entertainment. Jamie joined the BlueClaws in 2011 in the Food & Beverage Department, returned in 2014 as a Group Sales representative, and since 2015 has overseen all aspects of fan entertainment.
Previously - Rob McGillick, Ben Cecil, Garrett Herr, Craig Ebinger, Zack Nicol, Kevin Fenstermacher.
Q: What is your favorite BlueClaws memory?
A: I don't have a specific favorite memory of working for the BlueClaws because there have been so many great memories with the staff over the years! So many times come to mind and those wouldn't be significant if it weren't for my co-workers and gameday staff.
Q: What is your favorite BlueClaws promo night and why?
A: My favorite night is Military Appreciation Night. It gives me chills every season when the bag pipes play Amazing Grace, the echo taps follow and then the plane flies over with the American flag. It is truly a feeling you don't forget and important to honor those who have served for our country.
Q: What is your favorite part of the job?
A: I get to be creative and use my artsy side. I almost went to college for art and design and decided that I wanted to take that creativity and use it for planning events. I get to create 70 mini events and all have different themes and promotions and items that go with them. It is truly the best part of my job. The sky is the limit and the more creative I get to be, the better the show is for the fans. It's really an awesome feeling when the crowd gets loud and excited from something I have came up with or decided to do for entertainment.
Q; What is your favorite Jersey Shore landmark?
A: My favorite land mark is Ole Barney. Barnegat Light has been a place that when you see the light house it just feels like home. I spend a lot of time on the Barnegat Bay and Ole Barney never gets old. I can take a million pictures and they are always different and it just has this soothing feeling when you see it. It's always the last thing we see when we are headed out the inlet to go fishing and it's always the first thing we see welcoming us back home. When you're out on the water and you look around and you see the lighthouse, you know home is not far away.
Q; What is your favorite Jersey Shore activity?
A: I LOVE being out on the water on our boat. When I am not at work during the summer months we are always out on the bay, or at our go to sandbar. You can't beat salt water and fresh air!
Q: What is your favorite Jersey Shore restaurant and meal?
A: Favorite meal, I have a couple because they are all so good!! For breakfast you can not beat Pork Roll, Egg & Cheese from Bagels & Beyond. My favorite quick bite at lunch would be the Manhattan Clam Chowder from Lefty's in Barnegat, winners of Chowderfest multiple years in a row! My dinner of choice is the Crabcake sandwich from Sun Harbor.
Q: If you hadn't gone into the sports/entertainment industry, what would you be doing?
A: I think I would be planning events in some shape or form.
Q: What is your favorite thing to do away from the ballpark?
A: Spend time with my family and friends and I am lucky enough that we all love being out on the water relaxing, fishing, or even just tying up the boats and waiting for the sun to set.
Q: How long have you lived at the Shore and what brought you here?
A: I grew up in Barnegat and now reside in Waretown. My parents grew up in Barnegat and Waretown and both my grandparents moved to Ocean County early on. I have lived in Pennsylvania, Rhode Island, Massachusetts, New York and Delaware through college and after college for different jobs and it's the Jersey Shore that has always brought me back. There is no place like home.
-Jersey Shore BlueClaws-