JSBC Staff Spotlight: Rob McGillick
Highlighting the talented members of the BlueClaws staff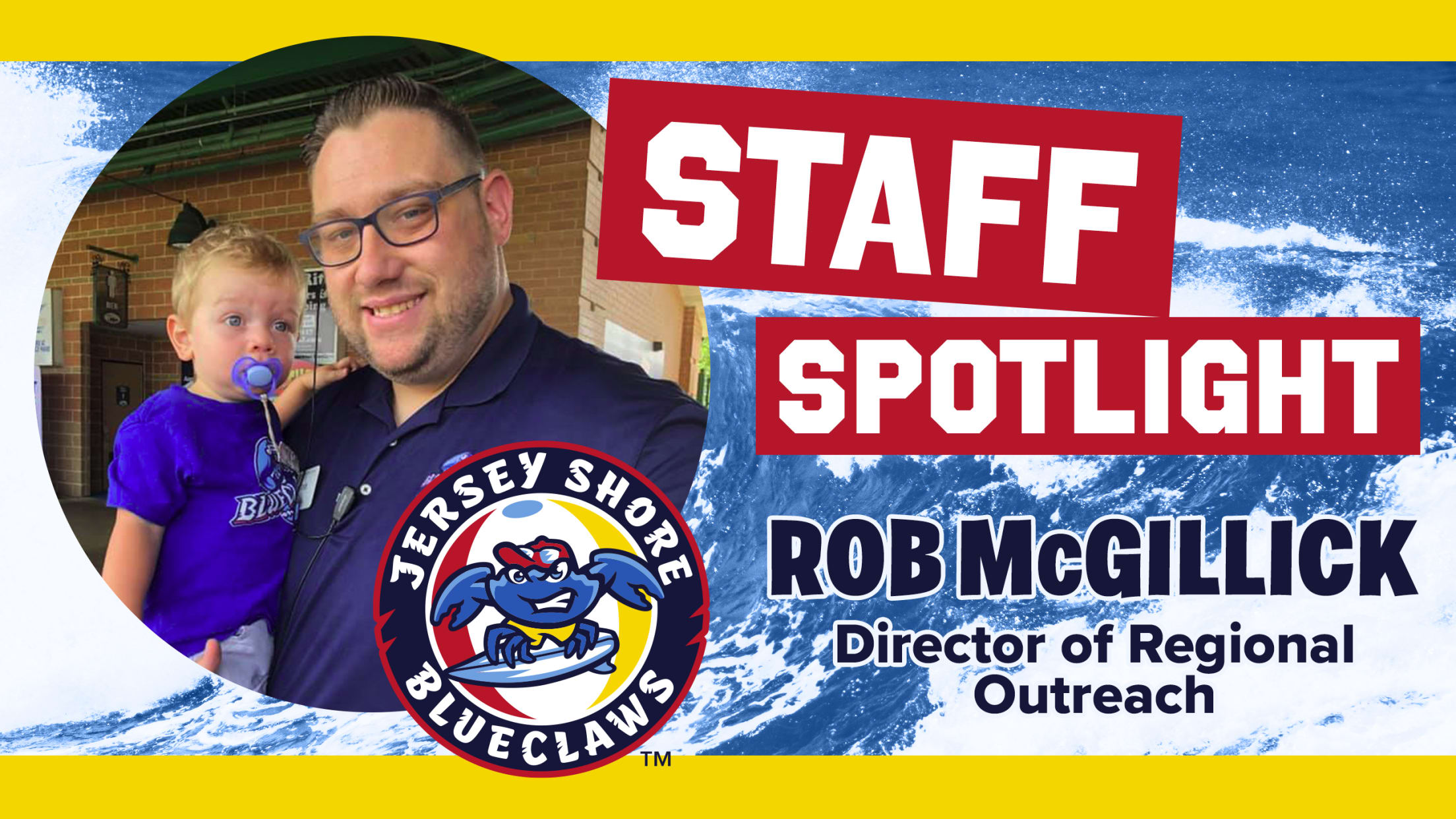 JERSEY SHORE, NJ - In the first of what will become a BlueClaws.com recurring feature, we sit down with Rob McGillick, the BlueClaws Director of Regional Outreach. Rob joined the BlueClaws in 2011 and currently is a ticket and group representative for the team. He works with season ticket holders
JERSEY SHORE, NJ - In the first of what will become a BlueClaws.com recurring feature, we sit down with Rob McGillick, the BlueClaws Director of Regional Outreach. Rob joined the BlueClaws in 2011 and currently is a ticket and group representative for the team. He works with season ticket holders from all over the Shore, with an additional focus on facilitating group outings for schools and non-profit organizations.
He also serves on the board of directors for Ocean Partnership for Children and the Jersey Shore Council of the Boy Scouts of America.
Q; What is your favorite BlueClaws memory?
A: Opening day 2011 - my 1st game as a member of the team. Also the 2013 All Star game was pretty incredible, especially the Hitting Challenge the day before. Joey Gallo was there and hit a ball as far as I've ever seen. It went over the Food Court in right field (now Shore Town Soft Serve) and out of the stadium. I've never seen that. Having the weather we did on the day of the All-Star Game (the game started at 9:53) was disappointing but it was a memorable few days.
Q; What is your favorite BlueClaws promo night and why?
A: Bark in the Park. Puppies man! As a staff we always do a lap around the festival area outside and hang out with the puppies all morning. It's a great day.
Q: What is your favorite part of the job?
A: Seeing a Baseball field everyday. I've worked in other industries and know what it's like to sit at a desk all day every day and staring at the road. Seeing a field every day is incredible. Also, networking is 400 times easier when you see a BlueClaws logo on your shirt - people always want to talk to you.
Q; What is your favorite Jersey Shore landmark?
A: I'm a "Bayvillian" so I'm going with the Dinosaur on Rt.9 in Bayville...the best town in the Jersey Shore!
Q; What is your favorite Jersey Shore activity?
A: Going to the beach at night in September. Just sitting in the sand watching the water. Hoody and shorts weather is the best weather!
Q: What is your favorite Jersey Shore restaurant and meal?
A: My favorite restaurant is "Chicken or the Egg" in Beach Haven and my favorite meal is the veal parmigiana at Chef Vola's in Atlantic City.
Q: If you hadn't gone into the sports/entertainment industry, what would you be doing?
A: I would absolutely be a chef - and a pretty darn good one, I might add! My favorite meal to cook is probably my fried pork chops with a creamed mushroom gravy, plus a New York strip steak with a peppercorn whiskey sauce.
Q: What is your favorite thing to do away from the ballpark?
A: Relaxing with my family, cooking, and watching Raiders football.
Q: How long have you lived at the Shore and what brought you here?
A: I've lived here my whole life, so I guess the correct answer would be "my mother!"
Order Tickets From Rob - Call 732-901-7000 ext 170 or book online here.
-Jersey Shore BlueClaws-