Lay, Lugnuts win HBP-fest, 7-4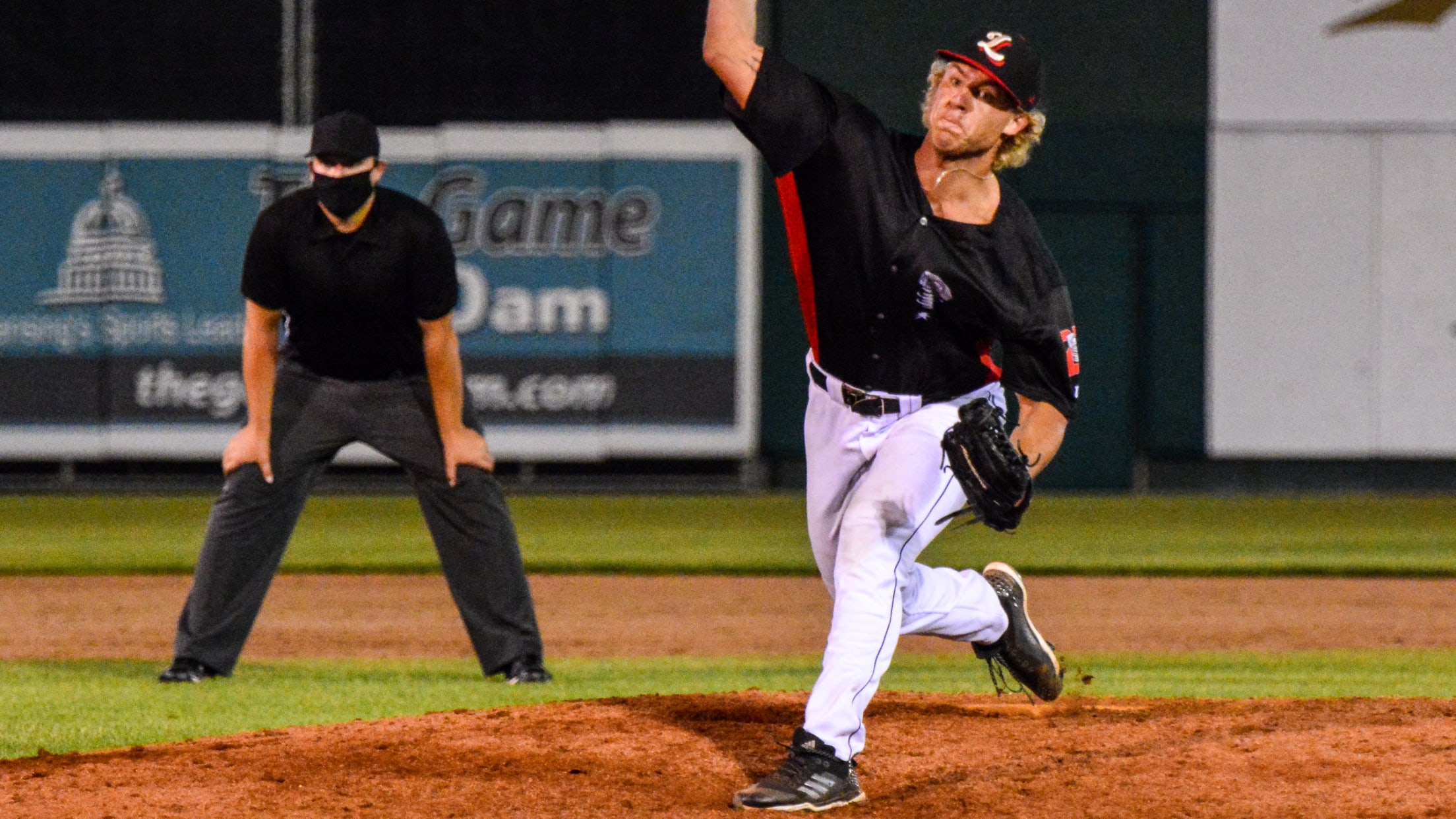 (MQH Photo Video)
LANSING, Mich. – Hunter Lay (Lansing Community College) drove in four runs, including a two-run single in a four-run second inning, and the Lugnuts led from start to finish in a 7-4 win over the Locos on Friday night in the Lemonade League at Cooley Law School Stadium. The teams
LANSING, Mich. – Hunter Lay (Lansing Community College) drove in four runs, including a two-run single in a four-run second inning, and the Lugnuts led from start to finish in a 7-4 win over the Locos on Friday night in the Lemonade League at Cooley Law School Stadium.
The teams have split the first four games of the wood-bat league. 14 games remain, including on Saturday at 7 p.m. and Sunday at 1 p.m.
Perhaps the most unusual facet of the game: Nine players were hit incidentally by pitches, seven Lugnuts (Darryn Davis 2, Logan Welch 2, Colin Cornwell, Mark Connelly and Hunter Lay) and two Locos (Brandon Scheurer and Adam Purdy). Each of the five Locos pitchers used hit at least one batter, led by starter Christopher Schmees's three plunkings.
Combine the Lugnuts' seven HBPs with seven walks drawn, and the Nuts filled the basepaths throughout the night.
Lay capitalized: The catcher gave the Lugnuts a 1-0 lead with a bases-loaded walk in the first inning; capped a second-inning rally with a line drive skimming into right-center to plate Mark Connelly and Zaid Walker for a 5-0 lead; and followed a Cornwell triple with a sacrifice fly in the fourth inning for a 6-0 Lugnuts lead.
The Locos' carved the deficit to 6-4 in the bottom of the fourth on a Ben Compton two-run double and a two-run throwing error by third baseman Welch, but would come no closer.
Lefty John Fantauzzo followed starter Derek Slocum's 3 2/3 innings with 3 1/3 scoreless innings, scattering three hits, a walk and two HBPs.
The Locos had scored four runs in the seventh inning in each of the past two games, but Logan Buczkowski (pictured above) worked a scoreless final frame, walking one and striking out Sean Haddlesey to end the game.
The next Lemonade League game will be played on Saturday at 7 p.m. at Cooley Law School Stadium, with the Cedar Street gate opening at 6 p.m. Masks are mandatory.
Lemonade League is a college wood-bat league featuring Minor League Baseball umpires, yellow baseballs, seven-inning games, and extra innings replaced by a one-on-one Home Run Derby – although none was needed on this night. Every Lemonade League game is livestreamed FREE across multiple social and digital platforms, including the Lansing Lugnuts' Facebook and Twitter pages.
For more information, visit lansinglugnuts.com or call (517) 485-4500.
# # #