Lopez's streak continues, Lugnuts' streak ends in 12-4 loss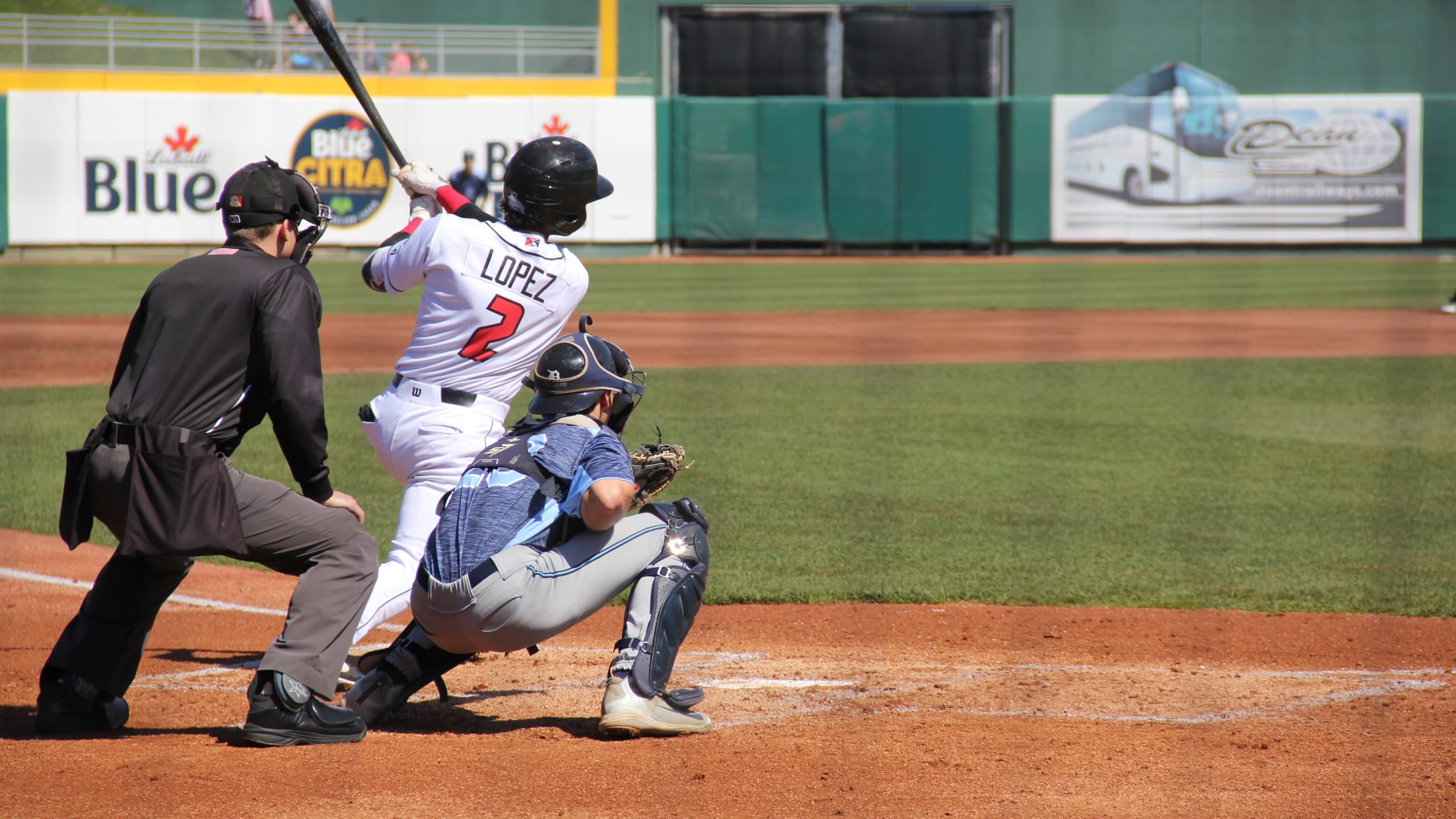 (Miguel Arcaute / Lansing Lugnuts)
LANSING, Mich. - Otto Lopez went 2-for-5 with a two-run single to extend his hitting streak to 16 games, but that was one of the few bright spots for the Lansing Lugnuts (27-25, 59-62) in a 12-4 loss to the Fort Wayne TinCaps (22-30, 55-65) on Thursday night at Cooley
LANSING, Mich. - Otto Lopez went 2-for-5 with a two-run single to extend his hitting streak to 16 games, but that was one of the few bright spots for the Lansing Lugnuts (27-25, 59-62) in a 12-4 loss to the Fort Wayne TinCaps (22-30, 55-65) on Thursday night at Cooley Law School Stadium, ending the Lugnuts' season high five-game winning streak.

However, since South Bend lost in ten innings to Lake County, 2-1, the Nuts stayed one game behind the Cubs for the Eastern Division's final playoff berth. 18 games remain in the regular season.

The Lugnuts had allowed a total of 14 runs in winning five straight games against the Cubs, Dayton Dragons and TinCaps, but fell victim to a 13-hit barrage and mistakes of their own making.
Aided by a missed-catch error by second baseman LJ Talley , the TinCaps took a 1-0 lead in the second inning, and then added four more runs in the fourth aided by errors charged to Talley and first baseman Jake Brodt .

Lugnuts starter Troy Watson (Loss, 6-4) pitched five innings, giving up five runs - only one of which was earned - on five hits and three walks.

The Nuts carved away at the deficit with two runs in the bottom of the fifth against Fort Wayne starter Efrain Contreras (Win, 5-5).

But the TinCaps answered with two runs in the sixth off Will McAffer , three runs in the eighth off Juan Nuñez, and a two-run Justin Lopez homer in the ninth off debuting right-hander Jose Espada - the 800th player to play for the Lugnuts in franchise history.

Lugnuts shortstop Lopez delivered a two-out, two-run single in the bottom of the ninth inning to close out the scoring.

In defeat, designated hitter Ryan Gold went 2-for-4 with a single and his team-leading 25th double for the Lugnuts.

The rubber match of the three-game series will be held at 7:05 p.m. Friday, Faith and Family Night with post-game LAFCU Fireworks! Lugnuts right-hander Troy Miller (5.25 ERA) starts against Fort Wayne southpaw Cullen Dana (5.21). To live the Lug Life and purchase tickets, visit lansinglugnuts.com, call (517) 485-4500 or come to the Cooley Law School Stadium box office at 505 E. Michigan Ave. in downtown Lansing.
# # #