Nuts draw 12 walks in 12-9 loss to Loons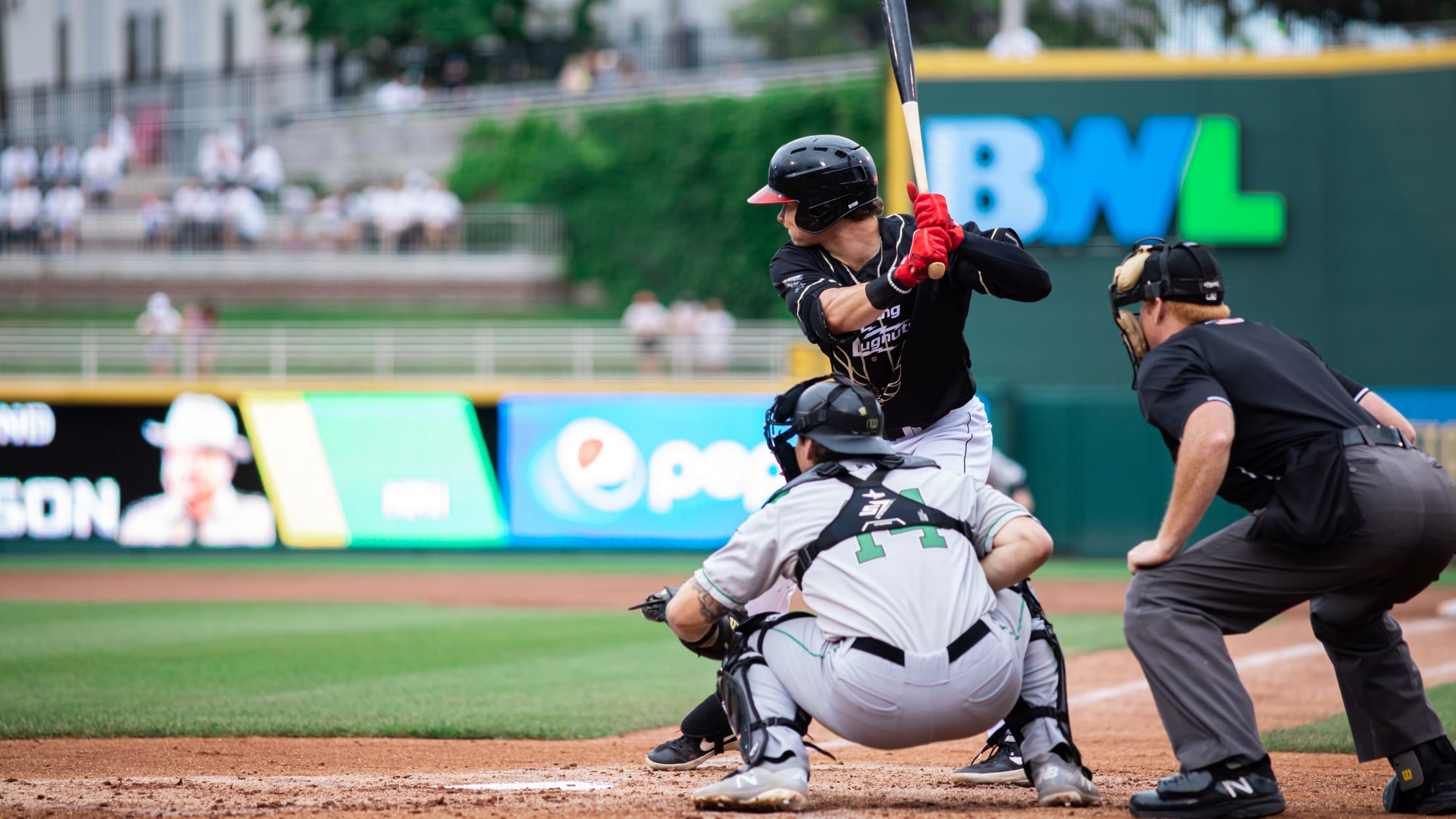 (Miguel Arcaute / Lansing Lugnuts)
LANSING, Mich. - The Great Lakes Loons (36-28, 79-52) hit three home runs and overcame four ejections to defeat the Lansing Lugnuts (32-32, 64-69), 12-9, on Tuesday night at Cooley Law School Stadium.The game lasted three hours and 40 minutes, featuring 358 pitches, 21 runs, 25 hits, 14 walks and
LANSING, Mich. - The Great Lakes Loons (36-28, 79-52) hit three home runs and overcame four ejections to defeat the Lansing Lugnuts (32-32, 64-69), 12-9, on Tuesday night at Cooley Law School Stadium.

The game lasted three hours and 40 minutes, featuring 358 pitches, 21 runs, 25 hits, 14 walks and 29 total players used. It was the longest nine-inning game of the Lugnuts' 2019 campaign.

Of those 14 walks, 12 were drawn by the Lugnuts, tying a season high - including four by Griffin Conine , tying the franchise single-game record. Conine came to the plate in the eighth inning with a chance to break the record, but instead lashed an RBI double on a 3-1 pitch, coming around to score his third run of the game later in the inning - the final run scored of the game for either team.
The Lugnuts kept up with the Loons early, erasing a 3-0 deficit in the third inning on a three-run double by Gabriel Moreno , and then trimming an 8-4 deficit to one run with a three-run rally in the fifth inning.

But Great Lakes was not to be stopped in taking three of four games in the series, scoring three runs in the third, four in the fourth, one in the fifth, two in the sixth, one in the seventh and one in the eighth. All but one of the Loons' runs were scored with two outs.
There were fireworks in the fourth inning and in the middle of the seventh. After a Hunter Steinmetz sizzler was ruled fair down the right field line in the fourth, turning into an RBI double, home-plate umpire Dylan Bradley ejected Loons manager John Shoemaker and catcher Jair Camargo. Three innings later, Bradley called out Loons center fielder Josh Outman on strikes and thumbed a protesting Outman and then Great Lakes second baseman Sam McWilliams out of the game.

Lugnuts starter Cobi Johnson (Loss, 2-9) gave up seven runs (four earned) on seven hits and two walks in four innings, striking out three and serving up home runs to Sam McWilliams and Luke Heyer in the fourth inning.

Will McAffer relieved Johnson and pitched the fifth and sixth innings, allowing three runs on four hits. Jose Espada gave up two runs (one earned) on four hits over the next 1 2/3 innings before Juan Nuñez recorded the final four outs perfectly.

Loons starter Kevin Malisheski walked six and gave up five hits and six runs in four innings-plus. Jeff Belge relieved Malisheski and walked three more batters in an inning of work.

Mark Washington (Win, 4-1) recorded all three outs in the sixth and seventh innings, giving up two runs on three hits and two walks, before Edward Cuello recorded the final six outs.

Justin Yurchak led the Great Lakes' offense, going 3-for-5 with a double, two-run triple and two-run homer.

In defeat, Lugnuts third baseman Johnny Aiello went 2-for-5 with a pair of RBI singles.

The Nuts welcome the West Michigan Whitecaps to Cooley Law School Stadium on Wednesday, opening a three-game series to close the 2019 home regular-season schedule. Right-hander Sean Wymer (5.75 ERA) takes on West Michigan right-hander Carson Lance (10.97) at 7:05 p.m. Wednesday, a Dog Days of Summer: White Claws and Paws! To live the Lug Life and purchase tickets, visit lansinglugnuts.com, call (517) 485-4500 or come to the Cooley Law School Stadium box office at 505 E. Michigan Ave. in downtown Lansing.
# # #