Top 20: Best Baseball Players Born in Kentucky
Our list of the 20 all-time best baseball players to come from the Bluegrass State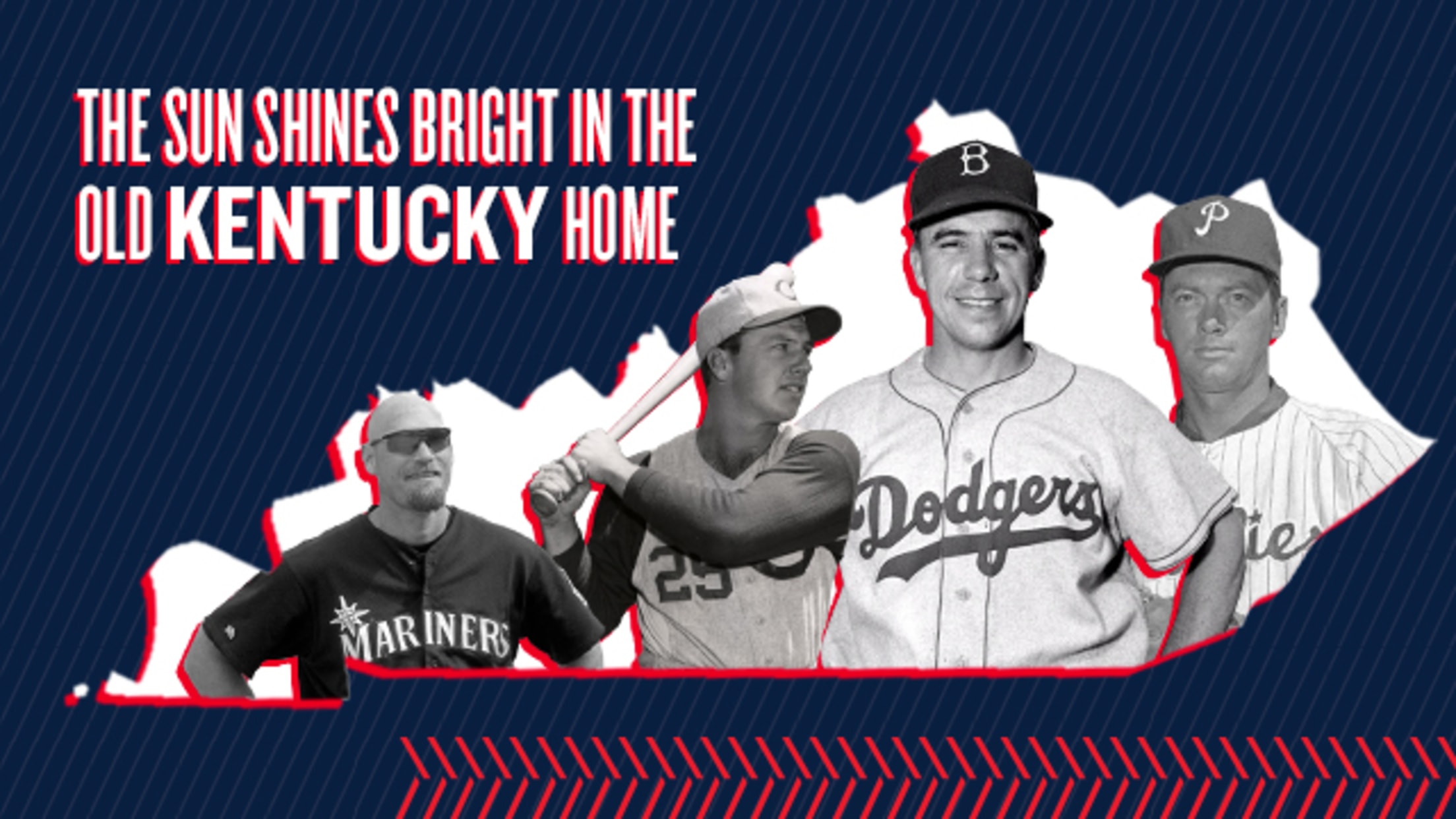 Corey Hart (Born in Bowling Green, 1982) | Played for Milwaukee Brewers (2004-12), Seattle Mariners (2014), Pittsburgh Pirates (2015)Hart was born and raised in Bowling Green, attending Greenwood High School. The 6'6 out fielder hit at least 20 home runs in five different seasons, and made two National League
20. Corey Hart (Born in Bowling Green, 1982) | Played for Milwaukee Brewers (2004-12), Seattle Mariners (2014), Pittsburgh Pirates (2015)
Hart was born and raised in Bowling Green, attending Greenwood High School. The 6'6 out fielder hit at least 20 home runs in five different seasons, and made two National League All-Star teams in 2008 and '10. He hit 162 home runs across his 11-year big league career, which was cut short by a knee injury. He received a plaque on the Milwaukee Brewers Wall of Honor in 2017.
19. Don Gullett (Lynn, 1951) | Cincinnati Reds (1970-76), New York Yankees (1977-78)
Gullett was born in Lynn and attended McKell High School in South Shore, Kentucky. The left-hander would go on to win 109 career big league games across nine seasons, but made his name in the postseason as part of The Big Red Machine's starting rotation that won back-to-back World Series in 1975-76. Gullett made three starts in the '75 Series, including the decisive Game 7 in which he got a no-decision in a 4-3 Reds win. In the '76 Series, he was victorious in Game 1 against the Yankees. In 1977, Gullett won his third ring in as many seasons, starting two World Series games for the Yankees in their win over the Dodgers. Gullett was inducted into the Cincinnati Reds Hall of Fame in 2002.
18. Dan Uggla (Louisville, 1980) | Florida Marlins (2006-2010), Atlanta Braves (2011-14), San Francisco Giants (2014), Washington Nationals (2015)
The three-time All-Star and 2010 Silver Slugger Award winner will go down as one of the best power-hitting second basemen of all-time. From 2007-11, Uggla hit at least 30 home runs in five consecutive seasons, the only second baseman in MLB history to accomplish that feat. He hit 235 home runs over his 10-year MLB career, third-most among Kentucky-born players.
17. Mark Reynolds (Pikeville, 1983) | Arizona Diamondbacks (2007-10), Baltimore Orioles (2011-12), Cleveland Indians (2013), New York Yankees (2013), Milwaukee Brewers (2014), St. Louis Cardinals (2015), Colorado Rockies (2016-17), Washington Nationals (2018)
Reynolds' 294 career home runs at the end of the 2018 season ranks just 16 homers behind #3 on our list for most home runs ever hit by a Kentucky-born player. Reynolds has had an all-or-nothing career at the plate, hitting at least 30 homers in four different seasons and as recently as 2017, but also leading the league in strikeouts on four different occasions. His 223 strikeouts in 2009 are the most ever in a single season in MLB history, and his 1,870 career punchouts are most among active MLBers.
16. Tyler Clippard (Lexington, 1985) | New York Yankees (2007, '16-'17), Washington Nationals (2008-14), Oakland Athletics (2015), New York Mets (2015), Arizona Diamondbacks (2016), Chicago White Sox (2017), Houston Astros (2017), Toronto Blue Jays (2018)
The lone relief pitcher to make the Top 20 list, Clippard has enjoyed a successful 12-year big league career and is still going strong. Although primarily used as a setup man throughout his career, his 68 career saves are most among Kentucky-born pitchers. He's made the National League All-Star team twice, in 2011 and '14 with Washington.
15. Sammy Hughes (Louisville, 1910) | Louisville White Sox (1929-31), Washington Pilots (1932), Nashville Elite Giants (1933-34), Columbus Elite Giants (1935), Washington Elite Giants (1936-37), Baltimore Elite Giants (1938-40, '42, '46), Torreon Algodoneros (Mexico, 1941)
Hughes was one of the best second basemen of his generation, playing in the Negro Leagues throughout the 1930s. He played mainly for the Elite Giants clubs through various relocations throughout the decade. He was hailed as one of the greatest infielders of his day, and got his professional career started in his home city of Louisville. Hughes' career was cut short as he served in World War II with the 196th Army Support Battalion during the invasion of New Guinea.
14. Gus Bell (Louisville, 1928) | Pittsburgh Pirates (1950-52), Cincinnati Reds/Redlegs (1953-61), New York Mets (1962), Milwaukee Braves (1962-64)
Bell was born and raised in Louisville, attending Flaget High School, the same high school attended by Louisville sports legends Paul Hornung and Howard Schnellenberger. The left-handed Bell became a star for the Redlegs in the '50s, making four National League All-Star teams and four times finishing with at least 100 runs batted in. Bell became the first Kentucky-born player to surpass 200 career homers, hitting 206 in his 15-year big league career. He's also the patriarch of a three-generation baseball family, with his son Buddy Bell playing 18 big league seasons and making four All-Star teams, and grandsons David and Mike having big league careers of their own. David was named Cincinnati Reds manager on October 21, 2018, previously managing the Louisville Bats during the 2012 season. Gus was inducted into the Cincinnati Reds Hall of Fame in 1964.
13. Mike Greenwell (Louisville, 1963) | Boston Red Sox (1985-96)
Greenwell played his entire 12-year career with the Red Sox, accumulating 1,400 career hits while batting .303. The two-time All-Star enjoyed his best season in 1988, when he batted .325 with a career-high 22 home runs and 119 RBI, finishing second in the American League MVP voting to Oakland's Jose Canseco. Greenwell was inducted into the Boston Red Sox Hall of Fame in 2008.
12. Gus Weyhing (Louisville, 1866) | Philadelphia Athletics (1887-89, '91), Brooklyn Ward's Wonders (1890), Philadelphia Phillies (1892-95), Pittsburgh Pirates (1895), Louisville Colonels (1895-96), Washington Senators (1898-99), St. Louis Cardinals (1900), Brooklyn Superbas (1900), Cleveland Blues (1901), Cincinnati Reds (1901)
Weyhing is one of three players on this list to also play professionally in his home state of Kentucky, pitching for the Colonels for parts of two seasons in the mid-1890s. The right-hander won 264 games over his 14-year career, most victories all-time among Kentucky-born players. Weyhing clearly was not afraid to pitch inside, with his 277 hit batters ranking most all-time.
11. Pete Browning (Louisville, 1861) | Louisville Eclipse/Colonels (1882-1889, '92-'93), Cleveland Infants (1890), Pittsburgh Pirates (1891), Cincinnati Reds (1891-92), St. Louis Browns (1894), Brooklyn Grooms (1894)
The "Louisville Slugger" not only was born in Louisville, but also spent the majority of his professional baseball career playing in Louisville for the Colonels of the American Association (AA), previously known as the Eclipse. Browning played in three different major leagues in his career, the AA, National League, and won the Players' League batting title during the only season of operation in 1890. The right-handed batter finished his career with a .341 batting average, 13th-best all-time and fourth-best among players not enshrined in the Baseball Hall of Fame.
10. John Beckwith (Born in Louisville, 1900) | Played for Montgomery Grey Sox (1916), Chicago Union Giants (1916), Havana Stars (1917), Chicago Giants (1916-23), Chicago American Giants (1922-23), Baltimore Black Sox (1924-26, '30-'31), Harrisburg Giants (1926-27), Homestead Grays (1924, '28-'29, '35), New York Lincoln Giants (1929-30), Newark Browns (1931-32), New York Black Yankees (1933-34), Newark Dodgers (1934), Palmer House Indians (1936), Brooklyn Royal Giants (1938)
Beckwith had a successful career in professional baseball that spanned almost two decades, but never appeared in an MLB game due to an agreement that prevented non-white players from participating until Jackie Robinson broke the color barrier in 1947. While statistics from this era are largely incomplete or difficult to find, Beckwith was known for his tremendous power and his ability to play multiple positions, mainly third base and shortstop. The Louisville native played with many other stars in the Negro Leagues at the time, including Hall of Famers Buck Leonard, Martin Dihigo, Cristobal Torriente, and more.
9. Travis Fryman (Lexington, 1969) | Detroit Tigers (1990-97), Cleveland Indians (1998-2002)
Fryman had an excellent career and made five All-Star teams in an era that was dominated by gaudy power numbers. He won the Gold Glove and Silver Slugger awards for shortstop in 1992, and made the move to the hot corner prior to the 1994 season. Fryman hit 20 or more home runs in seven different seasons, and finished his 13-year big league career with 223 homers and 1,022 RBI.
8. Brandon Webb (Ashland, 1979) | Arizona Diamondbacks (2003-09)
There's a good chance Webb would rank even higher among the best baseball players born in Kentucky if it were not for injuries that forced him to retire after just seven big league seasons. The University of Kentucky product made the most of those seasons, winning the National League Cy Young award in 2006 and finishing in second place in each of the next two seasons. He twice led the NL in wins, including an MLB-leading 22 victories in 2008. Unfortunately, Webb would only make one more start beyond 2008, leaving his Opening Day start the next season with a shoulder injury. The right-hander made several comeback attempts, including pitching in the Texas Rangers' farm system in 2011, but never made it back to the Majors. Webb, known primarily for his devastating sinker, finished his career with an 87-62 record with a 3.27 ERA.
7. Paul Derringer (Springfield, 1906) | St. Louis Cardinals (1931-33), Cincinnati Reds (1933-42), Chicago Cubs (1943-45)
Derringer attended Springfield High School and Georgetown College, both in Kentucky, before making his debut with the Cardinals in 1931. In his first season, he went 18-8 and helped lead St. Louis to a World Series championship over the Philadelphia Athletics. The 6'3 right-hander struggled mightily in 1933, finishing 7-27 and holding the dubious distinction of being the last pitcher to lose 27 or more games in a season. Derringer was traded to the Cincinnati Reds, where he turned into a star. He made six All-Star teams, won 20 or more games four times, and helped lead Cincinnati to the franchise's second-ever World Series victory in 1940. He also appeared in three games in the 1945 World Series for the Chicago Cubs in a losing effort, the last Fall Classic the franchise would make until 71 years later in 2016. In 15 MLB seasons, Derringer compiled a 223-212 record with a 3.46 ERA in 3,645 innings pitched. He was named a founding inductee into the Cincinnati Reds Hall of Fame in 1958.
6. Bobby Veach (St. Charles, 1888) | Detroit Tigers (1912-23), Boston Red Sox (1924-25), New York Yankees (1925), Washington Senators (1925)
Veach was born in St. Charles and moved to Madisonville, Kentucky in his youth, where he worked as a coal miner from the time he was a young boy. He eventually made his Major League debut with the Detroit Tigers at the age of 24, and went on to become one of the best defensive outfielders of his generation. He was no slouch at the plate either, leading the American League in runs batted in on three occasions. For his 14-year career, the left-handed batter hit .310 with 2,063 hits and 1,174 RBI, most runs batted in among Kentucky-born players. The athletic left fielder swiped 195 bases, and shared an outfield for nearly a decade with Hall of Famers Ty Cobband Sam Crawford.
5. Carl Mays (Liberty, 1891) | Boston Red Sox (1915-19), New York Yankees (1919-23), Cincinnati Reds (1924-28), New York Giants (1929)
Perhaps most remembered for throwing the beanball that killed Ray Chapman of the Cleveland Indians, who was also born in Kentucky in 1891, Mays pitched in 15 MLB seasons in a tremendous career that is often overshadowed by the 1920 tragedy. The right-handed pitcher won 207 games in his career with a 2.92 ERA and was part of three World Series winning clubs, including the Yankees' first title as a franchise in 1923. Mays was even better in the postseason, owning a 2.35 ERA in eight World Series games and seven starts, saving the lone game he did not start. Mays and Babe Ruth became the first players to ever win a championship with both the Boston Red Sox and New York Yankees, with the pair winning titles together for Boston in 1916 and '18 and New York in 1923.
4. Jay Buhner (Louisville, 1964) | New York Yankees (1987-88), Seattle Mariners (1988-2001)
Born in Louisville and raised in Texas, Buhner became one of the most feared power hitters of the 1990s. He put together three consecutive seasons from 1995-97 in which he hit at least 40 home runs, becoming just the 10th player at the time to do so, and the first since Frank Howard from 1968-70. Buhner and Hall of Fame teammate Ken Griffey Jr. both hit at least 40 home runs in both 1996 and '97, becoming the first pair of teammates with back-to-back seasons of 40+ home runs since Lou Gehrig and Babe Ruthfor the 1930-31 Yankees. Buhner was also part of the 2001 Mariners team that set a modern-day record with 116 regular season wins. The right fielder made his lone All-Star appearance in 1996, the same season he won his one Gold Glove award. Buhner finished his career with 310 home runs, most ever for a Kentucky-born player.
3. Earle Combs (Pebworth, 1899) | New York Yankees (1924-35)
The "Kentucky Colonel" attended Eastern Kentucky University in Richmond before breaking into the big leagues with the New York Yankees in the mid-'20s. Combs was the starting center fielder on the famous "Murderer's Row" Yankee clubs in the decade, stacked in a lineup with fellow Hall of Famers Lou Gehrigand Babe Ruth. Combs led the league in triples on three different occasions, and batted at least .300 in all but two of his seasons. He helped the Yankees capture three World Series titles, including the '27 Yankees, which won 110 games and is often lauded as the greatest baseball team ever assembled. After his retirement, Combs stayed in the Yankees organization as a coach through 1944, winning six more titles after his playing career to bring his career total to nine World Series wins. Combs was inducted into the Baseball Hall of Fame in 1970, becoming the first Kentucky-born player to be enshrined in Cooperstown.
2. Jim Bunning (Southgate, 1931) | Detroit Tigers (1955-63), Philadelphia Phillies (1964-67, '70-'71), Pittsburgh Pirates (1968-69), Los Angeles Dodgers (1969)
Bunning was inducted into the Baseball Hall of Fame in 1996, making him the only Kentucky-born pitcher enshrined in Cooperstown. The right-hander made seven All-Star teams, and tossed the seventh perfect game in Major League history on June 21, 1964, the National League's first perfecto since 1880. Bunning struck out at least 200 batters in six different seasons, totaling 2,855 in his 17-year career, over one thousand more than the next-closest Kentucky-born hurler. After his retirement from professional baseball, Bunning went on to become a Senator, serving his native Kentucky from 1999-2011.
1. Pee Wee Reese (Ekron, 1918) | Brooklyn/Los Angeles Dodgers (1940-42, '46-'58)
Harold Henry "Pee Wee" Reese takes the top spot on our list of the best baseball players born in Kentucky. The 10-time All-Star shortstop attended DuPont Manual High School in Louisville, and broke into the big leagues with the Brooklyn Dodgers in 1940 after playing for the Louisville Colonels in the Minor Leagues in 1938 and 1939. He made his first All-Star Game in 1942, but missed the next three seasons after enlisting in the United States Navy during World War II. Reese picked up right where he left off after his return, making nine consecutive All-Star teams from 1946-54. He also played an important role in the acceptance of teammate Jackie Robinson, who broke Major League Baseball's color barrier in 1947. Reese finished his 16-year career with 2,170 hits and 1,338 runs, both most for a Kentucky-born player. He captured a World Series Championship in 1955, when his Brooklyn Dodgers defeated the New York Yankees in a Fall Classic that went seven games. "The Little General" was inducted into the Baseball Hall of Fame by a Veteran's Committee in 1984. Reese left a legacy that remains strong today; his statue stands proudly outside Louisville Slugger Field, and his #1 jersey, along with Robinson's #42, were retired by the Louisville Bats during the 2018 season.
Also considered: Ray Chapman, Woodie Fryman, Paul Byrd, Jesse Tannehill, Len Barker, Joe Blanton, Fred Pfeffer, Ted Page, Harry Buckner.
------
For the full registry of Major League Baseball players born in Kentucky, visit: https://www.baseball-reference.com/bio/KY_born.shtml
Data/statistics compiled using Baseball-Reference, Data/statistics on Negro Leagues using Baseball-Reference & SABR Bio Project.