Knocking it out of the park on Father's Day
Jeremy Williams visits M-Braves, provides home run heroics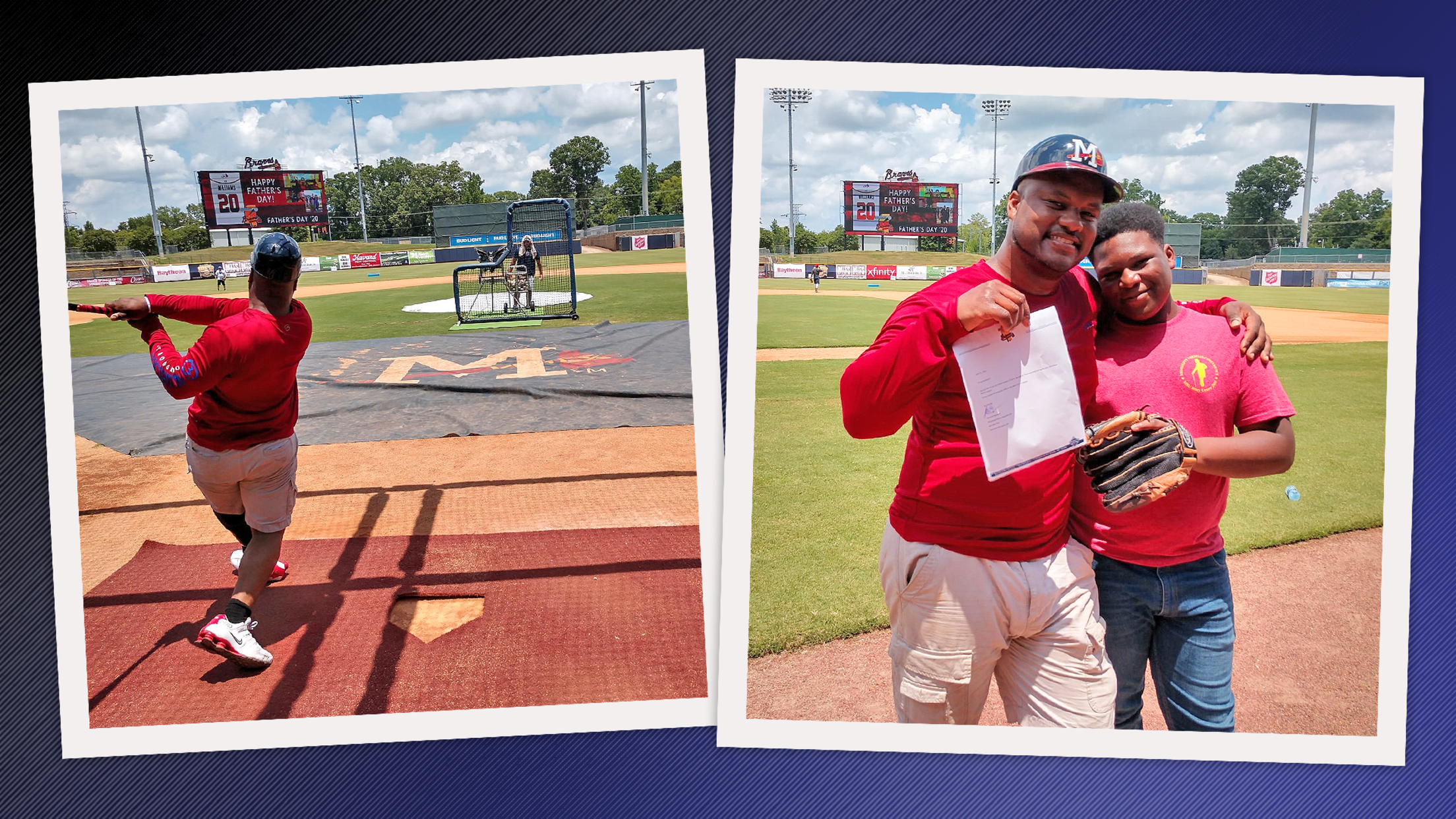 Slugging Jeremy Williams -- and son Nathan -- had a Father's Day to remember at Trustmark Park, home of the M-Braves.
Looking for this year's top baseball highlight? Look no further than what happened at the Mississippi Braves' home of Trustmark Park on Sunday. Jeremy Williams, coming through in the clutch, hit a Father's Day home run that will never be forgotten. Williams was one of 26 local dads to sign
Looking for this year's top baseball highlight? Look no further than what happened at the Mississippi Braves' home of Trustmark Park on Sunday. Jeremy Williams, coming through in the clutch, hit a Father's Day home run that will never be forgotten.
Williams was one of 26 local dads to sign up for the M-Braves' Father's Day Batting Practice, the Jackson, Mississippi-area team's first ballpark event during the would-be 2020 season. Each participant got to hit for approximately 10 minutes, with their son or daughter providing play-by-play commentary over the ballpark sound system. Not only was Williams the only father to hit a home run, he did it on his last swing. And not only that, he did it despite the fact that he has a prosthetic leg.
"It was the highlight of a lifetime, man," said Williams, who attended the event with his 15-year-old son, Nathan. "Hey, there are still sluggers out here. Maybe with one leg, but we're out here."
Father's Day batting practice is in full swing at Trustmark Park! Happy #FathersDay to all the dads out there! pic.twitter.com/v2O7bj8bCM

— Mississippi Braves (@mbraves) June 21, 2020
The home run won Williams a night in a Trustmark Park luxury suite. And because it was the day's farthest hit ball, he later was awarded a customized jersey and a bat. Then came the media attention, of which this article is, of course, a part. It all added up to the latest -- and perhaps greatest -- baseball moment in a life in which love of the game has been a constant. Williams first became a fan at the age of 5, watching Atlanta Braves games with his granddad. Not long after that, he began playing.
"It started with a tennis ball and one of those old plastic yellow bats, like you get at Walmart," Williams said. "But sometimes we couldn't afford a tennis ball, so what we'd do, we'd take some paper, ball it up really tight, then duct tape it really tight. So it all started like that, me and my brother in the backyard, and it just came natural. It's official, I'm a Braves fan for life. Baseball is life. Then I had my accident, and it just killed my dreams."
Williams' accident, which occurred on railroad tracks when he was 11, resulted in the amputation of his left leg. It may have put an end to his Major League dreams, but he soon decided that it was "my duty to push through this as far as I could."
"I'd go out there with this prosthetic leg and it'd fall off right there on the field," he said. "It was so embarrassing, man, there was nothing I could do. One time, my leg came off and this guy came up to me and said, 'I really hate to do it, but I've got to tag you out.' He gave me back my leg and then he tagged me. The ump is looking at me: 'I hate to call you out, but you're out.'"
But there was nothing that could push Williams away from the game he loves. He said that the funny looks he received and the cruel jokes he overheard only strengthened his desire to stay on the field.
"I had a coach when I was playing in a summer league, Coach Avery. I told him, 'Don't treat me any different. When you treat me different, that's the day I quit.' So he was tough on me, and that's where my strength came from. He said, 'Don't give me any tears. You see that gate? You hit it over that and you won't have to worry about running so fast anymore.' So I started doing push-ups, made sure to eat my Wheaties. I got stronger and started swinging for that gate. People asked me, 'How are you hitting it this hard?' I told them I just hate to run. That was the whole point. I grew and grew, started hitting four or five home runs each season."
Remarkably, Williams went on to compete at the collegiate level. He played for Coahoma Community College, the University of Arkansas at Pine Bluff and Tougaloo College, but not long after he decided it was time to "family up" and settle down. The love of the game never left him because, as he put it, "you can't extinguish that fire, bro."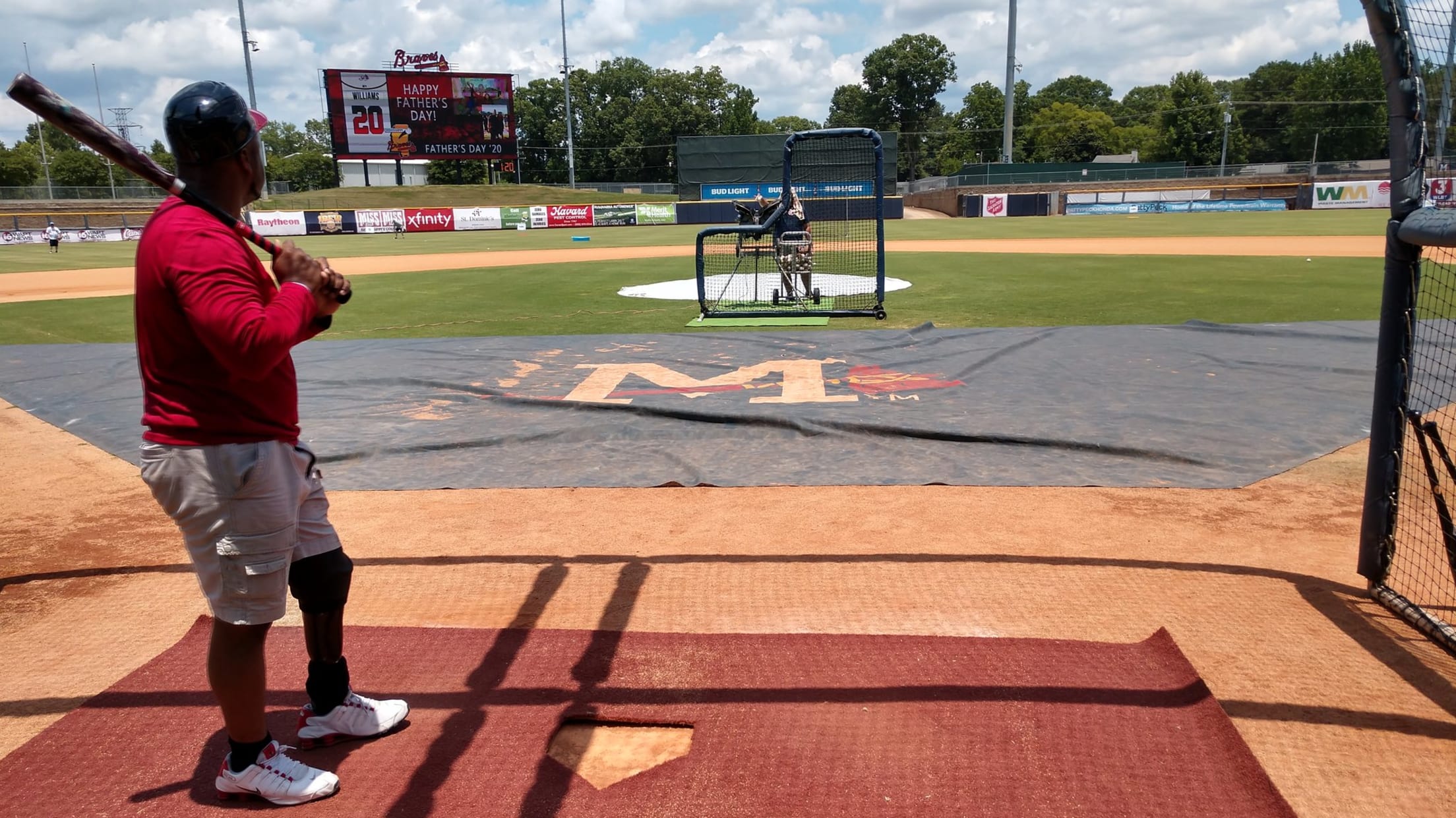 Sunday marked a unique opportunity to hit on a professional baseball field, the Double-A home of Williams' beloved Atlanta Braves. It proved to be a memorable event for all involved.
"Father's Day was something that we were looking forward to, that everybody on the staff had input on," M-Braves vice president and general manager Pete Laven said. "It was exclusively run by our front office staff, from feeding the pitching machine to shagging balls, to creating T-shirts and making hot dogs. It was a good collaborative effort and, being Mississippi, it was 98 degrees out. We were out there for six or seven hours, but we had a blast. The dads would hit and then shag afterward, maybe bring their son or daughter on to the field and play catch."
The event ran from 11 a.m. to 5:30 p.m. At 1 p.m., Williams stepped into the batter's box.
"This is not a home run ballpark, our players would be the first to tell you that," Laven said. "This is one of the hardest parks in the Southern League to hit one out of."
Williams was undeterred.
"They played the [walk-up] music. I was feeling good, all hyped up," he said. "Two minutes in, I took a breather. After another two minutes, I took a break. But I had three fouls, man, and one of them went straight over [the fence]. OK, bro, wow. It came down to just one more pitch. My son was on the PA system, 'Dad, you got this! 'I got it over the wall, to the back of the bullpen. Man, you want to talk about the happiest moment of my life!"
"It wasn't a cheapie" added Laven. "Everyone was running over to congratulate him and he said, 'Just get me to the dugout.' He had a big smile on his face, but he was gassed. We got him some water and then he got his certificate for the luxury suite. Him and his son stuck around for the rest of the day, shagging flies and playing catch. And the whole time he was scouting each of the hitters to see if they could hit a home run."
Williams's blast secured the luxury suite certificate, but he was determined to win the jersey and bat that would only go to the individual who hit the day's longest dinger. Many slugging dads had tried and failed, but many slugging dads still remained.
"There were a couple guys, man. The ball's in the air, they're screaming 'Go! Go! Go!' and I'm saying "No! No! No!'" Williams said, laughing. "There were a couple close calls, a couple ground-rule doubles. One guy thought he had one that went over. 'No, sir, that is a bouncer!' I was the home run protector, making sure any home runs were verified. We stayed all the way until 6. I would have stayed anyways. I love still being part of the game."
In addition to this story, Williams has been featured in two local television news segments. In one of them, he returned to Trustmark Park and hit another homer (since the first one hadn't been captured on video). It's been a remarkable series of events, to say the least.
Jeremy Williams lost his leg at age 11. That didn't stop him from playing the game he loves.

Sunday, on Father's Day, he was able to cross off another amazing feat.@mbraves @CHarris731 pic.twitter.com/s06oiJ8kjV

— Nick Niehaus (@nickniehausWAPT) June 23, 2020
"I never would have imagined a story like this coming out of it, but I think I can speak for a lot of people who are inspired by meeting Jeremy," Laven said. "We look forward to seeing him and his family for years down the road. We were definitely rooting for him to take home the prize because of his attitude and the joy he showed by being out here. That and the fact that baseball has been such a part of his journey,\ and everything he's had to overcome."
That joy was still evident in Williams voice as he reflected on what he called "the best Father's Day ever."
"Man, all these accolades, motivation, inspiration. I just said, 'You know what? I'm going to smash for my team.' Gonna represent for the team that I loved since I was a little boy, back when I was 5, 6 years old watching the Braves. It was a dream come true."