Letter to Our Fans
Update published June 11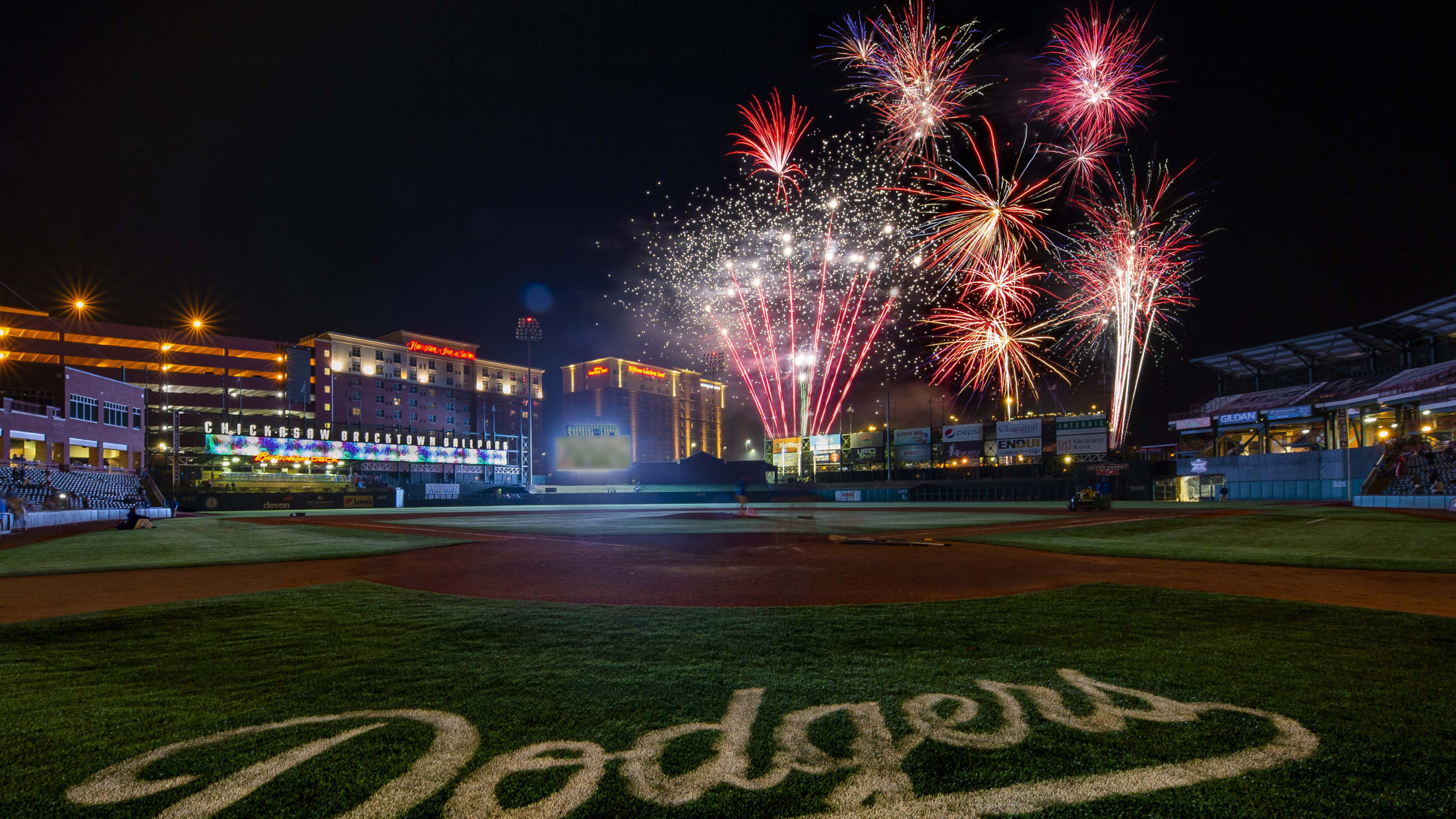 Dear Oklahoma City Dodgers Fans,
Dear Oklahoma City Dodgers Fans,
First and foremost, we hope each of you and your families are staying safe during this time and we encourage you to keep taking measures outlined by public health officials in order for us to continue to stop the spread of COVID-19.
It's hard to believe that under normal circumstances we would be hitting the halfway point of our 2020 home schedule and the Phillips 66 Big 12 Baseball Championship would be in the rearview mirror.
We know many of you are wondering when Dodgers baseball will return to Chickasaw Bricktown Ballpark. Unfortunately, we cannot provide the answer at this time. The parameters of a potential 2020 season are still being discussed by Major League Baseball and Minor League Baseball, and once there is a resolution, we will communicate that information immediately.
If you are a season ticket holder or booked a group outing for the 2020 season and have not already been contacted by a ticket representative, we encourage you to connect with your account representative to explore the possibility of transferring your tickets to the 2021 season.
Even though we might not have Dodgers baseball, we are proud to announce Chickasaw Bricktown Ballpark officially reopened June 1. We hosted our first event with guests June 3, celebrating Cashion High School's graduation ceremony. We followed that up by hosting an amateur baseball showcase in conjunction with Five Tool Baseball, boasting 11 games over three days.
In order to keep our guests safe, we have instituted a number of new protocols which adhere to guidelines and best practices established by the CDC, the OKC City-County Health Department and the State of Oklahoma's OURS plan as they pertain to safely operating mass gatherings.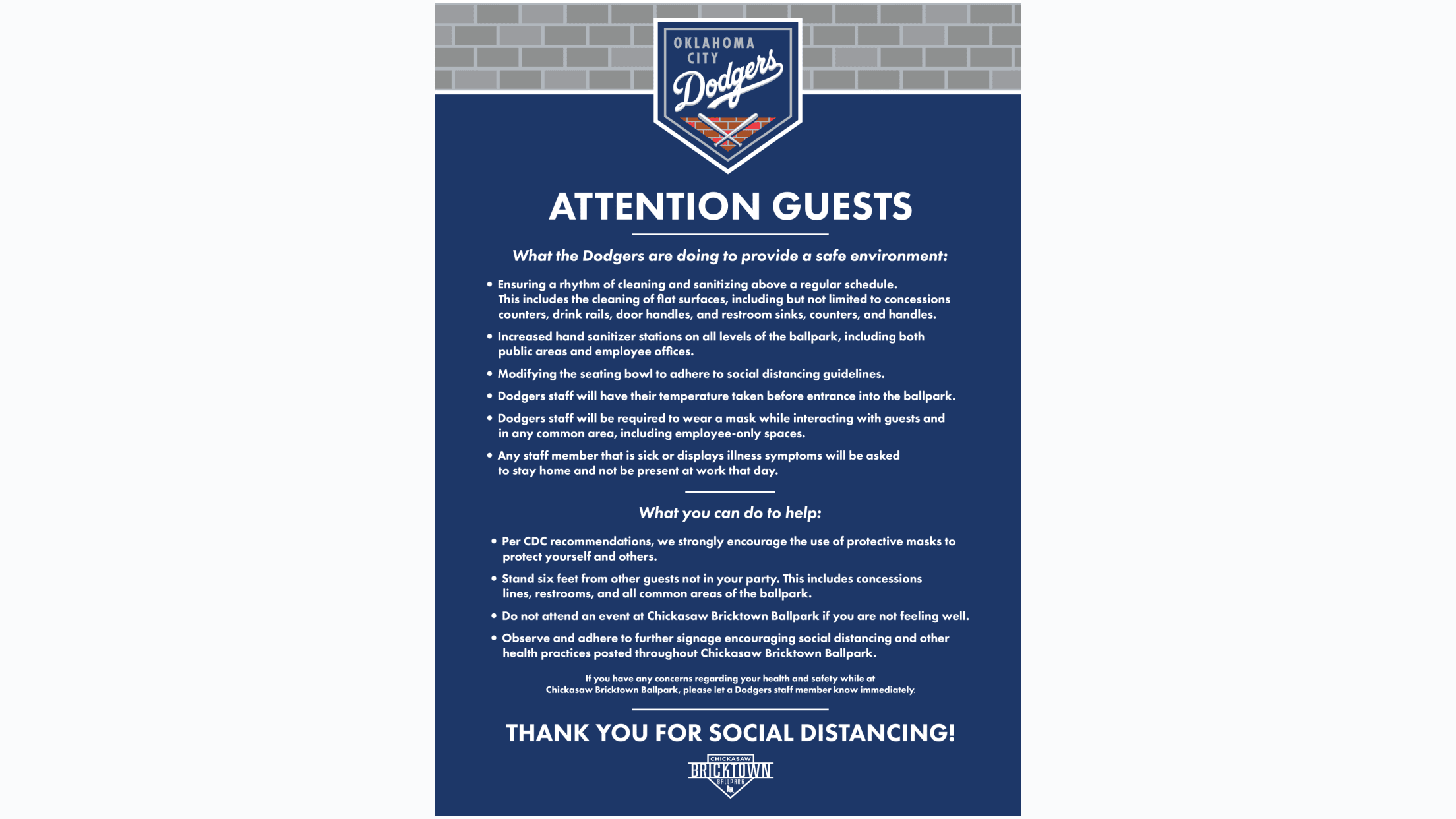 Our schedule continues to grow with upcoming events at the ballpark, some of which can be found below:
June 11-14 -- Perfect Game Showcase
June 20 -- Big Fire Showcase
June 25-28 -- Pastime Tournament
July 2-5 -- Big Fire Showcase
July 10-11 -- Big Fire Showcase
July 18 -- Oklahoma All-State Baseball
July 23-26 -- Pastime Tournament
Tickets are available for purchase on the day of the event at the Chickasaw Bricktown Ballpark Ticket Office located on South Mickey Mantle Drive. Concessions will be available during all events. (Note: Schedule subject to change if Dodgers baseball is able to return to Chickasaw Bricktown Ballpark this summer.)
In addition to hosting baseball games, we are able to provide a proper, socially distant atmosphere for graduations, ceremonies, meetings or just some plain old fun. For more information about hosting an event at Chickasaw Bricktown Ballpark, please visit okcballparkevents.com or call (405) 218-2115.
We hope to see you at Chickasaw Bricktown Ballpark in the near future, whether you are getting your baseball fix during a showcase tournament or hosting your own event. In the meantime, we thank you for your continued support of our organization.
Sincerely,
The Oklahoma City Dodgers