Reno Aces and 1868 FC donating 100% of select team shop proceeds to local hospitals
Funds go directly to support of front-line medical professionals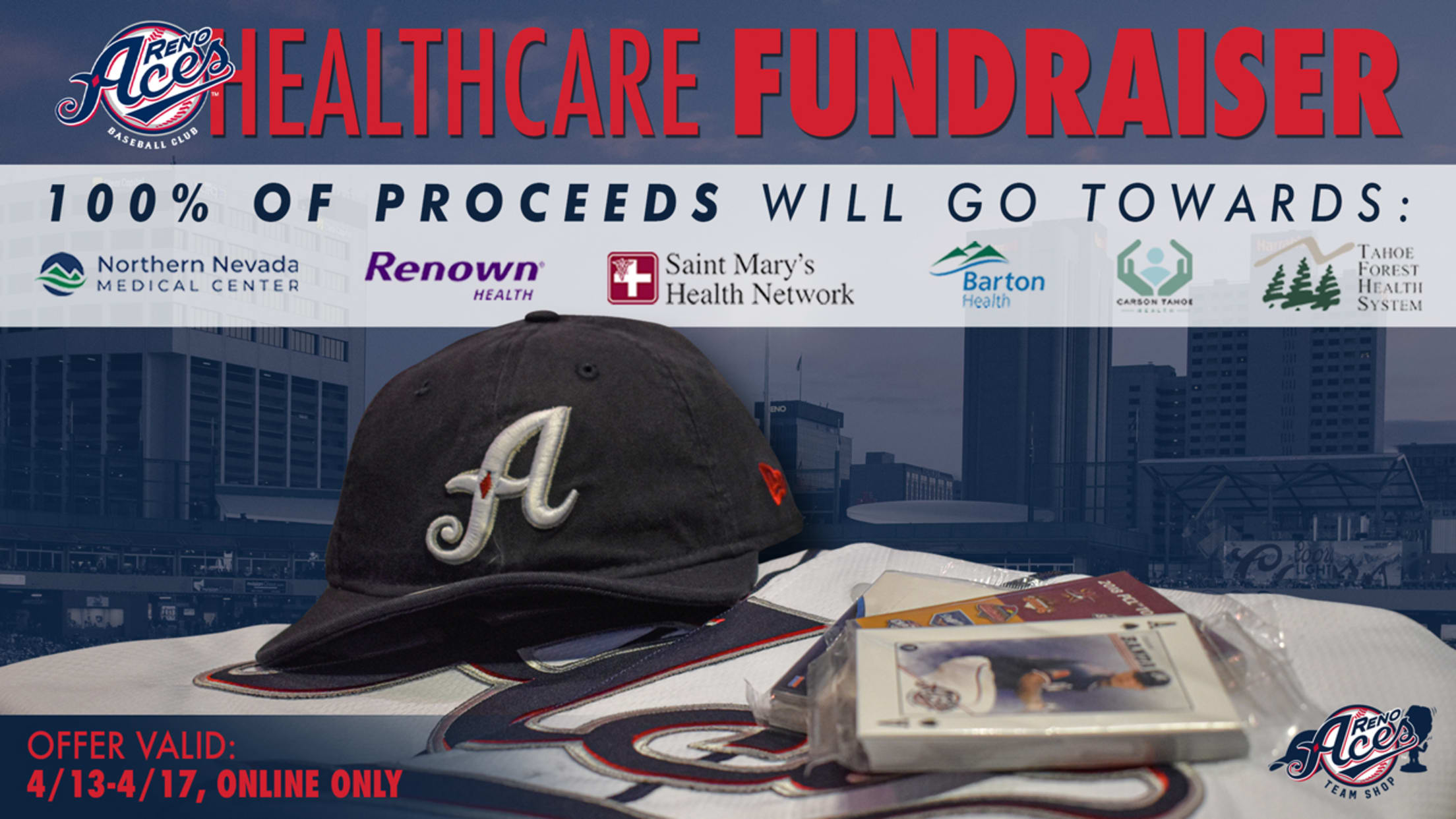 In support of the local healthcare community, the Reno Aces and Reno 1868 FC will be donating 100% of proceeds from a selection of items in the Greater Nevada Field team shop from now until Friday, April 17. The proceeds will go towards assisting Renown, Saint Mary's, Carson Tahoe and
In support of the local healthcare community, the Reno Aces and Reno 1868 FC will be donating 100% of proceeds from a selection of items in the Greater Nevada Field team shop from now until Friday, April 17. The proceeds will go towards assisting Renown, Saint Mary's, Carson Tahoe and Northern Nevada Medical Centers, as well as Tahoe Forest and Barton Memorial Hospitals in providing direct support to the employees fighting the COVID-19 pandemic.
The funds donated will go towards supporting the staff working in hospitals: protective equipment so the staffs can help others safely, childcare so medical professionals can continue to work, as well as food, groceries and hotel stays to ensure the families of hospital staffs are safe, healthy and fed during the pandemic.
"In speaking with our healthcare partners, there is a significant need for basic necessities, and we want to contribute," said Aces and 1868 FC president Eric Edelstein.
"We commit 100% of the proceeds of this sale will go directly to those on the front lines against this pandemic. There are heroes among us, and right now they wear masks, gloves and PPE."
"Residents of The Biggest Little City are doing their part, staying home, and making personal sacrifice during these unprecedented times, but the biggest heroes during this unprecedented crisis are the medical professionals," Aces general manager Emily Jaenson said. "As an organization whose role is to physically bring people together, we thought, what can we do to help? The answer was a fundraiser where 100% of the purchase price of any pieces in the collection will benefit this community. Please join us in supporting these hospitals in the Northern Nevada community, just as they have always supported us."
"I'm thrilled that we are able to provide an outlet for our community to support," said 1868 FC general manager Doug Raftery. "In the end, we are rewarding you with Reno 1868 FC and Aces gear for your donation to our local healthcare workers."
Aces items going towards the fundraising efforts include team cards, New Era packable visor hats and OT Sport replica jerseys. Reno 1868 FC will offer New Era fitted hats, women's crew neck sweaters and men's track jackets. The team store is currently only accepting orders made online, with the Aces team store found here, and 1868 FC's team store here.