Rogue Invitational at Dell Diamond
October 29 - 31, 2021
The third annual Rogue Invitational will take place at Dell Diamond. The event will include three days of competition from October 29 - 31, 2021.
As with past Rogue Invitationals, the CrossFit competition will feature some of the biggest names in the sport. Past competitors have included many former CrossFit Games champions, including the reigning Fittest Man and Fittest Woman on Earth, Mat Fraser and Tia-Clair Toomey. This competition will be held in partnership with CrossFit.
The first annual Strongman competition will be making its debut at this year's Invitational, as ten of the world's top Strongman competitors will take on a unique slate of challenges, devised and created by the same team behind the infamous Wheel of Pain and the Elephant Deadlift Bar amongst many others.
For even more feats of strength, our Rogue Record Breaker (RRB) competitions will be back throughout the weekend, showcasing amazing accomplishments across multiple strength disciplines. Previous RRB events include the Monster Bell Press, the Elephant Bar Deadlift, and the legendary Steinborn Squat.
Other facets of the Iron Game, including Powerlifting and Olympic Weightlifting, are also under consideration for inclusion in 2021, with more updates to come as they develop.
To ensure the safety of all athletes, organizers, and spectators, all necessary COVID-19 considerations and contingency plans will be made and the format of the Invitational will follow established CDC guidelines.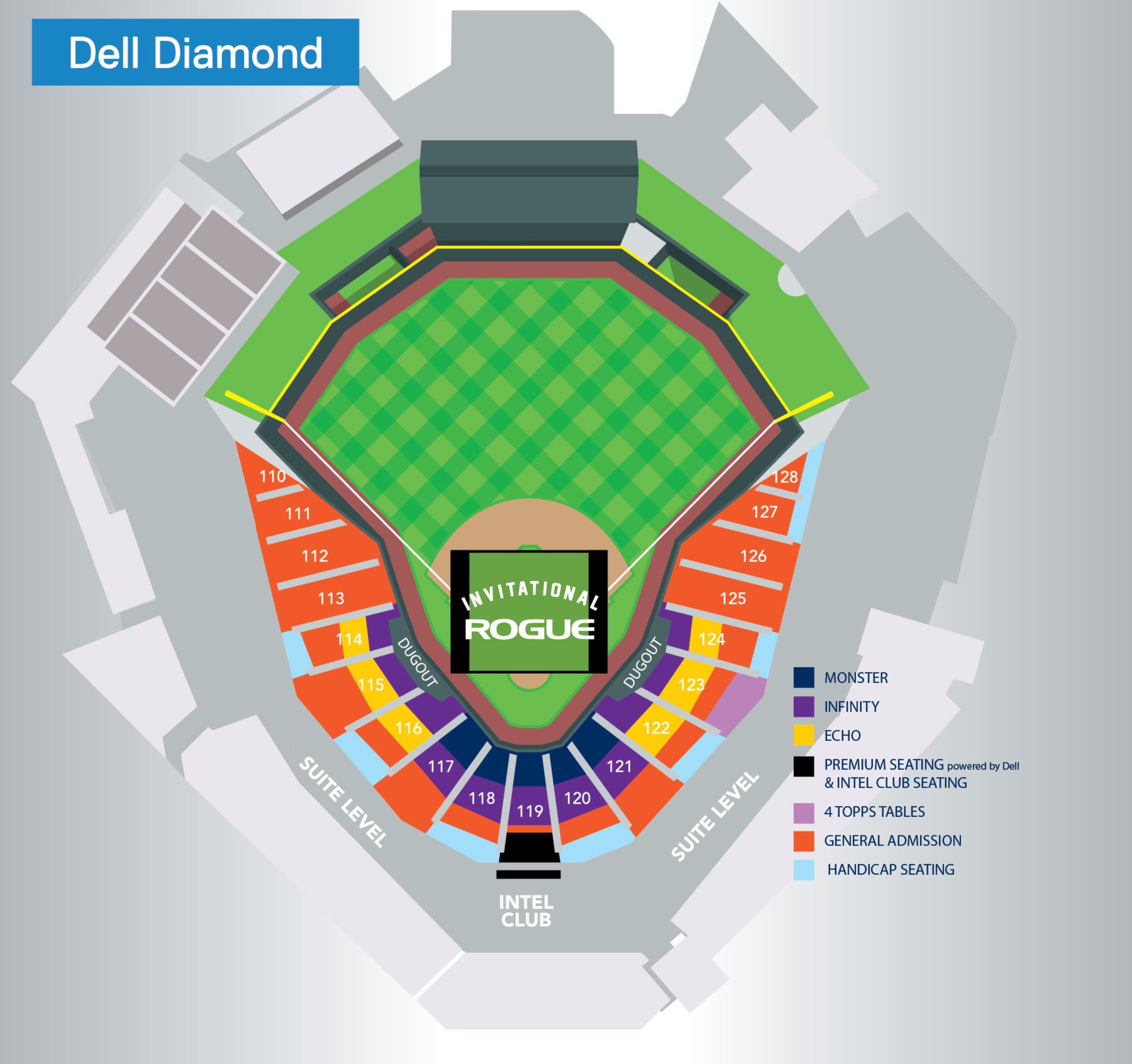 Every ticket purchased increases the prize purse that will be paid out to Rogue Invitational athletes. Additional details can be found via the "Prize Purse" button.
Kids 12 and under will receive a free "general admission" ticket upon arrival to the event. Please check in at the ticket office to receive your free ticket. Children under 12 will be required to purchase a ticket if they wish to sit in reserved seating sections or hospitality areas. Tickets are not required for children 2 and under who do not need their own seat.
Please click here for an outline of the ticket packages offered at the 2021 Rogue Invitational at Dell Diamond.
If the event is cancelled due to COVID-19, ticket purchases are refundable with the exception of the Tickets.com service fee(s).
Important Notes:
A clear bag policy will be enforced to reduce the need for security to inspect belongings of guests. Read more at RRExpress.com/Safety.
The Round Rock Express is not affiliated in any way with third party ticket vendors and cannot validate any ticket purchase through third-party sites. To guarantee all purchased tickets are valid at entry, purchase tickets via RRExpress.com (Tickets.com is the official ticket provider), or through an Express ticket representative.