Express Blank Bees 10-0 in Series Opener
Round Rock Pitching Staff Blanks Salt Lake on Four Hits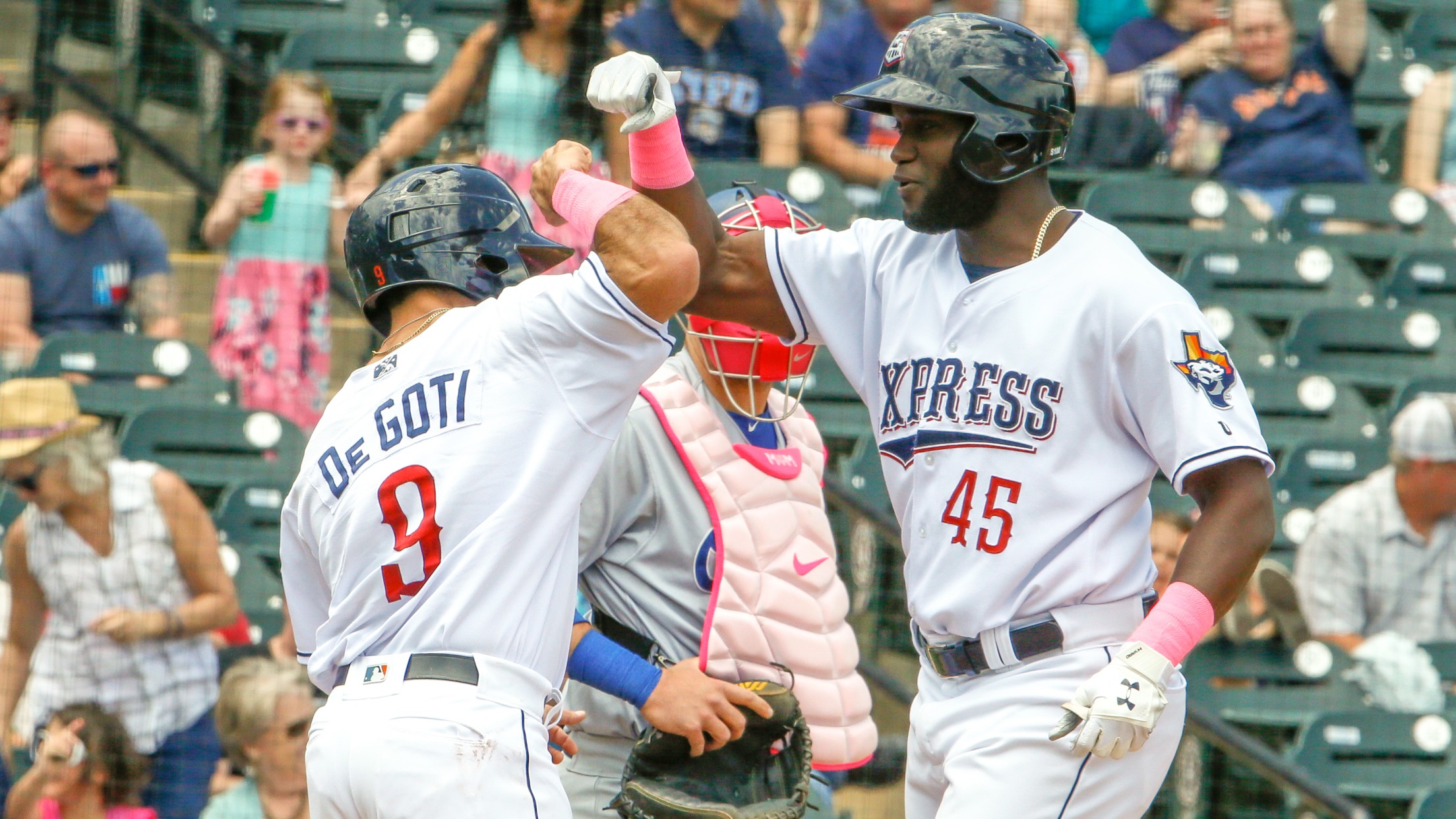 (Andy Nietupski)
SALT LAKE CITY, Utah -The Round Rock Express (37-24) stung the Salt Lake Bees (27-33) with a 10-0 shutout victory in their series opener on Friday night at Smith's Ballpark. Round Rock tallied 10 runs on 13 hits while Express pitchers tossed a shutout to fuel the victory. E-Train RHP
SALT LAKE CITY, Utah -The Round Rock Express (37-24) stung the Salt Lake Bees (27-33) with a 10-0 shutout victory in their series opener on Friday night at Smith's Ballpark. Round Rock tallied 10 runs on 13 hits while Express pitchers tossed a shutout to fuel the victory.
E-Train RHP Jose Urquidy (3-0, 3.16) secured a much-deserved win after holding the Bees scoreless on only three hits while fanning eight in a 6.0 inning start. On the losing side, Bees LHP Greg Mahle (1-3, 6.88) suffered the loss after being called on for a last-minute start where he allowed four runs, only one of which was earned, on two hits in three innings of work.
Round Rock poured it on from the start as they opened the game with a four-run inning. To lead off the contest, 2B Alex De Goti reached base on a fielding error and advanced to second when RF Kyle Tucker worked a walk. LF Josh Rojas then doubled the duo home and quickly advanced to third on a Yordan Alvarez groundout. Rojas finally touched home when 1B Taylor Jones sent a sacrifice fly into deep left field to give the Express a 4-0 lead.
The score remained until the fourth inning when Round Rock added fuel to the fire. Jones led off the inning with a walk prior to a Nick Tanielu single. The next at-bat, SS Anibal Sierra grounded into a force out that erased Tanielu but allowed Sierra to reach base while Jones scored. Express C Oscar Campos followed along with a single, then quickly advanced on a Michael Hermosillo fielding error, pushing Sierra to third. De Goti then sent a sacrifice fly into left field to score Sierra and advance Campos. To cap off the inning, Campos raced home on a Bees wild pitch to widen the gap to 7-0.
After four scoreless innings, Alvarez went yard for the 23rd time this year in the ninth, also scoring Rojas, who had led off the frame with a double. CF Drew Ferguson and Jones then added consecutive singles prior to a Sierra RBI single to extend the final score to 10-0.
Round Rock takes on Salt Lake in game two on Saturday, aiming to push their winning streak to four games. Rehabbing Los Angeles Angles RHP Matt Harvey (2-4, 7.50) is set to start against an Express pitcher to be announced. First pitch at Smith's Ballpark is scheduled for 7:35 p.m.
For more information on the Express, visit RRExpress.com or call (512) 255-2255. Keep up with the Express on Facebook, Instagram and Twitter, and join the conversation during our historic 20th season using #20STROng.
#RR#
Round Rock Express Baseball, owned and operated by Ryan Sanders Baseball, LP, is the proud Triple-A Affiliate of the Houston Astros and a member of the Pacific Coast League.