Express Prevail in Lopsided 19-5 win Over Bees
Round Rock CF Drew Ferguson Finishes Perfect at the Plate in Victory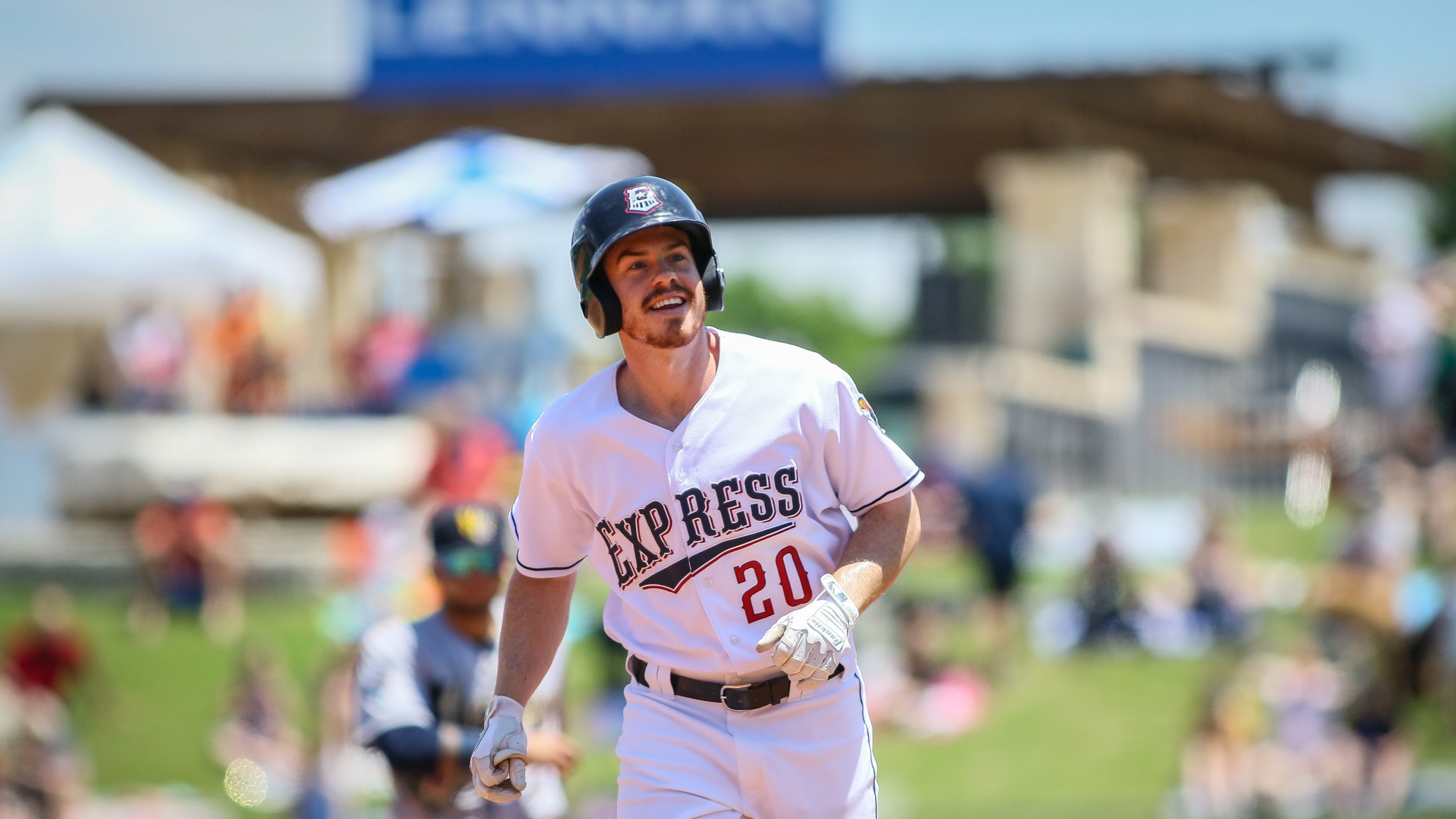 SALT LAKE CITY, Utah -- Round Rock Express (38-24) CF Drew Ferguson went a perfect 6-6 against the Salt Lake Bees (27-34) to fuel their fourth straight lopsided victory, this time by a final score of 19-5. Each Round Rock starter recorded at least one run scored to propel the
SALT LAKE CITY, Utah -- Round Rock Express (38-24) CF Drew Ferguson went a perfect 6-6 against the Salt Lake Bees (27-34) to fuel their fourth straight lopsided victory, this time by a final score of 19-5. Each Round Rock starter recorded at least one run scored to propel the win.
Express RHP Cy Sneed (4-6, 4.92) notched the win as he punched out six Bees batters in a 5.2 inning start. Rehabbing Los Angeles Angles RHP Matt Harvey suffered the loss after surrendering eight hits on eight runs in a 2.2 inning start. The Bees ran through seven pitchers, but their best efforts could not hold off Round Rock.
After a scoreless first inning, Ferguson and 3B Nick Tanielu teamed up for a pair of doubles, the second of which scored the game's opening run. DH AJ Reed followed closely thereafter with a longball that plated two runs and put the Express on top 3-0.
The next frame, 2B Alex De Goti and RF Kyle Tucker led off with another set of doubles to drive in a run. 3B Taylor Jones then worked a walk prior to a Ferguson base hit that plated Tucker, and a Tanielu double drove in another run. After the Bees pitching staff dished out another walk, SS Anibal Sierra singled Tanielu home to widen the gap to 8-0. In the home half the Bee's broke through as C Roberto Peña worked a walk that was later singled home by DH Matt Thaiss.
Round Rock tallied their highest scoring inning in the fourth, combining for seven runs. The frame saw 12 E-Train batters, four of which tacked on doubles-Tucker, Ferguson, C Jamie Ritchie and De Goti. Additionally, five hitters collected an RBI and Tucker led the group with two, resulting in a 15-1 lead.
In the bottom half of the fourth, the Bees began to push back as 1B Justin Bour shot a leadoff home run, followed by a Brennon Lund solo blast the next frame. Lund sent in two more runs for Salt Lake in the sixth after doubling home Ty Kelly and Caleb Cowart who had previously worked walks.
To seal the Bees fate, Ferguson sent a ninth inning bomb into Smith Ballpark's right field berm followed by consecutive doubles, one of which was an RBI, from Tanielu and Reed. De Goti then singled home the final run of the game to cap off a 19-5 E-Train victory.
The Express aim for a series win against the Bees on Sunday afternoon. Round Rock RHP Corbin Martin (1-1, 1.42) opposite Salt Lake RHP Nick Tropeano (1-1, 6.67). First pitch at Smith's Ballpark is scheduled for 2:05 p.m.
For more information on the Express, visit RRExpress.com or call (512) 255-2255. Keep up with the Express on Facebook, Instagram and Twitter, and join the conversation during our historic 20th season using #20STROng.
#RR#
Round Rock Express Baseball, owned and operated by Ryan Sanders Baseball, LP, is the proud Triple-A Affiliate of the Houston Astros and a member of the Pacific Coast League.