Express Walkoff Cubs 5-4 in 11-Inning Playoff Thriller
RF Chas McCormick Plays Hero in Round Rock's First Playoff Victory Since 2015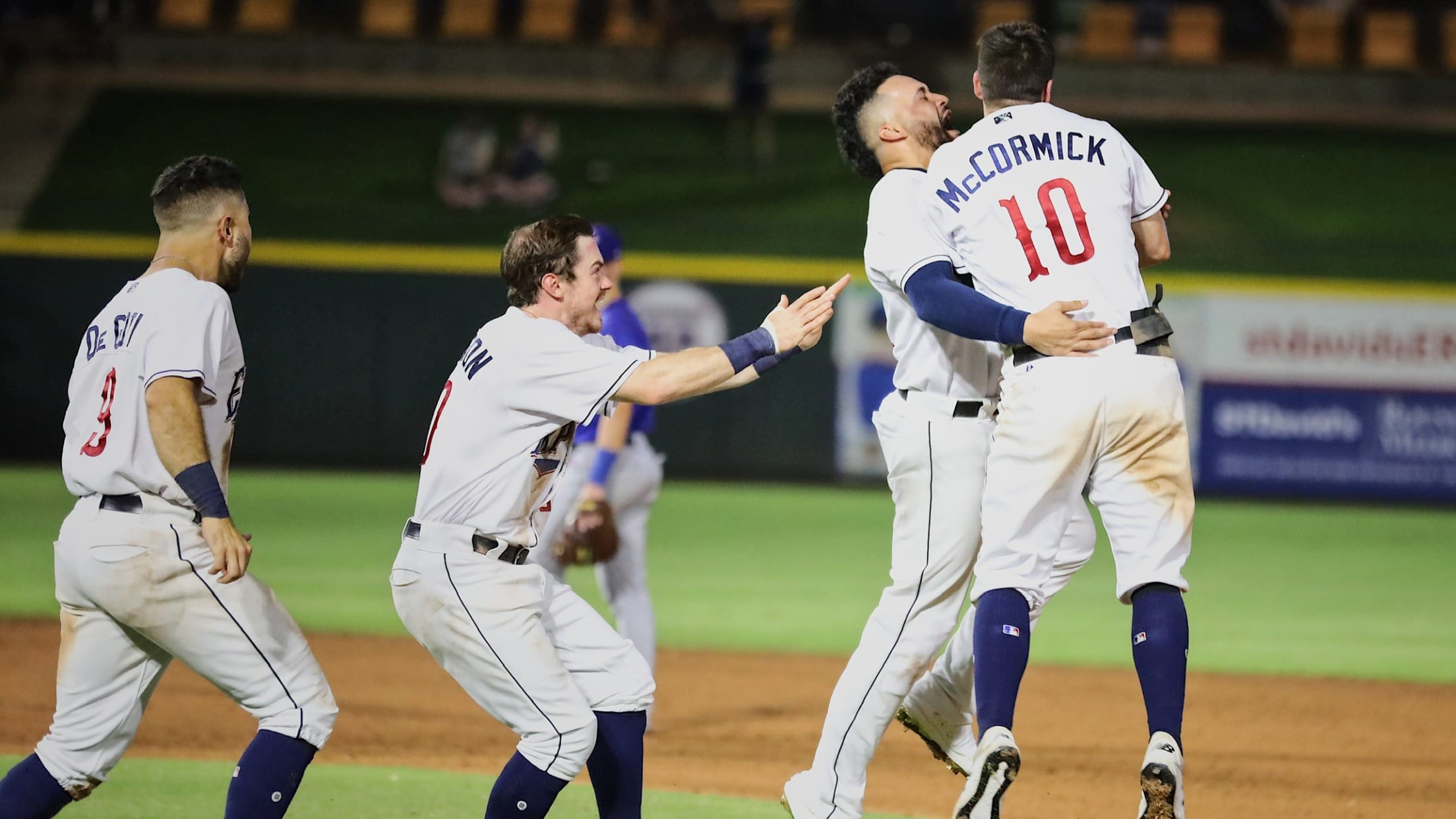 ROUND ROCK, Texas - The Round Rock Express (1-0) notched an exhilarating 5-4 extra-inning victory over the Iowa Cubs (0-1) in game one of the American Conference Championship Series on Wednesday night at Dell Diamond. After Iowa took a brief 4-2 lead in the top of the 11th, RF Chas
ROUND ROCK, Texas - The Round Rock Express (1-0) notched an exhilarating 5-4 extra-inning victory over the Iowa Cubs (0-1) in game one of the American Conference Championship Series on Wednesday night at Dell Diamond. After Iowa took a brief 4-2 lead in the top of the 11th, RF Chas McCormick collected a walkoff two-run single that fueled Round Rock's first postseason win since 2015.
E-Train RHP Brendan McCurry (1-0, 4.50) earned the win after holding the I-Cubs to two runs, only one of which was earned, on two hits while fanning an opposing hitter in a 2.0-inning appearance out of the bullpen. Iowa RHP Dillon Maples (0-1, 40.50) suffered the loss after allowing three runs on two hits, two walks and a pair of wild pitches. Express starter LHP Kent Emanuel shined in the no-decision, holding Iowa to two runs on five hits while striking out 10 in 6.1 innings of work.
After a quick first inning, Round Rock 3B Nick Tanielu hammered a double into deep center field in the second. The next batter, LF Drew Ferguson , then stepped up to the plate and smoked a two-run homer to give the E-Train a 2-0 advantage.
Iowa inched back in the sixth as CF Johnny Field tripled before heading home on a timely sacrifice fly off the bat of C P.J. Higgins. The next inning, RF Trent Giambrone and 2B Vimael Machin teamed up for a set of singles before SS Zach Short worked a walk to load the bases. Before the end of the frame, LF Charcer Burks sent a fly ball into right field that allowed Giambrone to tag and race home with the tying run.
Neither team could produce the necessary hits to break the tie over the course of the next two frames, eventually forcing extra innings.
After a scoreless 10th inning, Higgins and 3B Phillip Evans collected a pair of singles before 1B Jim Adduci reached base on a fielding error that allowed Higgins to plate a run while Evans advanced to third. Giambrone then hit a sacrifice fly that upped Iowa's lead to 4-2.
In the home half of the inning, Ferguson worked a one-out walk. Following a Lorenzo Quintana flyout, C Jamie Ritchie singled prior to a Maples wild pitch that advanced the runners to second and third. Moments later, 2B Alex De Goti worked a four-pitch walk to load the bases. Maples then tossed yet another wild pitch that drove in Ferguson while Ritchie trotted to third. Just two pitches later, McCormick played hero as he drilled a single into shallow right field to plate the Ritchie and De Goti for the game-winning runs.
Round Rock aims to take a commanding two-game lead in the best-of-five series on Thursday night. Game two is slated to feature Express RHP Brandon Bielak (0-0, 0.00) against Cubs RHP Tyson Miller (0-0, 0.00). First pitch at Dell Diamond is scheduled for 7:05 p.m.
For more information on the Express, visit RRExpress.com or call (512) 255-2255. Keep up with the Express on Facebook, Instagram and Twitter, and join the conversation during our historic 20th season using #20STROng.
#RR#
Round Rock Express Baseball, owned and operated by Ryan Sanders Baseball, LP, is the proud Triple-A Affiliate of the Houston Astros and a member of the Pacific Coast League.