Express Wraps Up Series Against Chihuahuas With 9-6 Win
Round Rock Finishes 5-1 in El Paso Thanks to Big Innings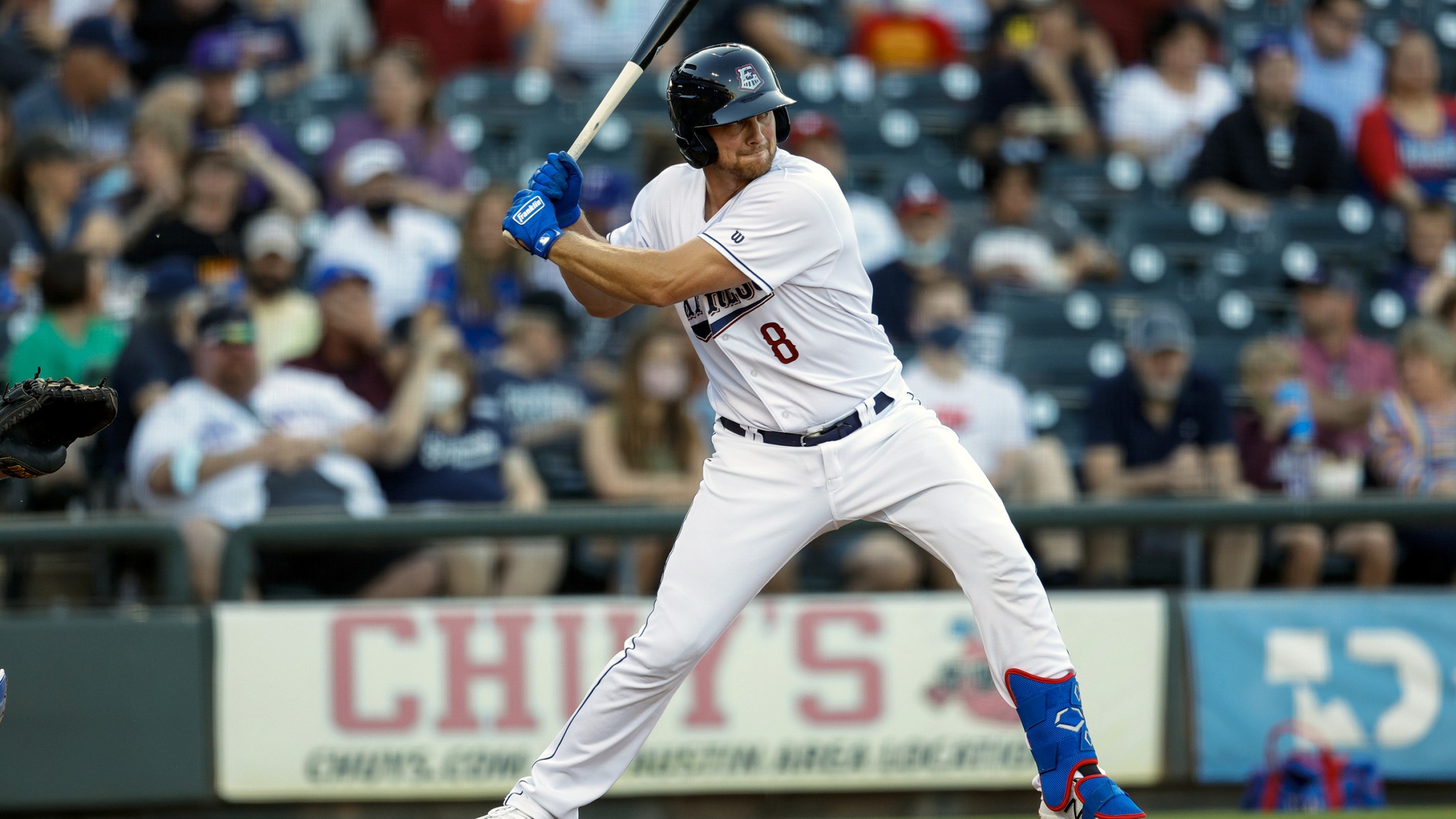 (Eddie Kelly/ProLook)
EL PASO, Texas – The Round Rock Express (54-53) finished its final series against the El Paso Chihuahuas (42-65) this season with a 9-6 victory at Southwest University Park on Tuesday night. E-Train C John Hicks had a standout performance, finishing 4-5 with three doubles, one RBI and two runs
EL PASO, Texas – The Round Rock Express (54-53) finished its final series against the El Paso Chihuahuas (42-65) this season with a 9-6 victory at Southwest University Park on Tuesday night. E-Train C John Hicks had a standout performance, finishing 4-5 with three doubles, one RBI and two runs scored.
Round Rock RHP Yerry Rodriguez (1-3, 9.43) tossed 2.2 scoreless innings of relief en route to the night's win as his outing saw just two hits and one walk with two punchouts. El Paso RHP Jesse Scholtens (3-8, 5.21) was tagged with the loss as he allowed six runs on seven hits with six strikeouts during his 5.0-inning start.
The Chihuahuas took the first lead of the game as RF Brian O'Grady hit a solo home run in the first frame.
Round Rock responded quickly, plating four runs in the top of the second to take over 4-1. After Hicks hit a leadoff single then advanced as 1B Curtis Terry drew a walk, the catcher scored thanks to a base hit from RF Steele Walker. LF Charles Leblanc then drove Terry and Walker home with a dinger to right-center field on an 0-1 pitch.
After three scoreless innings of action, the Express doubled its total in the sixth inning. Back-to-back doubles from Hicks and Terry sent Hicks across home plate first, forcing a pitching change for the Chihuahuas. El Paso RHP Evan Miller tallied two outs before DH Jack Kruger knocked a single to score Terry. A Trace Loehr double put the two runners in scoring position. CF Elier Hernandez then drove Kruger and Loehr home with a single for an 8-1 lead.
El Paso recorded its own big inning in the bottom of the seventh as 1B Nick Tanielu and C Webster Rivas hit two straight singles with one out. A double from 2B Gosuke Katoh scored Tanielu before Rivas crossed home thanks to a Taylor Kohlwey sacrifice fly. Katoh scored next on a Round Rock error that also allowed SS Matthew Batten to make his way to third base. CF Jose Azocar hit a single that drove Batten in, trimming the Express lead to 8-5.
Both teams scored a run in the ninth inning as Hernandez hit a leadoff single then rounded the bases on a single and groundout before scoring as Hicks doubled for the third time. For the Chihuahuas, Katoh scored after knocking a single and coming home thanks to a double from Kohlwey. Express RHP Ryder Ryan tossed three consecutive flyouts to end the inning with a 9-6 final and earn his fourth save of the season.
After a league-wide off day, Round Rock is back at Dell Diamond on Thursday, September 9 as they Express open a six-game series against the Sugar Land Skeeters (Houston Astros affiliate). First pitch is set for 7:05 p.m. CT.
For more information about the Express, visit RRExpress.com or call (512) 255-2255. Subscribe to the E-Train email newsletter and keep up with the Express on Facebook, Instagram and Twitter!