Free Passes Help Space Cowboys Take Down Express 4-3 
Round Rock Pitchers Issue 12 Walks in Series Opener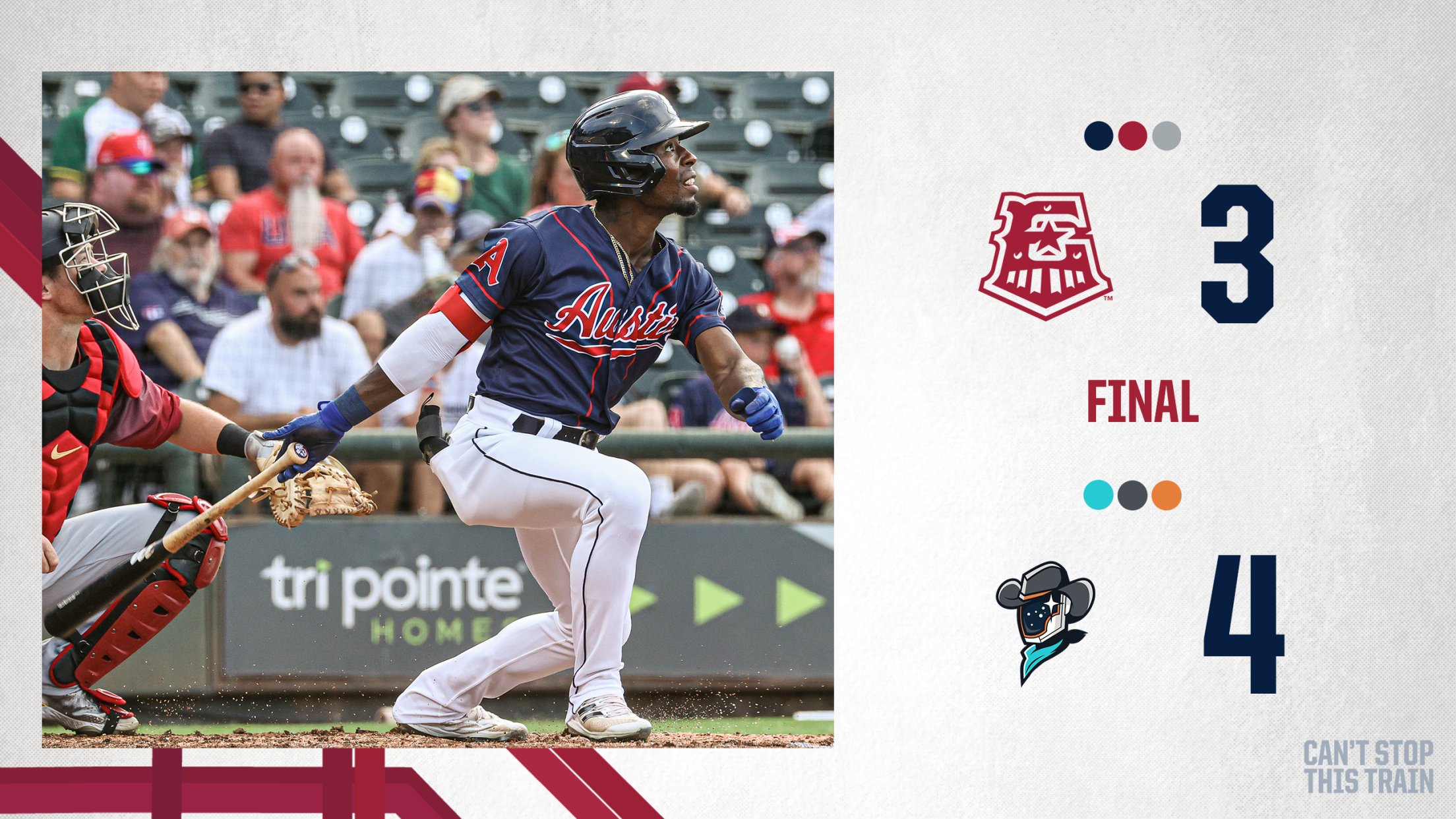 (Andy Neitupski/TTL Sports Media)
SUGAR LAND, Texas – The Round Rock Express (54-46) fell by a final score of 4-3 to the Sugar Land Space Cowboys (43-57) on Tuesday night at Constellation Field. Round Rock reliever RHP A.J. Alexy (5-4, 6.32) was tagged with the loss after a 2.2-inning performance that saw one earned
SUGAR LAND, Texas – The Round Rock Express (54-46) fell by a final score of 4-3 to the Sugar Land Space Cowboys (43-57) on Tuesday night at Constellation Field.
Round Rock reliever RHP A.J. Alexy (5-4, 6.32) was tagged with the loss after a 2.2-inning performance that saw one earned run on three hits, two walks and zero strikeouts. Sugar Land reliever RHP Enoli Paredes (4-3, 1.17) collected the win after a 1.1-inning scoreless outing that included one walk and three strikeouts.
Along the Train Tracks:
After neither team scored in the first three innings, Round Rock LF Steele Walker walked to start the fourth inning and DH Sam Huff moved Walker to second base on a ground out. 2B Diosbel Arias walked and 3B Nick Tanielu singled to score Huff while Arias and Tanielu advanced to second and third base on a throwing error. A single for SS Ryan Dorow scored Arias and C Matt Whatley capped off the scoring in the inning on a sacrifice fly to put the E-Train lead at 3-0.

Sugar Land posted a three-spot of their own in the fifth inning. LF Marty Costes singled and LHP Dallas Keuchel left the game. RHP Hever Bueno entered and walked three consecutive batters to score Costes. RHP Ryder Ryan entered and walked RF Lewis Brinson to cut the Round Rock lead at 3-2. Ryan was an out away from getting out of the frame, but he plunked C Korey Lee with the bases loaded to tie the game at three apiece.

The Space Cowboys untied the game in the eighth inning thanks to four walks. SS Yainer Diaz earned the final walk of the inning with the bases loaded to score Costes from third base. Sugar Land held a 4-3 advantage which stood final as the Express couldn't respond in the ninth inning.
E-Train Excerpts:
Round Rock CF J.P. Martinez had the lone multi-hit game for the E-Train. He finished 2-for-4 with a walk. Martinez is hitting .357 (10-28) in his first nine games since joining the Express.

Starter LHP Dallas Keuchel made his Express debut and turned in a 4.1-inning performance that included one earned run on three hits, three walks and five strikeouts.

Round Rock tied their season-high by issuing 12 walks. All four RBI for Sugar Land were collected on walks.
Next up: Round Rock gets set for game two of the series at Sugar Land on Wednesday night. Express RHP Tyson Miller (2-5, 4.79) will face Space Cowboys LHP Jonathan Bermudez (1-3, 8.63). Wednesday's first pitch at Constellation Field is slated for 7:05 p.m.
Single game tickets are available for purchase or bring your group to Dell Diamond. For more information on the Express, visit RRExpress.com or call (512) 255-2255. Subscribe to the E-Train email newsletter and keep up with the Express on Facebook, Instagram and Twitter!