Round Rock Drops Saturday's Contest 9-1 to Sugar Land
RF Elier Hernandez Scored Lone Express Run in Loss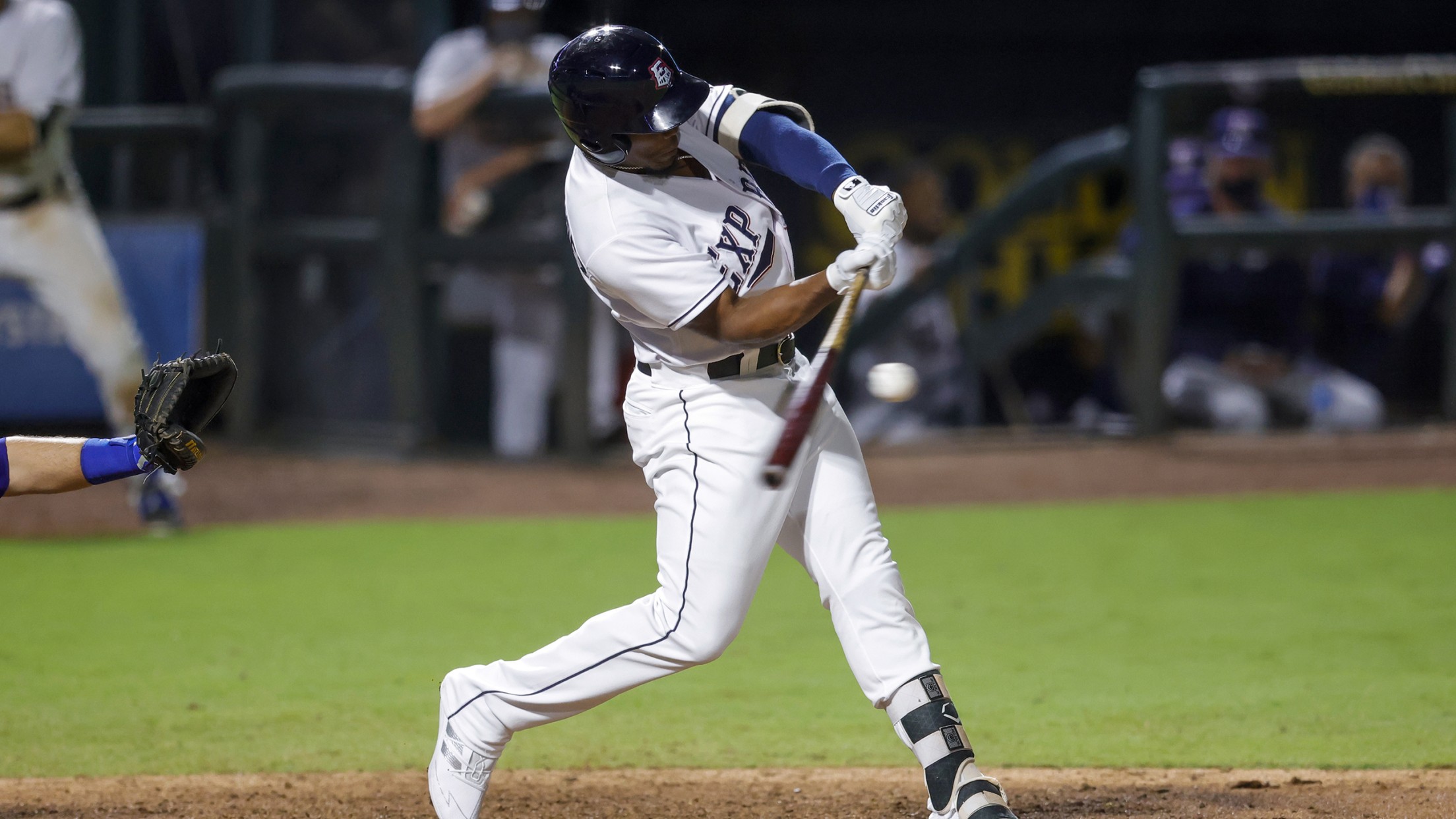 ROUND ROCK, Texas – The Round Rock Express (56-54) dropped its first contest of the series to the Sugar Land Skeeters (64-47) in a 9-1 final on Saturday night at Dell Diamond. Texas Rangers RHP Drew Anderson made his first Major League rehab appearance with two scoreless innings of relief
ROUND ROCK, Texas – The Round Rock Express (56-54) dropped its first contest of the series to the Sugar Land Skeeters (64-47) in a 9-1 final on Saturday night at Dell Diamond. Texas Rangers RHP Drew Anderson made his first Major League rehab appearance with two scoreless innings of relief that saw one strikeout.
Round Rock RHP Chase Anderson (0-1, 3.60) was tagged with the loss after allowing four runs, two earned, on four hits and two walks during his 3.0-inning start. Sugar Land RHP Jonathan Bermudez (1-0, 1.93) went home with the win thanks to a 5.0-inning start that saw just one run on four hits.
The Skeeters started the night strong, sending three runs home in the first inning. SS Jeremy Pe**ñ**a came home first on a Ronnie Dawson single after working a leadoff walk then stealing second base. The bases were loaded as LF Marty Costes reached on an error before DH JJ Matijevic drew a walk. Dawson then scored thanks to a sacrifice fly from C Drew Butera and Costes scored as RF Norel Gonzalez singled for the 3-0 lead.
Matijevic increased the total to 4-0 in the third with a solo home run down the left-field line.
Round Rock's lone run of the contest came in the fourth frame when RF Elier Hernandez launched a dinger to left-center field to trim the Sugar Land lead to 4-1.
The Skeeters doubled their run total in the seventh for an 8-1 advantage. Peña grounded into a force out before Dawson singled to move the shortstop to second then Costes doubled, sending Peña home. With Dawson and Costes still on base, Butera hit a home run to bring the inning's total to four.
Peña scored his third run of the night with a solo homer that provided an insurance run for Sugar Land and a 9-1 final.
Round Rock and Sugar Land continue their series Sunday night. Express RHP David Kubiak (1-0, 2.70) is scheduled to start against Skeeters RHP Peter Solomon (8-0, 4.36). First pitch at Dell Diamond is set for 6:05 p.m. CT.
For more information about the Express, visit RRExpress.com or call (512) 255-2255. Subscribe to the E-Train email newsletter and keep up with the Express on Facebook, Instagram and Twitter!