Fast-Rising Country Star Coming to Red Sox's Salem Memorial Ballpark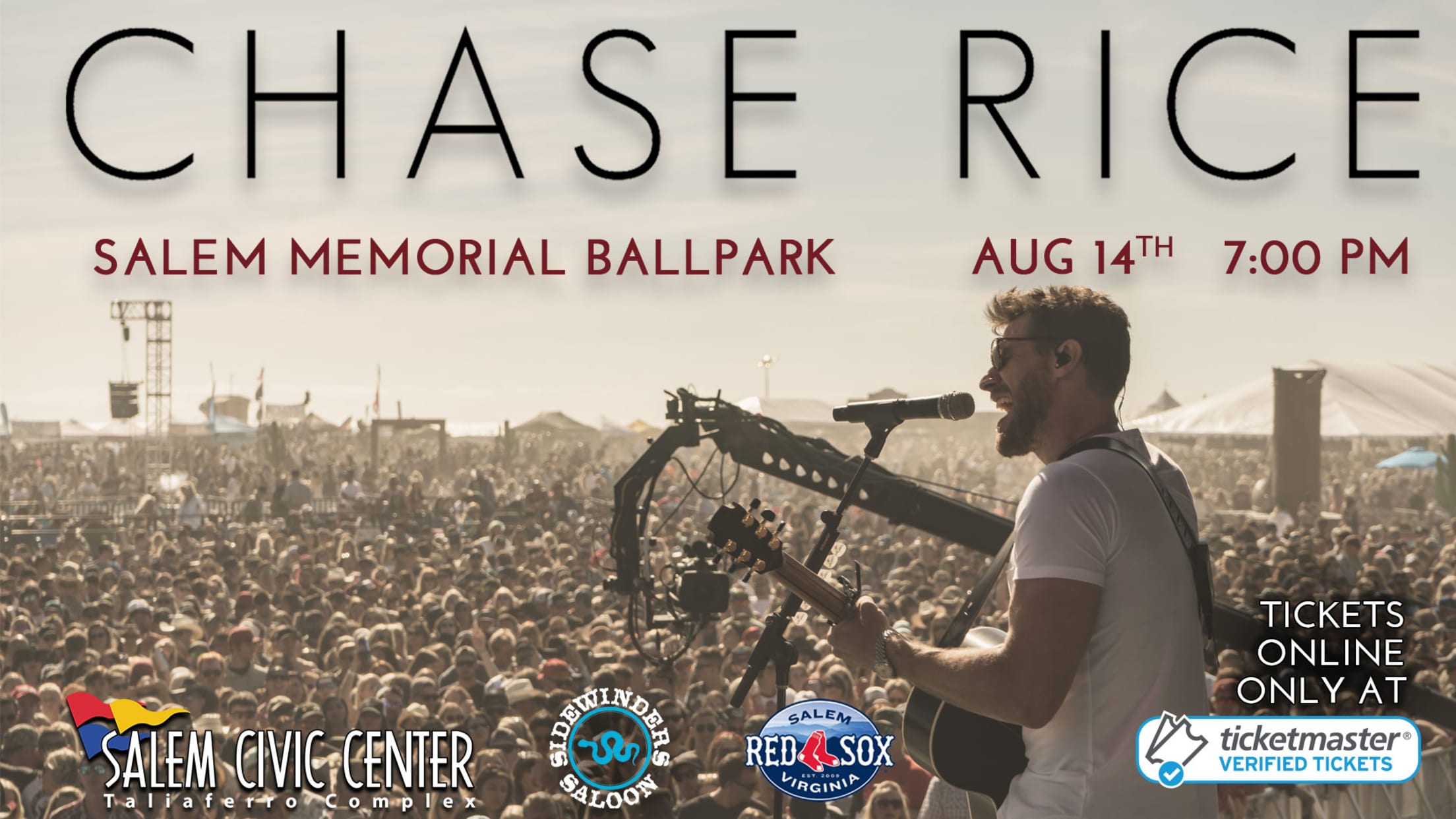 For Immediate Release June 17, 2020 SALEM MEMORIAL BALLPARK – AUGUST 14, 2020 TICKETS ON SALE FRIDAY- JUNE 19 AT 10 A.M One of Nashville's fastest rising stars plans to roam the Salem Red Sox outfield this summer. Chase Rice is coming to Salem on Friday, August 14, to perform
For Immediate Release June 17, 2020
SALEM MEMORIAL BALLPARK – AUGUST 14, 2020
*TICKETS ON SALE FRIDAY- JUNE 19 AT 10 A.M *
One of Nashville's fastest rising stars plans to roam the Salem Red Sox outfield this summer. Chase Rice is coming to Salem on Friday, August 14, to perform on a stage positioned just beyond second base at Haley Toyota Field. Tickets for the unique show go on sale at 10 a.m. this Friday, June 19, and are only available at Ticketmaster.com.
Rice has developed into not only a hitmaker, but also Music City's Renaissance Man. His diverse resume' includes everything from athletics to acting. Before he started producing chart-topping songs and sold-out shows, Rice was a linebacker on the University of North Carolina Tarheels football team, a NASCAR crewman for Hendrick Motorsports and a finalist on the hit TV show Survivor.
In his short, but successful career, Rice has sold more than 1.5 million albums and generated over one billion streams. His first number one hit - "Eyes on You" – has accounted for nearly 350 million streams and almost 34 million YouTube views. His inspirations include Kenny Chesney, Garth Brooks, Eric Church, Bruce Springsteen and Darius Rucker.
"Every artist needs to figure out their own way because there are so many right ways to do it," Rice says. "The best way is just to be yourself and be good to people. I think you do that - and you'll be alright."
Almost always, you will catch the Florida native sporting his personally inspired clothing line "HDEU". The letters stand for Head Down and Eyes Up as one looks to the future. Something we will certainly be doing in the coming months!
_Chase Rice tickets at Salem Memorial Ballpark go on sale Friday, June 19, at 10 a.m. at Ticketmaster.com. _
General Admission Tickets are $30 in the Stands and $35 in the Grass. The VIP PIT Experience is $75 and includes a private cash bar on the field, private restrooms and a possible Meet and Greet with Chase – depending on current COVID restrictions. Salem Civic Center Presale email club tickets are available through Ticketmaster.com this Thursday morning, June 18, at 10 a.m. with the password SUMMER
Contact:
Wendy Delano,
Salem Civic Center Director
540-375-3004
Mike Stevens
Salem Communications Director
540-375-4112 or 540-353-2041