Rome Invades Early, Bests 'Birds
Ring notches 27th double in 8-3 loss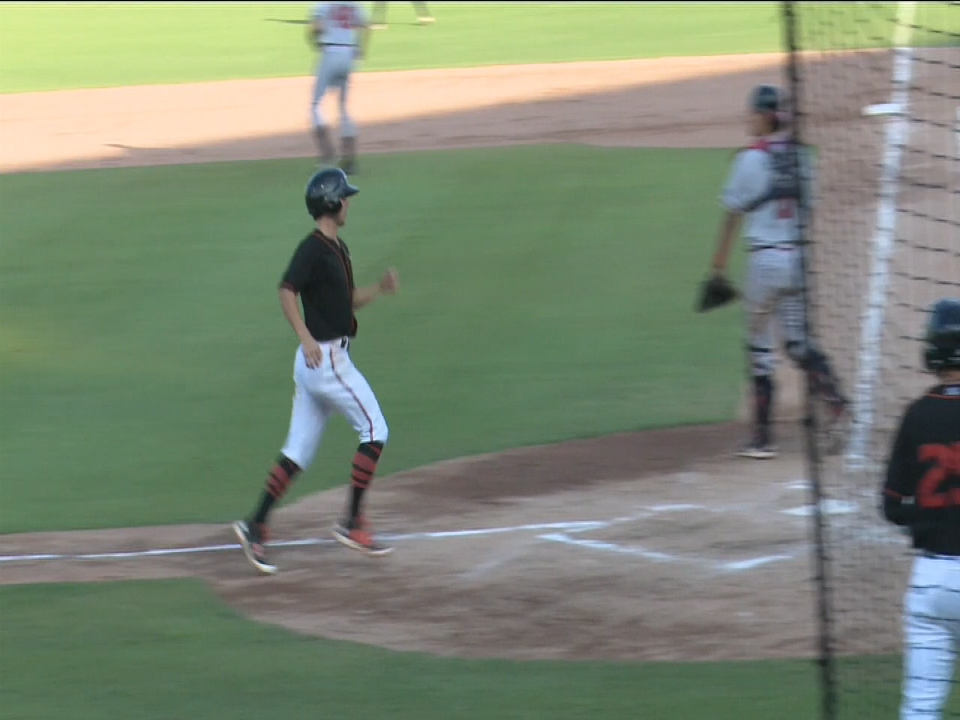 By Will DeBoer / Delmarva Shorebirds | July 16, 2017 8:48 PM ET
SALISBURY, MD - The Rome Braves scored the first five runs and never looked back, besting the Delmarva Shorebirds 8-3 on Sunday evening at Arthur W. Perdue Stadium.
Bryse Wilson (7-4) earned the win for the Braves (8-12, 46-44), allowing one run on four hits in five innings. The SAL's active ERA leader walked one and struck out six. Jhon Peluffo (5-4) took the loss for the Shorebirds (11-12, 40-51), giving up five runs (three earned) on eight hits in four innings.
Rome got a run in the first inning on a two-out single by Cristian Pache and an RBI double by Lucas Herbert. Randy Ventura led off the top of the third with a ground-rule double that snuck through a gap in the right field corner. After a strikeout, Pache singled to move Ventura up to third and Pache stole second to erase the double play possibility. Herbert came through again with an RBI single to right to plate Ventura, and Kevin Josephina lifted a sac fly into right to make it 3-0 Braves.
In the fourth, Kurt Hoekstra singled with one out, and two batters later Ventura reached on an error at third. Isranel Wilson lifted one to the warning track in right for a double, plating both runs to put the visitors up 5-0.
The Shorebirds broke the ice on the scoreboard in the fifth on three straight two-out singles by Tanner Kirk, Stuart Levy, and Cole Billingsley. Billingsley's base hit brought home Kirk to make it 5-1.
The teams traded a pair of runs in the seventh. Wilson was hit by a pitch to lead off for Rome, stole second, and moved up to third when the throw to the bag on Pache's fielder's choice got there late. Herbert slashed a liner to left to bring home Wilson on the sacrifice, and Josephina doubled in Pache to put the Braves ahead 7-1.
In Delmarva's half of the seventh, Ryan McKenna led off with a line drive double to center. Kirk dropped a soft liner into center to move McKenna to third, and Billingsley notched another base hit to score McKenna. After a pitching change and a fielder's choice, Jake Ring pounded a double into the right field corner - his league-leading 27th two-sacker of the year - scoring Kirk to make it 7-3.
Rome got one of those runs back in the top of the eighth on a Wilson RBI fielder's choice that gave the game its final margin.
Ring finished 3-for-4 with a double and RBI to lead the Shorebirds. At 27 doubles so far, he is on pace to break his manager Ryan Minor's Shorebirds record for doubles in a season. Minor had 42 doubles for the 1997 SAL champion Delmarva Shorebirds; Ring is 15 shy of the mark with 46 games to go.
Billingsley went 2-for-4 with a run and a pair of RBIs, while McKenna and Kirk each had two hits and a run.
Herbert finished 3-for-5 with three RBIs to pace the Brave attack, while Pache had three hits and three runs.
Aaron Myers made his debut for the Shorebirds after his trade from the Brewers system last week. Myers pitched the ninth inning, allowing a single and striking out Hoekstra for the third out.
The Shorebirds look to take the rubber matchup against the Braves on Monday night. Delmarva's Alex Wells (7-4, 2.72) gets the ball against Rome's Jeremy Walker (3-9, 5.18). First pitch is 7:05 p.m. with gates opening at 6:00. Monday is 47 ABC $2 Buck Monday at Perdue Stadium, featuring Upper Reserved tickets, hot dogs, and 16oz Pepsi products for $2 each. Pregame coverage on Fox Sports AM 960 and the MiLB First Pitch App begins at 6:50 p.m. with Will DeBoer on the call.
This story was not subject to the approval of the National Association of Professional Baseball Leagues or its clubs.
View More