Cyclones Unveil 2022 Promo Schedule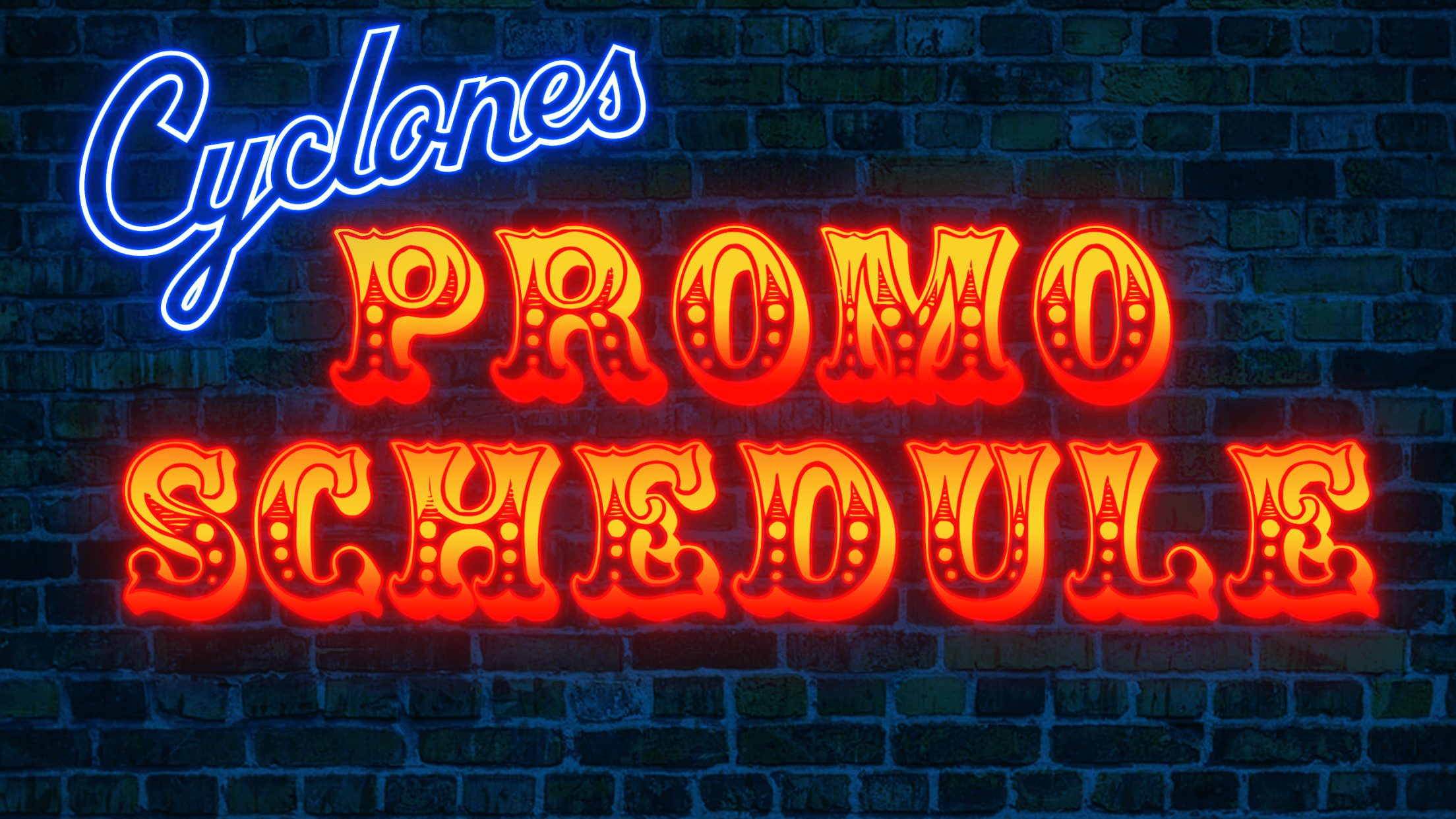 To View the Full Promotional Schedule -- CLICK HERE Single-game tickets for the 2022 season will be available starting Thursday, March 3rd at 10 AM. Tickets will be available over the phone and through BrooklynCyclones.com – they will NOT be available in person at the Maimonides Park Box Office
To View the Full Promotional Schedule -- CLICK HERE
Single-game tickets for the 2022 season will be available starting Thursday, March 3rd at 10 AM. Tickets will be available over the phone and through BrooklynCyclones.com – they will NOT be available in person at the Maimonides Park Box Office until a later date.
In preparation for single-game ticket sales we will be unveiling our 2022 Promo Schedule this week. We will release April & May promotions on Wednesday, June & July promotions on Thursday and August & September promotions on Friday. This year will feature more giveaways and theme nights than ever before. Here's a look at what's in store starting with April & May.
You've waited long enough.
We are unveiling our promo schedule this week. Today we will give you a first look at April & May, tomorrow: June & July, and Friday: August & September.
Without further delay - here's a look at what's coming in April.
👀- https://t.co/q7gFlwhrpu pic.twitter.com/52uTh9lk3l

— Brooklyn Cyclones (@BKCyclones) February 23, 2022
Here's a look at some of the highlights of the Promo Schedule coming to Coney Island this season.
The Return of Jersday Thursday – From Thursday, May 12 through Thursday, May 18 every Thursday is Jersday Thursday where the first 2,000 fans in attendance will receive a different style Cyclones jersey.
Sunday Funday – Sunday Funday just got more fun. Every Sunday the first 500 kids 12 & under will receive free Dippin Dots, plus we've got kids run the bases post-game and on select dates there will be a Backyard Carnival and a chance to have a catch on the field pre-game.
Bobbles – Whether you like players bobbleheads (Francisco Alvarez & Brett Baty), pop culture bobbleheads (Friends, Superman & Bugs Bunny) we've got you covered.
Night About Nothing – We'll host our annual Seinclones celebration on August 6th this year. The first 2000 fans in attendance will receive a Brooklyn Marble Rye Figure. We'll also have special appearances from Toby Huss (The Wiz) and Susan Walters (Dolores) and a bobblehead package that guarantees you two limited edition bobbleheads of Susan and Toby as well as the general giveaway.
For the Kids – We will have a Peppa Pig Appearance, the return of Mo Willems Day, Sponge Bob SquarePants Day and a special pre-game concert from Koo Koo Kangaroo. These are sure to be some of our most popular nights of the year.
Star Wars Night is back! We'll have a night that is sure to be out of this world with the return of Star Wars Night on August 20th. There will be a special jersey package available as well as a baseball giveaway for the first 2,000 fans in attendance.
Gil Hodges Day – Before Gil Hodges takes his place in Cooperstown, we will celebrate him back home in Brooklyn on July 17th.
Limited Edition Packs – We'll have special giveaway packages for Pride Night, Irish Night, Star Wars Night, Seinfeld Tribute Night, Koo Koo Kangaroo Concert, Avoid the Line Packages for Superman and Bugs Bunny and perhaps best of all we'll be offering a Limited Edition Talking Howie Rose Alarm Clock.
BasebALL You Can Drink returns every Saturday in The Backyard and we've added a Sunday Brunch presented by Murph's Bloody Mary Mix on the Brooklyn Rooftop.
Single game tickets will be available to the general public on Thursday, March 3rd but pre-sales will be available starting Monday, February 28th for Season Ticket Holders with additional pre-sales on Tuesday and Wednesday.