Carrot, Beef on Weck join WCC Race
Carrot introduced, but then is upstaged by Beef on Weck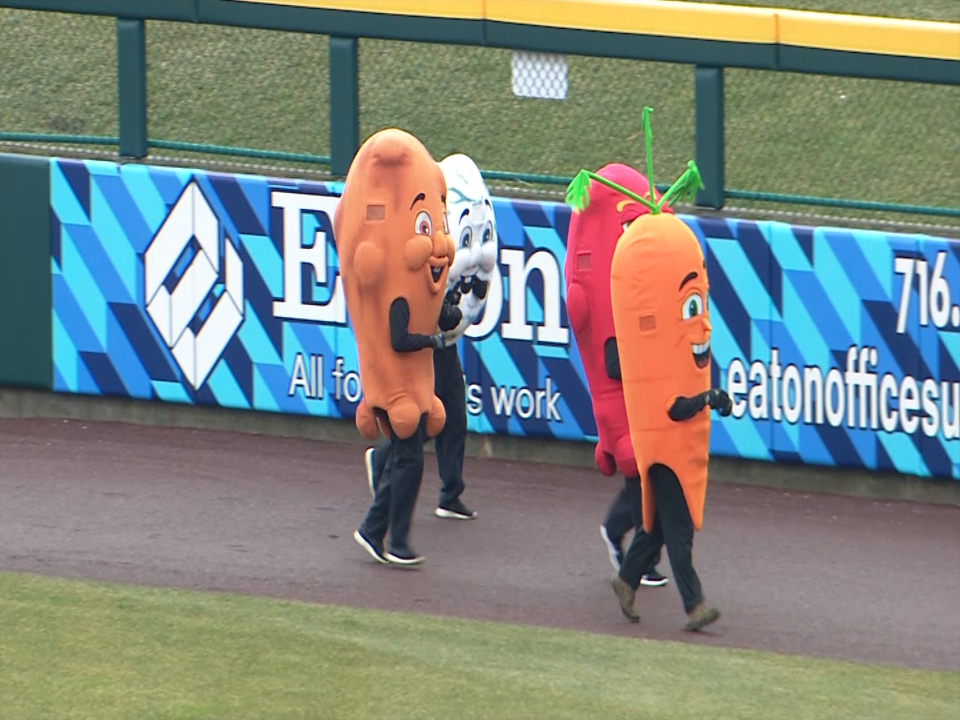 By Buffalo Bisons | April 12, 2018 4:02 PM
Looks like it takes two new racers to fill the shoes of the legend, Celery.
Carrot was introduced as the new WCC Racer at the Bisons Home Opener, only to be upstaged by Beef on Weck in the first race of 2018.
The answer to the question we've all been asking since last August was answered...twice! Carrot was introducted to the crowd by Celery, only to be surprised along with Wing, Atomic and Bleu Cheese by Beef on Weck in the actual race. Coming out of right field, Beef on Weck crash the race and coasted to its first ever WCC Race.
The salty and seedy Beef on Weck declined comment post game, refusing to speak tot he media. Carrot, on the other hand, was much more friendlier to fans and media alike.
'It's an incredible moment for me, and I am so grateful to the Bisons and Celery for giving me this chance. When you're just a little baby carrot, you dream of a day like this. For it to be real now, it's an incredible feeling," said Carrot.
Carrot is hoping the victories come in bunches, but is still up against tough competition with Wing, Atomic, Bleu Cheese and now Beef on Weck.
But Celery told Carrot not to worry about that.
"In our training, I just told Carrot to give it your all and the great Bisons fans will get behind you like how they supported me for so many years," said Celery.
Big roots to fill, for sure. But everyone knows that carrots are good for you. So, it might just be the perfect addition to the WCC Race.
This story was not subject to the approval of the National Association of Professional Baseball Leagues or its clubs.
View More