Hanson homers twice as Bisons rout IronPigs, 15-8
Herd set season-highs in runs and hits in victory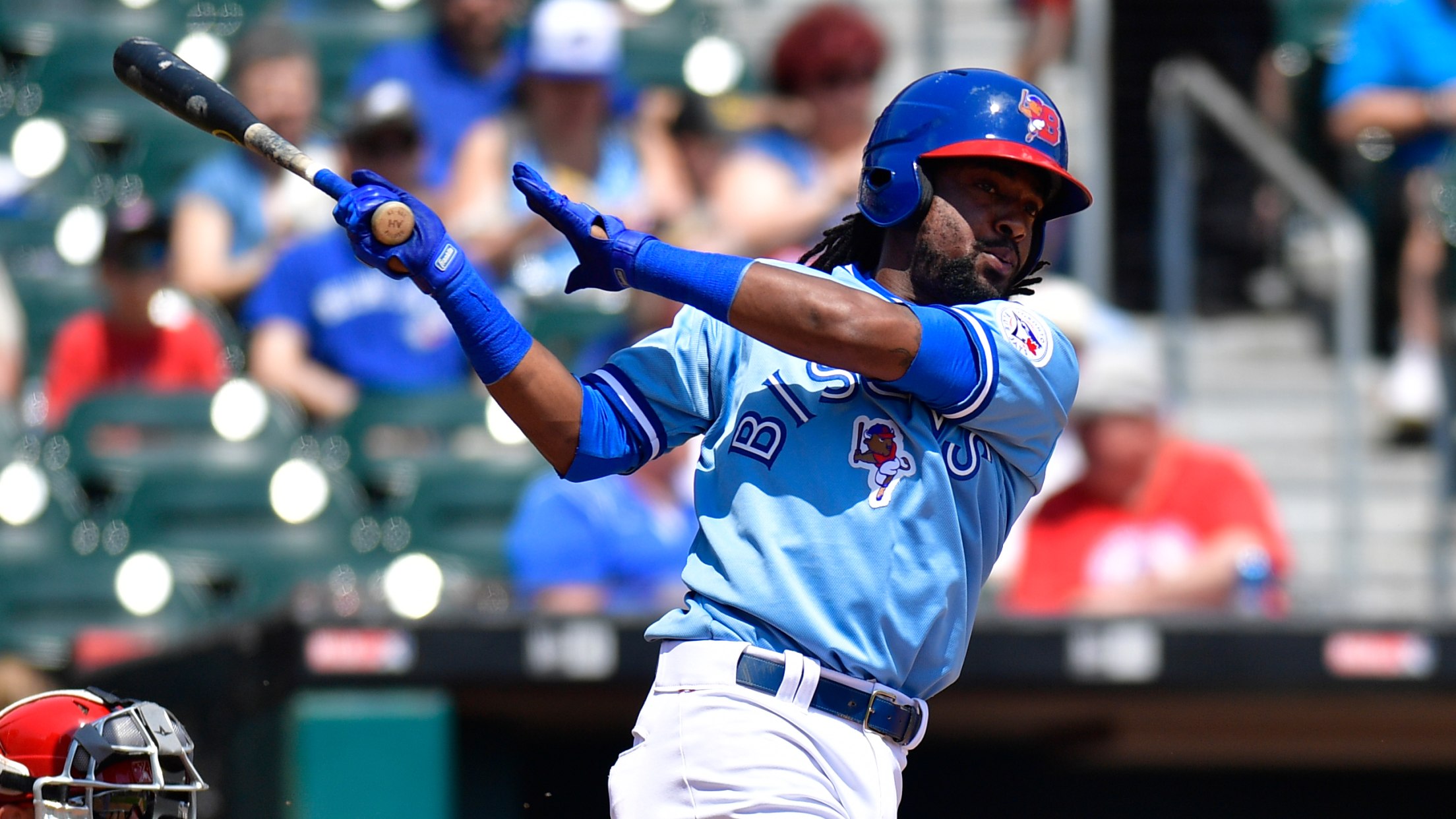 Alen Hanson hit a pair of three-run home runs on Friday night (Michael Majewski)
The Bisons bats came out in a big way in Lehigh Valley Friday night.Alen Hanson hit a pair of three-run home runs as part of the Herd's 19-hit performance as they defeated the IronPigs, 15-8 in first game of a four-game series over the Memorial Day weekend holiday. Five different
The Bisons bats came out in a big way in Lehigh Valley Friday night.
Alen Hanson hit a pair of three-run home runs as part of the Herd's 19-hit performance as they defeated the IronPigs, 15-8 in first game of a four-game series over the Memorial Day weekend holiday. Five different Buffalo batters had three-hit performances with Reese McGuire and Jordan Patterson also leaving the year.
Hanson's first inning blast to left field was the exclamation point for the Bisons who jumped out to a 5-0 lead and went through the entire lineup against Iron Pigs starter Tyler Viza. Hanson, who made his 10th appearance with the Herd after arriving in Buffalo earlier this month, brought home Jordan Patterson and Andy Burns when he launched a 1-0 fastball over the wall in left field.
Then, with the Bisons clinging to a 7-6 lead in sixth inning, Hanson keyed another five-run rally as the Herd blew the game open. This time, the veteran worked a seven-pitch at-bat before pulling a second three-run homer over the wall in left field.
Hanson's blasts where the biggest hits, but the night was full of them for the Bisons. The first seven Herd batters of the game reached base, with Sócrates Brito opening the scoring with an RBI double. Teoscar Hernández then singled home Brito before Hanson came to the plate in the first.
Lehigh Valley quickly rallied back to within won, 6-5, after two innings, thanks in large part to a grand slam by former Bisons infielder, Gift Ngoepe. McGuire then recorded his first home run of the season in the third inning to make it a two-run game.
Andy Burns continued his strong spring with a RBI single in the second inning and a two-run double in the sixth inning as part of a three-hit night and is now at 18 RBI on the season. However, his streak of consecutive at-bats reaching base ended at 11 with a strikeout against Iron Pigs reliever Seth McGarry in the eighth inning. Dating back to a triple in their loss against Rochester on May 22, the third baseman had 7 hits, three walks and reached once on a fielder's choice.
Andrew Sopko made his third start of the season for Buffalo after his Double-A promotion. The Gonzaga alum only finished four innings and allowed six runs on seven hits but had three strikeouts as 55 of his 92 pitches were strikes. The group of Zach Jackson, Kirby Snead, Corey Copping and Justin Shafer allowed a combined three hits from the fifth inning onward. Jackson, who earned his third win of the season in relief, threw the fifth and sixth innings and allowed no hits and only one walk. Justin Shafer finished the game in the ninth inning with a pair of strikeouts.
In the loss, Tyler Viza threw 5.2 innings in his start and allowed nine runs (eight earned) on 11 hits along with three strikeouts.
The Bisons continue their series tomorrow night as Turner Larkins makes his Triple-A debut after being promoted from Double-A New Hampshire. Ranger Swarez is projected to throw for the Iron Pigs. First pitch is set for 6:35 PM at Coca-Cola Park.